Heading back to school is an exciting time for kids (and probably for some parents), but this transition starts with quite a bit of planning. A successful school year requires so much more than a good attitude and a smile.
The items on your back-to-school shopping list are definitely necessary, and you might be wondering which ones you should expect to see. While supply lists vary, this ultimate school supply list will get your family off to a great start.
Ultimate Back-to-School Shopping List
If you have one child heading back to school, you can probably manage the items that the teacher has asked you to bring on the first day. If you have several kids varying in age and grade, the lists get longer and more complicated.
As parents, we've been there and we know how stressful back to school shopping can be. What you need is a one-stop-shop for all your child's needs. We've created the ultimate list of school supplies for every grade and we're letting you in on some of our personal and parent-tested favorites from Amazon below.
General Back-to-School List for Elementary-Age Children
If your child is in elementary school, then you will probably notice an extra-long supply list. Depending on your kid's school and teacher, lists will vary, but generally you can expect to find the following items on an elementary-age student's back-to-school supply list:
Supplies for Lower-Elementary School Children
If your child is in pre-kindergarten to second grade, the following school supplies are common requests:
Sharpened pencils: Ticonderoga is a teacher-trusted brand.
Large pink erasers: Papermate Pink are favorites; the bulk pack of 12 will be handy all year.
Box of crayons: Crayola crayons are a beloved brand among parents and teachers. A 24-pack is a good bet or most younger grades.
Markers: Fine tip Crayola markers are great for all grades.
Glue sticks: Elmer's are tried and true; the clear-drying glue is something parents and teachers can appreciate.
Colored pencils: Crayola's colored pencils are pre-sharpened and vibrant.
Backpack: A sturdy backpack is a must. LoveToKnow editor, Amy, loves the Under Armour brand for her children because of its long life and sturdiness.
Lunch box: Bentgo makes a versatile and durable lunch box for younger children, with over a dozen colors and patterns they'll love.
Art shirt (labeled)
A folder for transporting work and notes (although many teachers and schools provide a laminated transportation folder): Plastic options like these Dunwell folders are durable for younger students.
Notebooks: Wide-ruled is what most schools request for young elementary school students. We love these simple Oxford spiral notebooks in primary colors.
Athletic shoes: Ideal for plenty of playground play and gym class.
Quick Tip
Most retailers have their lowest price on school supplies during back-to-school season, so it's worthwhile to stock up on enough supplies to last all year. It will save money (and stress!) in the long run.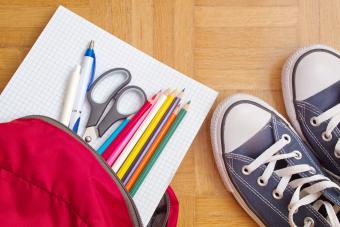 Supplies for Upper-Elementary School Children
Students in third to fifth grade will likely continue to need the supplies that are requested in the lower elementary grades, but they will often have additional supplies added to their list to meet their growing learning needs.
Pencil case or box: This large capacity pencil case holds everything they may need in one place.
Pencils
Pens: PaperMate Gel Pens make it fun for older kids, though they may not be allowed to use bright colors on assignments.
Markers: Older kids might love the Sharpie upgrade.
Erasers: A combo pack of large and pencil-top erasers are perfect for older kids.
Dry Erase Markers: The Expo brand won't let students down!
Colored pencils
Crayons
Backpack
Lunch box
Gym shoes
Quick Tip
Unless they're specified by your child's teacher, let your kids choose the patterns and colors for their school supplies. Having a notebook they love or the perfect backpack could give them an added boost as they start the school year.
Back-to-School List for Middle School Students
Middle school students enter a whole new world of switching classes and spending their school day rotating through various subjects. This new schedule often requires a new supply list that differs from what parents were used to in earlier elementary years. Standard supplies are now combined with a few more advanced tools and accessories.
Pencils
Erasers
Pens
Highlighters: Kids can mix and match large and fine tip highlighters for studying and marking various details.
Three-ring binders: This multi-pack makes it easy to keep track of things for different subjects.
Notebooks
Loose Leaf Paper: Mead is a go-to brand to keep in binders or for assignments.
Graphing calculator: Texas Instruments is a teacher and parent favorite.
Index cards: A 300-count pack can keep up with all their notes.
Markers:
A pencil sharpener: An electric pencil sharpener at home is helpful; a manual sharpener for your child's pencil case is useful during school too.
Large backpack
Lunch box: LoveToKnow editorial director, Carrie, says the Thermos brand lunchboxes last for more than one school year. Bonus: their prints are perfect for middle schoolers and teens.
Gym shoes and clothes, along with deodorant for gym class
Stapler and staples: These are to keep at home -- you can't go wrong with the Swingline brand.
Art supplies (if your child is taking an art class)
Back-to-School List for High School Students
Your kid is officially in the big times now! The supply lists coming home during the first days of high school are likely to be fragmented, meaning each subject teacher has their own supply requests.
Gather the lists coming home and make a master list of needed supplies. You will notice that many teachers have overlapping requests, and you do not need to buy five boxes of pencils for the start of a new year. Consolidate where you can, and make sure to pay careful attention to each teacher's list.
Quick Tip
If you have children in multiple grades, try combining their lists so you can just buy multiples of what you need without making extra trips to the crowded stores.
Common supplies like pencils, erasers, folders, 3-ring binders, notebooks, loose leaf paper, highlighters, pens of various colors, and colored pencils
Pencil sharpener
Graphing calculator
Graphing paper
Gym clothes, deodorant, and shoes
Art supplies (if your teen is doing an art elective)
Purse or wallet for identification and money: This gender-neutral wallet lanyward works for any student.
Heavy-duty backpack
Extras and Items for Your Child's Class
No matter your child's age, their supply wish list is going to include a few "extras." These may not required items, but rather items that the teacher feels will help make the school year run more smoothly.
These are also items to donate to your child's class.
Tissues: Kids will appreciate soft Kleenex.
Disinfecting Wipes: We love fresh-scented Clorox Wipes.
Plastic Zip bags: You may need multiple sizes like quart and gallon bags; stock up on Amazon Basics.
Hand sanitizer: Send these mini-versions of Purell for your student; donate larger sizes to your child's class.
Scissors: We love these affordable comfort-grip scissors.
Locker accessories or a locker accessory kit for older students
Headphones: Our Commerce editor, Mary, swears by these adjustable headphones for hybrid and virtual learning.
Need to Know
Many of these items are community or PTA-donated items, so if you can't swing the additional supplies, don't sweat it. If you do snag a sale or are able to grab some extras, though, consider donating them to your child's school or class.
Organizing All Those Supplies
Once you have all of the school supplies (and you should earn a gold medal for getting this far), you need to keep them organized. This is incredibly important if your family includes several children.
Shopping for supplies is one hurdle, but once you reach the check-out line and everything gets tossed in shopping bags, another hurdle arises. We've rounded up some parent-tested organizational items for keeping those school supplies in their place in the classroom and at home.
Getting Everything Into the Right Spot
When you get home with those supply loads, leave everything in the car until you can deal with sorting them. Then use these tips to get organized:
Once you carve out time to organize the supplies, have a paper bag and a supply list for each child in your family.
Label the bags with each kid's name, grade, and homeroom teacher.
Take an item out of your shopping bag, find whose bag the item goes in, and put it directly in the bag.
Then cross the item off of the supply list it is located on.
If individual items need to be labeled with the child's name, it might be helpful to do that after everything has been sorted.
Do this massive task when you know you will have limited interruptions. Organizing supplies is a process, and mistakes will undoubtedly be made. Being able to finish sorting supplies in one swoop will feel like a giant parenting win.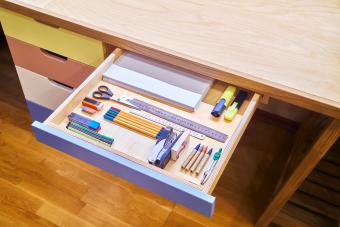 You're Off to a Great Start to the School Year
Back-to-school season is a busy time for families. There is so much to tackle and so much to remember. Make sure to buy the pertinent supplies for your children's upcoming school year, and organize and store them properly. Get them to school, kiss the kiddos goodbye and pat yourself on the back. One hurdle down for the year, several million to go, parents!