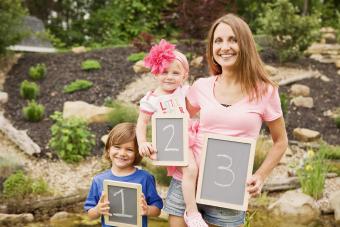 Oh, boy! You are expecting a third baby, and things are about to get really, really busy as your family moves from man-on-man defense to absolute survival mode. These clever third baby number announcements capture the beautiful chaos that is a large and growing family!
Funny Third Baby Announcements
Just when you thought you had this parenting thing down with two kids, along pops another pregnancy! Things will be messy, and sometimes you have to laugh to survive these crazy baby years.
Here We Go Again!
Capture your kids doing what they do best…being crazy. Make a moment in time where you actually ASK your kids to behave like nut jobs, jumping in the air and hanging over the backside of the couch as you and your partner look on exasperated. The announcement on this should read: Here we go again! Baby number 3 arriving (due date).
Make a Sibling To-Do List
Using a chalkboard sign, write a to-do list for each kid. Goals could include learning to ride a bike, write their name or tie their shoes. Tailor each list to the existing siblings and the skills they might learn in the next year. At the end of each sign, write: Becoming a big (brother or sister) or Become a big (brother or sister) AGAIN!
Ice, Ice, Baby
Play on the iconic rap song, Ice, Ice Baby. Your kids won't know the song because it was huge long before their time, but your friends and family will get the announcement quickly. Have your firstborn child hold up a bag of ice. Have your next born child do the same. Last comes you. You can point to your belly, make a heart shape with your hands on your belly, or paste a small sign on your tummy that says "Baby."
Oops, We Did It Again
Channel your inner Britney Spears with a funny take on one of her iconic songs. Everyone can get in on a bit of dress-up and hair braids, fashioning a look from her first music video. The person expecting should tie the white Britney blouse up, exposing the belly, to make it obvious that a bump is underway. Caption this announcement with: Oops, we did it again!
Star Wars Announcement
On a letter board, write the saying: May the force be with us. Announcing the third (Family name) Jedi on (due date.) Have your first two children standing on either side of the sign, dressed in Star Wars gear or holding light sabers.
Cheers to More Love and Less Sleep
Babies bring so much joy and so little rest. Make a sign that reads: More love, less sleep. Baby #3 Due (due date). Have your two children hold the sign up, or have them sit on either side of you as you give the camera a big yawn.
Big Brother/Big Sister Training
Dress your oldest child up like a little school teacher with a chalkboard and a clipboard. Sit your youngest child (or soon-to-be middle child rather) at a little table or desk. Write on the chalkboard: Big Sibling in Training. This announcement is cute and funny and pretty obvious that the littlest fellow in the family is being promoted to big brother or sister very soon, with a bit of educating from the biggest brother or sister.
Funny Face Announcement
Gather up your kids, your partner, and the all-telling pregnancy test. Have everyone make a shocked or frightened face as you hold up the pregnancy test (because honestly speaking, three kids is kind of scary). Snap a picture at the perfect moment and use it to tell the world that another member of the family is on their way.
Tie Breaker Announcement
This one is great for families that already have one girl and one boy. The third baby will be the tie-breaker regarding gender. Using a board sign, a chalkboard sign, or sidewalk art, write: Girls- 1, Boys-1, Our little tie-breaker is due to arrive (due date).
Outnumbered Announcement
For a while, you and your partner were running some man-on-man defense, but that will change in a matter of months. Tie a rope around you and your partner and have the kids each hold an end of the rope. It will look as if they wrangled you, and the announcement will be extra funny when you pair the image with the line: Officially outnumbered! Baby #3 arriving in (due date).
What's One More?
What is one more anyway is a common sentiment of parents who are about to add a third baby to their family. This hilarious idea is all about the who cares mentality. Have your partner, yourself, and your kids all sit on the bed or the couch, snacking away. Caption the image: What's One More? Baby #3 Coming in (due date).
Oh, My, Gosh!
While third babies are wonderful additions to a growing family, sometimes those third pregnancies are a bit surprising. Play off of this feeling of stunned with your kids. Take a picture of your firstborn making a surprised face. Above the image, write the word "OH!" Take a picture of your second child doing his/her best surprise face and caption this image with the single word "MY." Then get the parents in an image with shocked looks on their faces along with the word "GOSH." Put them all together sequentially so that the series of photos reads: Oh, My, Gosh!
Parenthood: The Third Sequal
Make your announcement look like a movie advertisement! Set a funny scene or dishes, laundry, tired parents in robes, and a couple of unruly kids running amuck because honestly, THIS is what parenthood looks like! For the title of the "movie," write something along the lines of:
The Parenthood: Sequal 3
The Parenthood: Part 3
The Parenthood: It Continues...
The Parenthood: Returning This (Due Date)
This is fun and creative, and the kids will love making something special with you, even if they are too young to fully understand why you are doing this.
Heartfelt Third Baby Announcement
Many families are simply overjoyed when they learn that another baby is on the way. For families who can not wait to expand, a third baby is an answer to a prayer. These heartfelt third baby announcements help express the sheer joy families feel when they learn that baby #3 is coming their way.
1, 2, 3 Announcement
Sit your firstborn child down with a number 1 cut-out in hand. Sit child number 2 down with a number 2 cut-out in hand. For the baby on the way, set out a pair of tiny shoes with a 3 cut-out tied to the shoes. This can also be done with balloons. Have the firstborn hold a single balloon, the second child hold on to 2 balloons, and tie three balloons to the tiny shoes representing the third baby.
Squad Goals
If your crew is sporty, this announcement is going to be a complete fit. Sit the kids down from oldest to youngest on a basketball court, in front of a soccer goal, or on a baseball diamond. Put everyone in their sports gear and place a ball or mitt from the sport of your choosing at the end of the sibling line. Caption this announcement with something like: Adding to Team (Last Name) along with the new baby's due date.
Adding Another Nut to the Tree
Not every announcement has to be a full-blown photoshoot. By the time you are pregnant with baby number 3, you might spring for something more simple. A saying like: We're adding another nut to our tree is cute and probably very true. Have the announcement printed on cardstock and place it in a simple box with a real acorn or a faux-nut inside the box.
Ready to Pop
You and your partner each hold up a blown-up balloon, one pink one and one blue one. On the pink one, write: We're gonna pop! One the blue one write: Expecting (baby's due date.) Have each kid hold on to a third and fourth balloon and stand on the parents' sides for a family announcement. If they are older, they could blow up bubbles of bubble gum for their part in the announcement.
Build a Lego Land
If you have two older kids who are into Lego, have them get in on the creative announcement of baby number 3. They can build a Lego structure house to replicate your own home. In front of the structure, stand enough Lego figures to represent each person in your family. Make sure to purchase a baby Lego figure to add to the bunch.
Clothes on the Line Announcement
If you are announcing your new addition in the nicer weather months, hang a clothesline in your yard. Using clothespins, hang a shirt on the line for each member of the family. At the end of the line, hang a onesie. This announcement is simple, sweet, and unmistakable.
Cooking Buddy Announcement
Get each one of your kids an apron and a chef's hat. Sit them in the kitchen with a mixing bowl and stirring spoons. Dust a bit of flour on the aprons to make it look like everyone was baking away. Pair this announcement with a saying that reads: Everyone has been busy baking this year. Mom's cooking up baby #3!
Shoes in a Line
Images of baby booties are often used in pregnancy announcements. Line a pair of shoes up for each member of your family. At the end of the line, place a small pair of baby booties. Pair this with a caption that reads: We are expecting our family to grow by two feet.
Superhero Announcement
Kids love themselves some superheroes, and to be honest, pregnant women are as close to superheroes as it gets. Get your two children each a superhero mask and a cape. Glue a fabric "1" and a "2" onto each one of the capes. Fashion a tiny cape with the number "3" on it and place it on your growing belly.
Shoot a Memory
This one is perfect for a mom who wants to share the news of a pregnancy with her children and her husband. Sit everyone down on the couch and set up your camera to the self-timer sequence function. When the timing is perfect, tell your family that you are pregnant. Watch the faces in the family go from smiles to surprise to pure bliss.
The Perfect Present
For this announcement, you will need three boxes, two of them should be large enough for your kids to sit in, and the smaller one will represent the baby on the way. Decorate all three boxes as presents, with wrapping paper and ribbon. Line everyone up, starting with the oldest kid in the largest box, then the soon-to-be middle child in his/her box, and finally set the little gift box at the end of the row.
Sweet Starbucks Announcement
If you have a Starbucks-loving family and want to make a simple, no-frills-no-fuss announcement, get yourself a collection of Starbucks cups, including 2 large ones to represent the adults and two medium or small cups to represent the children in the family. Write the names of your family members on each Starbucks cup. Line all the cups up in order, and then at the end, place a small baby bottle. Wrap the Starbucks logo around the bottle, and your announcement is complete.
Deciding on the Perfect Reveal
Choose to tell the world that your family is growing in a special way to you and your loved ones. Which idea speaks to you? Which idea best represents your family? These memories will last for a lifetime, so choose a third baby announcement that feels personal to your brood. Finally, have fun with your pregnancy announcement. These are not only your memories but also your older children's memories. Give them a bit of say in what you do and how you do it because adding new additions to the family can be stressful and confusing for some children. Making this part of the journey special and fun will create joy and excitement surrounding the new baby.