Are you pulling your hair out trying to keep your kids entertained while at the doctor's office? Is there a lull in your toddler's day before nap time? Is your little one having separation anxiety during Sunday school, but not saying quiet during the service? If you're looking for awesome ways to keep your young kids engaged and entertained while you conduct other tasks, get busy making busy bags! These fun projects are easy for parents to DIY will help provide hours of entertainment.
What Are Busy Bags?
Busy bags, boxes, and bins are containers filled with toys, games, and activities that are designed to keep your kids busy while you are on the go. You can technically put anything in these kits, but sensory toys and crafts are a great choice. Not only do these items build a child's fine and gross motor skills, but they also bolster language development, help your child learn to self-regulate, and they increase a child's ability to focus. In other words, sensory busy bags are going to give you more bang for your buck. Best of all, you can make many of these fun activities yourself.
Creative Busy Bag Ideas for Young Kids
Busy bags can feature one big project or an array of smaller games and crafts. When using a multi-activity busy bag, it's important for parents to only give out one task at a time. This helps your kids stay focused on each project before moving on to the next. However, you want the experience to be fun, so don't just dole out an activity. Let them select from a couple of options from their busy bag. Try one of these busy bag ideas to keep your toddlers or kids learning and focused!
The Very Hungry Caterpillar Craft Bag
The award-winning book, The Very Hungry Caterpillar, is a staple in preschool classrooms thanks to the many lessons it imparts. Kids can learn the days of the week, colors, counting, and the names of various objects. It also promotes healthy eating and self-control. This makes it the perfect inspiration for a busy bag!
Parents can include a copy of the book, along with supplies for kids to make their very own caterpillar. All you need are red, green, and yellow play-dough for the body, pom-poms for the feet and eyes, and pipe cleaners for the legs and antennae. You can also incorporate fake fruits and leaves to go along with the story.
Rainbow Games Busy Bag
Brightly colored games will likely keep your kid's attention. These rainbow activities will help them learn math concepts like categorizing, matching, shape recognition, and adding.
First, head to your local craft store and grab some markers, popsicle sticks, clothespins, velcro dots, a handheld hole punch, small colored gift bags, colored pom-poms, colorful felt pieces, and colorful string. Then, head over to a home improvement store and grab a collection of brightly colored paint sample squares. Armed with these items, you can create the following rainbow activities for your child's busy bag.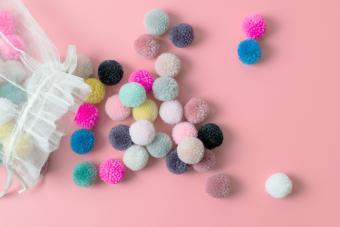 Popsicle Stick Shapes: Once you have your materials, use your markers to color the popsicle sticks. These can be used to make various shapes. Therefore, if you want a green triangle, color three sticks in this emerald shade. For squares, you need four sticks, for rectangles you need six, and so forth. After you have your colored sticks, apply velcro pieces to each end. Then, print out or draw a page to show your kids what they can assemble - diamonds, pentagons, squares, triangles, and even stars! Just make sure you have enough sticks for each shape.
Color Sorting: This game involves your pom-poms and colored gift bags. Simply mix up your various colored pom-poms in a ziplock bag and then have them sort the colors.
Paint-Chip Color Matching: Similar to the popsicle sticks, you will need to color your clothespins to match the paint squares you selected. The game is simple. Your child will adhere the correct color of clothespin to the matching paint sample square.
Color-Coded Lacing Games: For this game, simply cut out various shapes from your felt fabric swatches. Then, using the hole punch, put a hole in the center of each. The object of this game is to match the velcro shapes to the corresponding colored strings. Then, they must work on their fine motor skills to string these pieces together!
Ecosystem Exploration Busy Bag Idea
The world is filled with various habitats - oceans, forests, tundras, deserts, and grasslands. Help your child explore these environments and the flora and fauna that live in them with this engaging preschool busy bag.
Getting started: For this activity, you will need large plastic jars. (We recommend the 850 mL plastic VOSS water bottles.) Then, grab some white and brown rice. The tundra can stay white and the deserts and grasslands can be brown, but we recommend dying the rice blue for the oceans and green for the forests.
Create materials for your "ecosystem:" To do this, you will need two ziplock bags, three cups of white rice, blue and green food coloring, and white vinegar. To dye your rice, simply place 1.5 cups of white rice into your ziplock and pour in 1.5 tablespoons of vinegar and a third of a teaspoon of your preferred color of food coloring. Mix until the colors have absorbed and you are good to create your ecosystems.
Gather "plant" and "animal" life: you will need a handful of mini animal and plant figurines and beads to put in your ecosystems. You can also include shells and sand from the beach, small rocks and sticks from your backyard, and artificial leaves from your local craft store.
To assemble your various ecosystems, simply layer your rice and trinkets. Leave at least a quarter of an inch from the top of the bottle so that your kids can search for the various items hidden in their I Spy jars! Once filled, take some glue and apply it on the rim of the bottle. Seal and allow it to dry. This ensures that you avoid massive messes.
For the kids who are extra inquisitive about the creatures inside, pair these exploration basins with their very own I Spy Animal book.
Hooked on Phonics Busy Bag
Learning letters and numbers early on is a key component to building a solid foundation for future reading achievements. This makes letter and numbers games the perfect activities to include in busy bags for two-year-olds. An alphabet puzzle and flashcards can be a simple start. Have them put together their puzzle and then match the letters to the appropriate flashcards! Want to up the ante? Help your preschoolers learn short words and how to spell them with Montessori matching games.
You can also DIY this project using those same flashcards:
Cut: Cut out paper squares (we recommend using cardstock) and write the required letters on them. For instance, you can write out three cards that spell CAT.
Match: Then, have your kids match the letters to what is shown on the card. Make sure they know that order matters!
Try alternatives: Another alternative is making your own alphabet flash cards and then taking clothespins and writing a letter on each. Your toddler then has to match the clothespin to the letter card. Unlike adults, kids love learning so they won't see these activities as work!
Ice Cream Social Fun
I scream, you scream, we all scream for ice cream! This busy bag for toddlers is great for building fine and gross motor skills.
Gather materials: All you need are plastic bowls, a plastic ice cream scoop, small tongs, cotton balls, and colorful pom-poms in small and medium sizes. The cotton balls will serve as your ice cream and the pop-poms are your chocolate chips, sprinkles, cherries, and other typical ice cream toppings.
Add extras and play: If you want to go the extra mile, take some of your old spice containers and re-label them as topping jars. Fill them up and then toss them in your bag! When your toddler is ready to play, have them scoop, transfer, and pour their various ingredients and serve you up a sweet treat.
This is a great pretend play activity that can expand their imagination and aid in language development. You can also incorporate counting in this activity - ask your toddler for an ice cream with three cherries and four chocolate chips. Get creative with your scenarios to help them learn while having fun.
Gardening Goodness
Gardening is a great way for adults to relax, and for good reason! This tactile activity keeps your hands busy so that your mind can take a bit of a break. This busy bag for toddlers will give them the same benefits, with a lot less of a mess.
Get your supplies: Gather plastic pots, brown, tan, or black Play-Doh, popsicle sticks, velcro dots, green markers, and artificial leaves and flowers. For an extra special touch, you can also buy some small plastic bug toys.
Prep the "garden:" Then, color your popsicle sticks green and apply a velcro dot on the top and center of each stick. Apply the alternate velcro dots to the backs of the leaves and flowers you selected.
Get busy: When it comes time to play, the premise is simple - your kids need to assemble their miniature gardens. The Play-Doh is the dirt and the popsicle sticks are the stems for the flowers and leaves. Add in your bugs and the project is complete!
Fidget Kit Bag Idea
Some kids just wiggle and squirm more than others. This makes a fidget kit a great tool for keeping them focused, lessening their anxiety, and redirecting their movement to a specific task. Fill your busy bag with simple toys like pop tubes, push-pop games, stress balls, and lacing and threading activities. Peg boards and stacking toys can also be a great option.
For the parents who want some DIY activities:
Gather household items: Grab some old wooden blocks and various materials you have around the house - sandpaper, felt, faux fur, pipe cleaners, beads, and buttons are just a few of the many options you have to use.
Grab your hot glue gun: Adhere these textured items to the different sides of the blocks. Also, incorporate different shapes and patterns. This will help to stimulate their multiple senses.
Playing Picasso Busy Bag
Most kids love arts and crafts. Unfortunately, many of these engaging activities bring a bit of mess. So how do you keep your child's inner Picasso alive, while keeping the arts and crafts materials contained?
First, try a Crayola Mess Free Stow & Go Studio. These magical markers only color the paper, ensuring that surfaces maintain their integrity. Melissa & Doug also offer Water Reveal Coloring Pads that only require a dash of water! Stickers are another fine choice to add to your coloring pages and they can help your toddlers with their dexterity.
However, our favorite option for DIY, mess-free crafty moments is below:
Get your tray and supplies: Purchase a wooden sensory tray, grab some Play-Doh, and get a collection of stamps. Etsy has an array of trays to choose from: trees, flowers, rainbows, clouds, and more! (For a more cost-effective option, simply stop by your local Target or Walmart and grab a small meal tray.)
Fill and stamp: Your kids can fill each section with Play-Doh and then create amazing designs using their stamps. The best part is that they can start over any time they want.
Building Box
Did you know that "children increase their math, science, and general reasoning abilities when building with blocks"? This not only improves fine motor skills and problem-solving abilities, but it also teaches spatial reasoning.
Get started: For your little builder, simply grab a set of building bricks along with a base plate. This will keep messes and meltdowns to a minimum. Then, let them build!
More involved activity: For the parents looking for a more involved activity, grab some masking tape and turn this game into a lesson about shapes and letters. Place a strip of tape on each block and draw shapes and letters (both upper and lower case). Then, have your kids try to match the images.
Quiet Option: If you are heading to a location that requires quiet play, consider using colored sponges for your blocks. You can cut these into various shapes and sizes. Create matching games or simply let your child build the cushioned castle of their dreams.
Busy Bags Have a Dual Purpose
All of these busy bags for toddlers and preschool-aged kids are great for keeping kids entertained, but they also provide opportunities for learning and growth. When selecting activities, make sure that your little one gets both of these benefits. Take the time to think about what your child is interested in and how you can tailor these bags to their specific interests. For instance, if their passion is space, then nix the ecosystem I Spy jars and make planet and alien options! Lastly, it is best to have a couple busy bags on hand. This keeps kids from getting bored doing the same activities over and over again and helps them stay happy, busy, and learning, too.