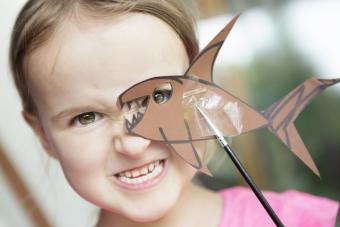 This printable fish template is a versatile gem, useful for all types of craft projects, creative learning assignments, and anything fish themed. Whether you use fish in your decor, or are studying something fished themed - you are sure to be able to find a good use for this template.
Simple Fish Template
This simple fish template PDF offers a simple way to create fishes for any kind of unique, fish-themed project. To download and print, click on the image to open up the file and print or save it. If you have any issues, see the guide to working with printables to troubleshoot.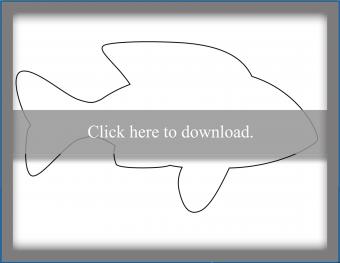 Creative Uses for the Big Fish Template
There are a million and one ways to use a creatively blank template like this. From home decor to, this fish template is as versatile as they come.
Fishing Game Craft
This great paper fish craft lets you make a gross motor-sensory area for toddlers and preschoolers in your life. Add magnetic tape to one side of a fish and color the other side. Create several magnetic fish this way. Create a fishing rod with a dowel, string and a magnet. Then, put the fish, magnet side down, in a plastic pool.
Aquatic Themed Wall Stencils
Print these fish on stiff paper and use them as wall stencils for an aquatic-themed room in your home. Aquatic themes are especially great for kids' rooms and bathrooms.
Alcohol Resist Watercolor Prints
Print the templates on stiff paper or trace the fish shape onto watercolor paper for best results. Use a cool watercolor technique like the 'fish-eye alcohol resist' to create Asian-inspired prints that you can then frame and hang on your walls.
Fish Mandalas
Use the template to create your own mandala. Consider creating it in black and white so you can color it in later. You can also create your mandala in color. When you're finished, laminate it so you have some of your art as a keepsake.
Fishy Haikus
After printing the templates, have your kids write their very own haiku on one side of the fish. Paste the fish on a larger paper and have them draw a scene around the fish-shaped haiku. This inspiriting activity will encourage your kids to become poets in no time.
Fun Printable Fish Pictures
If fishes are your thing, making this template into a fun printable might be right up your alley. For more durability, print on card stock and consider laminating your finished project if it's flat.