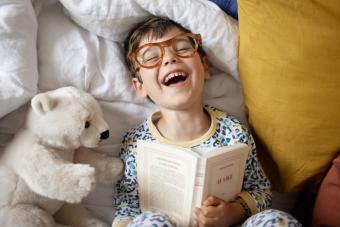 Inspire a love of stories and literature in the life of a young reader. Quotes about reading for kids will help little learners discover the power of reading. With a book in hand and an inspirational reading quote in their heart, any child will see how it can set them up for adventure and success.
Unless otherwise noted, all quotes are original and written by LoveToKnow staff.
Inspirational Reading Quotes for Every Kid
A true love of reading starts with a single spark of inspiration. Tell your child just how magical reading is and inspire a lifetime love of learning and literature.
The true freedom of reading is the freedom to see any story from your own perspective.

Reading is like making a movie in your mind.

Books make wonderful friends.

Reading helps you develop an extraordinary mind and a beautiful imagination.

Reading is one of the most precious treasures in life and once you find it, no one can take it away from you.

Reading is freedom for the mind and laughter for the soul.

Opening a book is like opening a door to a whole new life.

Reading isn't just about being who you want to be in the story, but about teaching you how to be who you want to be in real life.

When life gets difficult, reading helps you escape to a better place.

Getting lost in the stories of books will help you write the story of your own life.

Reading is like dreaming while you're awake and getting the chance to relive the same dream again and again.
Short Reading Quotes to Get Kids Excited About Books
The beauty of reading is quite simple and a short quote might be all you need to convey the idea to a child. These short and sweet reading quotes for kids will inspire a lifelong reader with just a few short words.
Reading is the true magic of life.

Reading kick starts the imagination.

Read for knowledge. Read for joy.

Books are handheld escapes.

Find yourself by losing yourself in a book.

Close off the world and open a book.

Books teach you how to be the hero in real life.

Live endless lives with every book you read.

Reading is a gift, and it never stops giving.

No matter what life brings, it can never stop you from reading.
Sayings About Learning to Read for Young Kids
Learning to read is a pivotal part of childhood and it feels intimidating at first. Encourage a young reader with a quote about how wonderful reading is and remind them it's more than worth the effort to learn.
If you learn to read, you'll see how easy it is to love to read.

Learning to read is the beginning of learning to live life to the fullest.

Once you learn to read, you'll see the world in a whole new way.

Every successful leader was once a new reader.

Read, and books might become some of your dearest companions.

Once you learn to read, you'll learn every time you read.

Learning to read inspires and enables a lifetime of learning.

Learning to read comes from your mind, but loving to read comes from your heart.

The world fills with opportunities once you learn to read.

Your imagination and creativity will overflow when you learn to read.

Letters and words become dear friends when they all come together for a new reader.
Quotes About the Adventure of Reading
Remind kids of every age that reading is more than just a milestone. It's truly an adventure. These quotes about the adventures of reading will help children see the endless experiences that reading provides.
Reading is just another way of exploring.

Adventure awaits with the crack of every book's spine.

Reading is an adventure unlike any other because it allows you to experience every adventure there is.

The grandest adventure of life starts with your very first book.

Reading opens you up to every adventure in this world and adventures in worlds unknown.

Reading is a lot like dreaming. The possibilities are endless and you get to experience every part of the adventure without ever leaving your home.

Reading lets you travel anywhere, live outside of time, and understand countless perspectives.

The thrill of reading is that the adventures never have to end.

Every book is a grand adventure that always leads you back to home.

You become the hero of every adventure when you discover a love of reading.
Things to Say About Favorite Books for Kids
Learning to read is one thing, but discovering your first favorite book as a child is truly life changing. Inspire young readers to find their own favorite and fall in love with reading in the process with a quote that captures the magic of your first book love.
Your favorite book shapes your mind, imagination, and heart.

Everyone remembers the one book that made them fall in love with reading.

The beauty of discovering your favorite book is that you can go back to the beginning and discover it all over again.

Reading your favorite book is like going home on the first day of summer break. There's excitement and comfort all coming together for the best feeling in the world.

You'll see reading in a whole new way when you discover your favorite book.

Finding a favorite book doesn't require a long list of reads, but a heart full of love for reading.

Beloved books are some of life's greatest treasures.

If you haven't discovered your favorite book yet, it means you haven't read enough books.

Your favorite book is the one that makes you feel like the hero of your own life.

The book you love most is the one that you finish and can't wait to read again.

The best thing about finding your favorite book is sharing it with someone else.
Reading Quotes for Kids to Inspire Success
Every successful person was once a child learning to read, and that reminder is important for readers of every age and level. Share a quote that helps kids visualize their future as they develop a love for reading.
Reading is the key to every door in your future.

Reading is one secret to happiness and success.

Success starts with an appetite for knowledge and learning, and that appetite is fueled by reading.

Reading helps you understand your dreams and inspires you to chase them.

The stories you read in books and the knowledge you gain from reading come together for a life of dreaming and achieving.

There are certain doors in life and in your mind that are only opened with the key of reading.

Whatever you dream of being, you will need to read to get there.

Reading opens the door to all of your dreams and helps you discover new ones along the way.

Learning to read is one of life's greatest accomplishments because it helps you accomplish everything else.

True success is finding a love for knowledge and pursuing it for a lifetime.
Reading Quotes From Dr. Seuss
Dr. Seuss gave the love of reading to generations. The world truly wouldn't be the same without classics like Oh The Places You'll Go and The Cat In The Hat. Inspire readers of all ages with quotes from the one and only Dr. Seuss about the joy and importance of reading.
Famous Words About Reading for Kids
Dr. Seuss helped generations love to read, but he wasn't the only one to share inspiring quotes about the importance of reading for children. Encourage children to dig into the reading world with these famous quotes.
Inspire a Lifelong Reader With the Right Messages
Reading and books are true gifts and sometimes children need a gentle reminder of how magical those gifts are. Encourage a child to fall in love with reading and pursue a lifetime of knowledge and imagination with a quote that shows them why reading is one of life's greatest blessings.