Every parent knows the importance of having a variety of snacks on hand. These little morsels in between mealtimes are the difference between an enjoyable excursion and a tiring trip. Next time you head out to grab some goodies, make sure to snag these Costco snacks for kids! We love these healthy, tasty, and protein-packed munchies that will satisfy even the pickiest of eaters.
Welch's and Mott's Fruit Snacks
No matter which brand you choose, you can never go wrong with a big box of gummies! Both Welch's and Mott's Fruit Snacks from Costco come in 90-count boxes, which means that parents will spend between 14 and 18 cents PER POUCH. Talk about affordability and convenience. These boxes regularly go on sale, which means even more savings.
Kirkland Brand Fruit and Vegetable Squeeze Pouches
Applesauce is always a fan favorite of toddlers, young kids, and adults alike! Costco's Kirkland Brand offers both organic applesauce pouches and organic fruit and vegetable pouches to help busy parents sneak in some healthy treats that don't skimp on taste.
Sargento Balanced Breaks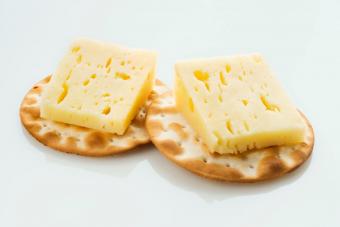 If your kids need a little energy boost, Costco offers Sargento Balanced Breaks cheese and cracker packs that are guaranteed to hit the spot. They also have between 7 - 9 grams of protein.
That's 20 to 25% of the daily protein requirement for kids between the ages of 9 and 13! Why does this matter? When eating this healthy option, your kids will stay full for longer and are less likely to ask for additional snacks right after!
Kind Mini Bars
Speaking of protein, another great snack option is Kind Mini Bars! For those who are unfamiliar with these delicious snacks, they feature a mixture of healthy nuts, caramel, dark chocolate, and peanut butter. Oh, and it gets better! They are also gluten-free, kosher, low in salt content, and surprisingly low in sugar (less than 5 grams per serving).
Granola Bars
For the littler patrons in your party who tend to have a more discerning palate, Costco also offers an array of granola bars. Parents can select from classic brands like Quaker Chewy and Nature Valley, or they can go with Z-Bars. (For those who are unaware, this is Clif Bar's Kid line. They have Chocolate Chip, Iced Oatmeal Cookie, and Chocolate Brownie flavors, and they are all organic, kosher, and filled with fiber!)
Also, don't forget about Costco's most affordable option - Kirkland Brand Soft and Chewy Granola Bars. For less than $12 a box, you can get 64 chocolate chip bars.
Yoplait Go-Gurt and Chobani Smoothies
Go-Gurts, little tubes that came out in the late 90s, are still a coveted choice among kids today! Costco offers 32 squeeze tubes for less than 10 bucks. We also love that these can make for a cool treat on a hot day. Just freeze them and pull them out and throw them in your bag when you are heading to the park or the pool. Did we also mention that they are a great source of Vitamin A and calcium?
Costco also carries Greek yogurt-based Chobani Smoothies for healthy sipping on the go. These are great for older kids too.
Fast Fact
Frozen yogurt tubes are one of the best Costco toddler snacks because it not only fills them up, but there is a sensory aspect to the snack. In other words, this can have a quick calming effect when a tantrum seems to be surfacing.
Individually Wrapped Cheeses
If you're looking for a dose of dairy, Costco has you covered! Parents can choose from cheeses like:
Frigo Cheese Heads String Cheese Sticks

Tillamook Medium Cheddar Snacking Cheese

Babybel Mini Snack Cheeses (in both Original and White Cheddar flavors)

The Laughing Cow Creamy Light Swiss Cheese Wedges
No matter which you choose, these individually wrapped Costco snacks are perfect for kids when on the go, or to throw in their lunch for an extra protein boost.
Jack Link's Cold Crafted Beef Stick & Mild Cheddar Cheese Combo
Jerky lovers rejoice! This is the perfect combo of beef and cheddar that will tantalize the tastebuds and fill your kid's bellies at the same time. This snack has 12 grams of protein, 1 gram of carbs, and zero sugar. They also run $1.25 per snack pack, making for another extremely affordable option for parents on the go.
Crunchy Classics
Chips and crackers are always the go-to choice for kids looking for a salty snack, and Costco has quite the selection. Parents can choose from Frito-Lay Chips (in both baked and regular varieties), Pringles, Sun Chips, Goldfish Cheddar Crackers, Cheez-Its, and SkinnyPop Popcorn, all in individual bags.
However, if you are looking for snacks for at home, or if you are just hoping to cut back on plastic waste, they also have giant bags and boxes of Doritos, Goldfish, Cheez-Its, Triscuit, Ritz Crackers, Pretzel Crisps, Whisps Cheese Crisps, and Stacy's Pita Chips.
Helpful Hack
Parents can reduce waste and prevent crushed up crunchy munchies by purchasing Snapware Plastic Storage Containers at Costco. These are fantastic for on the go and they keep food fresh and intact!
Savory Dips
While these may not make for the best car snacks, if you have a stable place to sit, you can pair your crunchy classics with some healthy and savory dip options! Costco offers mini cups of Wholly Guacamole and Skippy Creamy Peanut Butter Squeeze Packets that are both filling and delicious.
Trail Mix
This is yet another classic snack that is packed with protein, while still having a touch of sweetness! Costco has an array of options so that parents can find the mix that contains all their kid's favorites. Their individually packaged selection includes options like:
Kirkland Signature Trail Mix: Almonds, Peanuts, Cashews, M&M's, and Raisins

WildRoots Trail Mix: Almonds, Cashews, Cranberries, Yogurt Chips, and Blueberries

Kar's Trail Mix: Peanuts, Cocoa Candies, Raisins, and Sunflower Kernels

Second Nature Trail Mix: Almonds, Peanuts, Cashews, Dried Cherries and Cranberries, and Chocolate Chunks

ParmCrisps Snack Mix: Almonds, Cashews, Pistachios, and ParmCrisps

Nature's Garden Organic Trail Mix:

Walnuts, Almonds, Brazil Nuts, Cranberries, and Pepitas

Walnuts, Almonds, Pepitas, Cranberries, and pecans

Walnuts, Almonds, Pepitas, Cranberries, Sunflower Seeds, and Black Raisins
Helpful Hack
Parents can also buy one of Costco's many giant bags of nuts and pair it with their own selection of dried fruit. Costco carries everything from dried mangos, apricots, and tart cherries to tangerine wedges, cranberries, and raisins!
Sweet Indulgences
Of course, you can't leave Costco without a few sweet treats! They have so many cookie brands to choose from, it may be hard to pick just one. Parents can pick up Oreos, Grandma's Cookies, Nabisco Variety Packs, Famous Amos, Knott's Berry Farm, Biscoff, Keebler, and Pepperidge Farm Milano cookies, to name a few. They also have Rice Krispies Treats and enough candy to stock you up for decades' worth of Halloweens!
Parents Can Also Make Their Own Snack Packs
For those parents who like to get the most bang for their buck and truly buy Costco snacks for kids in bulk, there is another option. If you will want super fresh mini packs of items like jerky, trail mix, cereal, chips, dried fruit, popcorn, and other dry goods, but prefer to buy the big bags of snack products, try Costco's FoodSaver Vacuum Sealing machines.
These pay for themselves when you shop regularly at this store. Best of all, the process takes mere seconds! Package together your favorite snack combinations and throw them in your diaper or purse for later. FoodSaver even makes vacuum sealable zipper bags to give kids easy access to these tasty treats.
Whether you buy pre-made snacks or put together your own snack packs, Costco has tons to offer busy parents and hungry kids.