Prom itself is awesome, but you can extend the fun by adding in some amazing before-prom activities. There are so many great ideas of things to do before prom, whether you're chilling with your friends or having a romantic pre-date with your special someone. No matter what you choose to do, it's all about making this important evening into a multi-day celebration.
Fun Things to Do on the Day of Prom
Sure, you'll be busy with the actual prep of hair, makeup, and all that, but that doesn't start until the afternoon. Make sure you have a prom checklist of all the must-do stuff, and then relax and have some fun. These ideas are perfect for the day of prom.
Host a Pre-Prom Brunch
No one wants anything super heavy to eat right before prom (well hello there, uncomfortable shapewear), but you can still indulge in a delicious brunch. The timing is perfect here, since you'll need some sustenance for the events ahead. Cater food from a nearby restaurant or try your favorite brunch recipes with your friends.
Make Corsages (or Corsage Alternatives)
You can always order corsages from the florist, but it's also fun to go the DIY route. You can choose whatever prom flowers you like and get together with friends to create your master pieces. There are no rules here, but it's nice to have the supplies on hand ahead of time. Corsage pins or clips, floral tape, and ribbon are all available at craft stores.
Have a Photoshoot
Of course, you'll be taking tons of photos before prom when everyone is looking amazing, but it's also fun to take some day-of photos just hanging out. Find a fun location and just have a good time with a camera or your phone. For the best photos, look for a spot with some shade so there aren't any harsh shadows on people's faces. Get goofy and capture the excitement and anticipation of this moment.
Take a Hike
A little exercise is a great way to relax before a big event, and prom is no exception. Get out in nature with your date or with friends. Don't go for anything too strenuous, since you need to save your energy for the big night. A couple of miles and the reward of a pretty view are perfect.
Make a Time Capsule
Prom can be a major milestone; most people really only get to do it once or twice in their lives. Grab a shoebox or container and make a time capsule to look at ten years from now. Write a letter to your future self about this moment and what you think your life will be like in a decade. Toss in some photos and seal the whole thing up.
Get a Massage
While prom is fun, it's can also be a little stressful. Getting a massage is a great thing to do before prom, especially if you've been noticing yourself feeling tense. Book an appointment for you and your friends, and take a sec to be mindful of the awesomeness of this moment.
Go on a Picnic
You can't go wrong when you get out in nature and eat at the same time, especially if you keep things light. Pack a picnic and head to a local park for lunch. This makes a great pre-prom date too if you want a little time to chill with your someone before the excitement of the evening.
Hit the Beach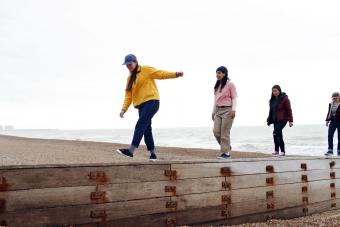 As long as you don't get too sunburned, a beach day is a really fun thing to do before prom. It might not be swimming weather where you live, but the breeze off a lake or ocean can be super invigorating and a wonderful way to get ready for a major event. This can be a perfect activity to do with friends, your date, or just by yourself.
Quick Tip
While the possibilities for what to do are endless, there are a few things you might want to avoid doing right before prom:
Eating anything super salty or heavy
Losing too much sleep
Getting a sunburn or a ton of bug bites
Trying out new makeup or hair products that could make you break out
What to Do the Night Before Prom
It's totally normal to feel a little antsy the night before prom; after all, this is a big event. Even if you're totally relaxed about the whole thing already, it's fun to get together with people and have an awesome evening. It doesn't have to be all about prom prep either. Try one of these fun ideas.
Hold a Prom-Themed Movie Marathon
Have a sleepover with friends and do a movie marathon of films that are all about prom. As a major rite of passage, prom has been the subject of tons of movies over the years, and you can stream a few together. Here's a simple prom movie list to get you started:
Carrie
Prom Night
Pretty in Pink
Footloose
10 Things I Hate About You
Camp Out (Even in Your Back Yard)
Try a good old-fashioned camp out for your pre-prom fun. Do all the classics, from sleeping under the stars to roasting marshmallows. This is a super fun way to get away from it all, whether you're camping at a park or in your own back yard. Don't forget the insect repellant, though (no one wants a bunch of bug bites with your prom dress).
Have a Mocktail Party
Want to do a test run with your hair and makeup? Hold a fancy mocktail party the night before prom to test out your look. Don't wear the dress or outfit for the big night, of course, but you can break out an old homecoming dress for this pre-prom event. Have all the supplies to make up some delicious mocktails with your friends.
Make Prom Emergency Kits
Okay, this is technically prom prep, but it can be a lot of fun. Get together with friends to make emergency kits for prom night. There are tons of things you can include, but these are a few ideas to start with:
Safety pins
Lip balm
Stain remover wipes
Money
Protein bars
Tylenol
Learn a Dance for Prom
You know how there's always a weird TikTok dance that's making the rounds? Get together with friends the night before prom and learn the dance together. Practice until you can do it perfectly synchronized, and then wow everyone on prom night with your amazing moves.
Hit the Arcade
Need to blow off a little steam before the big event? Hit an arcade. This is a relaxing and simple way to spend the night before prom. You can make it part of a sleepover or just meet up at the arcade and then head home for a good night's rest.
Meet for Midnight Snacks
Pretty much every town has a restaurant that's open all night. If you know you can sleep in the next day (no one wants to be tired for prom), meet up for midnight snacks. Think hot chocolate, pie, fries, and anything else you love.
Make Prom a Multi-Day Event
Extend the fun by getting together with friends or your date before the big event. There are lots of fun things to do before prom, so you may even want to try more than one. For added celebration, plan some after-prom activities too. You'll end up with a multi-day extravaganza you'll never forget.