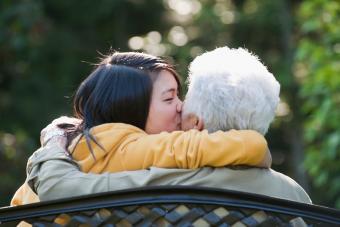 Grandma quotes are a great way to let your grandmother know how important she is to you. Grandmother quotes express universal sentiments about this special woman in your life.
Heartfelt Grandma Quotes
Grandma quotes from the heart express the love and warmth you feel for your grandma. You can use a quote about your grandma in a birthday card, hobby plaque, or on a gift tag.
Grandma is just another word for my partner in mischief.
Grandma always knows best, just ask Mom.
When Mom says no, off to Grandma I go.
Grandma is my best friend!
I ask Grandma when I want the answer to be yes.
My grandma knows me better than anyone else.
My grandma teaches me valuable things to support me throughout my life.
When I want to discuss something, I talk to Grandma.
A grandma is a combination of a second mom and a naughty sister.
Rule number 1 - Don't mess with Grandma.
Grandma understands my reasons for doing things before I do.
Grandma gives great hugs and words of encouragement.
My biggest awakening was when I realized Grandma knows more than I do.
Grandma knows what I like - cookies and milk!
My stomach always growls when I smell the aromas coming from Grandma's kitchen.
I know whenever I visit Grandma there's going to be pie!
Grandma is the best cook and the best baker rolled into one.
I think my Grandma knows how to use magic.
Grandma is my fairy godmother.
My grandma is an amazing woman!
Loving Grandmother Quotes
A grandmother will be moved by a quote that lets her know how much you appreciate her. Not all grandmothers are alike, but they all want to know that they have a positive impact on their grandchild's life. You can use grandmother quotes to reassure your grandmother that she has made a significant difference in your life.
When I grow up, I want to be just like my grandmother.
A grandmother is better than Google.
My grandmother always has the right answer for my questions.
Whenever I'm in doubt, I turn to my grandmother.
My friends envy me because I have such an amazing grandmother.
I thought everyone had an awesome grandmother.
I'm blessed that you are my grandmother.
I often wonder how my grandmother can be so smart.
I'm so grateful to have a grandmother that everyone trusts.
My laugh muscles always ache after my grandmother's visit.
I wonder if I'll be as smart as my grandmother when I'm her age.
My grandmother always has a new joke whenever I see her.
A grandmother is made of kindness, humor, knowledge, and a scoop of mischief.
That twinkle in Grandmother's eyes tells me to brace for something fun.
My grandmother teaches me things without my knowing it at the time.
I suspect somewhere in the very back of my grandmother's closet hangs a worn Wonder Woman's costume.
Grandmothers disciplined their kids so they wouldn't need to with their grandkids.
I didn't know my grandmother had a job until she told me that her job was to spoil me.
My petite grandmother is a prime example of the saying big things come in small packages.
My grandmother is my roller coaster riding buddy.
Unique Grandma Quotes
Your grandma is a unique person, and finding the quote to sum up your relationship can be fun. You can surprise your grandma when you pick a quote that's tailored just for her.
I love my grandma more than brownies.
I love planting seeds in the garden with my Grandma and watching them grow into flowers and vegetables.
My grandma loves to have fun almost as much as she loves me.
Grandma, you always inspire me to reach higher than I think I can reach.
I love sitting in my grandma's garden and dreaming.
Grandma, you know just what I need before anyone else.
Grandma, you are my person!
When I don't know what to do, I consult my grandma.
Grandma, you are my confidant and best friend.
Grandma, I love you more than I can say.
Grandma, you have the biggest and kindest heart of all!
My grandma always makes me feel special.
My grandma knows how to make me laugh.
Find Perfect Grandma Quotes
You can surprise your grandmother with a quote about how she influences your life. Lists of grandma quotes offer you the opportunity to find the perfect sentiment for your grandmother.