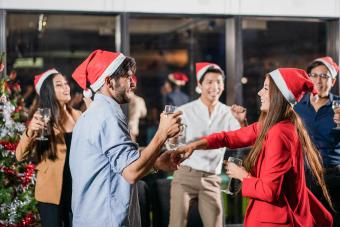 A festive holiday team name might not actually help you win a trivia contest or game night, but it will give a boost of that jolly feeling, and you'll have more fun in the process! Find a name that fits your group and brings you together for any holiday team event, no matter your age or whether you're on the nice or naughty list.
Whether the name you choose is funny, inspired by your favorite Christmas movie, or just a classic seasonal alliteration, these ideas will help you come up with a unique Christmas team name that brings out the holiday spirit in every member of your group. Ho ho ho!
Christmas Pun Team Names Yule Love
For a crowd-pleasing Christmas team name that takes everyone's cheer up a notch, try a witty Christmas pun or a funny take on classic holiday details. Spectators will chuckle with every mention of your team's name, and members will feel all the Christmas camaraderie.
Yule Never Defeat Us
The Snow It Alls
Holy Knights
The Silent Knights
Rebels Without a Claus
Gangster Gift Wrappers
All the Jingle Ladies
Wrap Artists
Up to Snow Good
The Polar Hot Mess Express
Singles All The Way
Reindeer Gamers
Gimme Myrrh
#Elfies
Best in Snow
Gingerbeards
Feliz Navi-Dads
Christmas Tree Huggers
Elves off the Shelf
Sleighing It
The Myrrh the Merrier
Sons of a Nutcracker
Sleigh Bells
Food-Inspired Holiday Names for Groups
Draw inspiration from your favorite holiday foods, treats, and drinks for your Christmas team name. Choose food or drink that's easily recognized, so team members and competitors all get the reference. Here are a few ideas we love:
The Fruitcakes
The Hot Cocoas
Spiked Eggnogs
Hot Toddies
Peppermint Twists
Pigs in Blankets
We've Got The Holiday Spirits
Wassailers
Eggnog Squad
Candy Cane Crushers
Team Names Inspired by Popular Christmas Songs
Pull a festive Christmas team name from the lines of a classic holiday song. Try a fun twist on the classics or take a creative direction with well-known lyrics.
Dashing Through the Competition
Lil' Drummer Boy & the Parumpapumpums
All the Other Reindeer
Four Calling Birds (or other lyrics from The 12 Days of Christmas)
Bring Us Some Figgy Pudding
Hark! The Herald Angels
Jingle Bell Rockers
Sleigh Bellers
Holiday Team Names From Favorite Movies
With so many beloved Christmas movies, most people will easily recognize these classic Christmas movie references. Choose a movie every team member loves and create a name that pays homage to the film.
Cotton-Headed Ninny Muggins (Elf)
The Holiday Who-be-what-ees (The Grinch)
Double Beatloafs (A Christmas Story)
Notafingas (A Christmas Story)
The Leg Lamps (A Christmas Story)
Fragilé, Must be Italians (A Christmas Story)
Ya Filthy Animals (Home Alone)
The Wet Bandits (Home Alone)
The Sticky Bandits (Home Alone 2)
Elves With Attitude (The Santa Clause)
The Tiny Tims (A Christmas Carol)
Polar Express Conductors (The Polar Express)
Santa! We Know Him! (Elf)
The Arctic Puffins (Elf)
The Angry Elves (Elf)
We Forgot Our Pink Bunny Suits (A Christmas Story)
Whoville Board of Directors (How the Grinch Stole Christmas)
Cindy Lou Who's #1 Fans (How the Grinch Stole Christmas)
Winter-Related Names for Groups
If you're going for a team name that's less about Christmas and more about winter, try creating one by focusing on winter weather elements. You might just come up with a name that calls to mind a winter wonderland.
The Frost Bites
The Snowflakes
License to Chill
Blizzard Bunch
Ice Queens
Snow Angels
The Evergreens
Mighty Mittens
North Pole Union
Frosty Crew
Snowflake Society
Tundra Buddies
Santa-Worthy Team Names
If you're looking for the perfect Christmas team name, look no further than Father Christmas himself! Choose a team name that directly references Chris Kringle to let everyone know that you still believe.
Little St. Nicks
The Kringles
Santa's Entourage
The Red Suits
We Believe
Kris Kringle's Crew
The North Pole Navigators
The Claus Crusaders
Claus and Co.
Hanukkah Team Names
If your team members spin a dreidel in December, try a Hanukkah-themed team name. Draw inspiration from traditional Hanukkah foods and traditions, or choose a funny pun to get a chuckle from everyone.
The Latkes
Beats by Dr. Dreidel
Winning the Dreidel
The Macabeats
Hanukkah's Heroes
Challah at Me
One Candle Short of a Menorah
Eight Crazy Knights
Dreidel Dazzlers
Naughty List-Approved Team Names
If traditional Christmas names aren't your team's vibe, try a rebellious approach with Christmas team names that are naughty list approved.
Santa's Vixens
Rum Rum Santa Claus
Resting Grinch Face (RGF)
Bah Humbugs
Grinch Gang
Scrooge's Fan Club
Scrooge's Little Helpers
The Naughty List
Re-gifters
A Not-so-Silent Night
Lumps of Coal
Try Traditional Christmas Team Names for a Win
Try a nostalgic approach with a Christmas team name inspired by holiday traditions or classic Christmas favorites.
The Candy Canes
Christmas Belles
We Three Kings
The Sleigh Belles
Gingerbread Men
The Tree Skirts
Sugarplum Fairies
Jingle Jangles
Holly Berries
Mistletoe Kisses
Nativity-Inspired Christmas Team Names
If the biblical Christmas story is a source of inspiration for your team, create a name derived from the story's details or parts of the nativity scene. This is a great option for church games and youth group activities.
The Wise Men
Christmas Angels
Following the North Star
Bethlehem Bunch
Holy Knights
Three Wise and Co.
Bethlehem's Best
We Brough the Myrrh
The Guiding Stars
Clever Alliteration Team Names
Try a witty alliteration to help your team's name stand out. Use common Christmas words alongside descriptive words with the same first letter for a clever Christmas team name.
Rudolph's Rebels
Tiny Tim's Troop
Merry Marys
Santa's Sweeties
St. Nick's Saints
Tinsel Troop
Stocking Stuffers
Garland Guild
Merry Misfits
Frosty's Festive Force
Mary's Manger Mamas
Stocking Squad
Scrooge Society
Give Your Group the Perfect Name
Remember, this is supposed to be fun! Don't stress over the perfect name. Rather, choose a name that makes your team members really feel the Christmas spirit, and the holly and jolly will follow. Try a name that calls to mind the nostalgia of Christmases past or simply brings you joy. Whether it inspires a smile or a giggle, your Christmas team name should be all about the fun. After all, that's the spirit of Christmas.