A lighted Christmas parade is a festive and inspiring way to celebrate the holiday season. Many places around the world feature this type of holiday parade, which brings together people of all ages to enjoy the sights and sounds.
What Is a Lighted Christmas Parade?
A lighted Christmas parade is exactly what it sounds like: a parade of floats, cars, trucks, motorcycles, bicycles, and even people decorated with hundreds of strings of lights. Part of the fun of a lighted parade is seeing the new and unique ways that lights can be used to decorate the vehicles and attractions.
Often, the entire town gets into the spirit. Local parks, businesses, and other establishments decorate with Christmas lights as well, making the entire scene a breathtaking sight.
Lighted Christmas parades almost always take place at night, so that the effect of all the lights can be experienced to the fullest. The street lights are often dimmed, and the town takes on a festive, almost magical mood.
Lighted Floats and Attractions
The main focus of a lighted parade are the floats, which are very creative and use lights to illustrate a variety of holiday themes and stories. Some common themes on these floats include:
Spectacular Christmas trees
Nativity scenes
The Nutcracker Suite
Snow scenes
The lights provide a visually stunning float, but it's the creative ways that these lights are used to portray the themes that really make them interesting. Some people use the light garlands to decorate objects on the floats, while other people painstakingly create an entire scene from wire shapes draped in lights.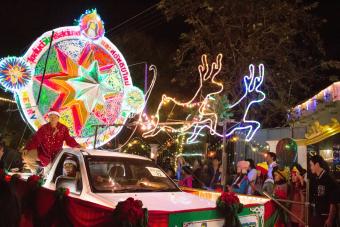 Lighted Truck and Boat Parades
Lighted holiday parades have branched off and inspired some niche ideas, including the lighted truck parade. Instead of floats, trucks of all shapes and sizes are decorated in garlands of lights and sent out on parade.
From transport trucks to construction vehicles, no truck is too big or too small for festive decorations! It takes hours to string the lights on these trucks, and the result is fascinating. Imagine, for example, a cement mixer, with its gigantic drum covered in swirls of multi-colored lights. The beauty of the truck parade lies in the contradiction between big, clunky vehicles and tiny, intricate lights.
Where there is a waterway or shore nearby, some cities and towns have arranged lighted boat parades. Boats, both commercial and personal, are strung with lights just as floats would be in a regular parade. Sometimes the boats actually do present a moving parade for spectators, while elsewhere they are simply docked for viewing.
How to Find Lighted Holiday Parades
To find out if your community holds a lighted Christmas parade, there are several places you can look. Here are some to try:
Check local newspapers as the holiday season begins for advertisements and details.
Social media accounts for local governments or chambers of commerce will often start sharing about upcoming events, like parades, weeks ahead of time.
Call your city hall or town council.
Search online for your local city, town, or county website.
Try this list from Wikipedia, which includes holiday parades in the U.S. and Canada.
If your community doesn't hold a lighted seasonal parade, consider looking at nearby locations that you could travel to easily to enjoy the festivities.
A Fun, Festive Holiday Tradition
Parades are always fun, and there's something even more special about sharing a holiday evening full of fun, colorful lights, and the sense of community that encompasses the entire event. If your town doesn't host a light parade, there's a good chance that you can find one not too far from home, as these events have become more and more popular over the years.