Christmas Tree Décor Inspiration
Whether your go-to holiday décor is sophisticated and elegant or fun and whimsical, your Christmas tree is often the centerpiece of that holiday vision. There are a variety of different ways to create an amazing tree that will be an attractive focal point for the entire holiday season, and you can find some inspiration for how to transform your own tree at home using these pictures of decorated Christmas trees here.
Add Texture With Unusual Materials
You can really bring some interesting textures to an average Christmas tree by using materials which ornaments aren't commonly made out of. Crafting supplies are a great option if you can't find any ornaments like these in the store, where you can replicate decorations like the felt mushrooms on this tree's branches.
Keep It Airy
If you'd like to keep your space light and airy this winter season, try decorating your tree with air-inspired motifs. Think things like snowflakes and flying angels; let these decorations float down onto your tree and bring a whirlwind of movement into your living room.
When In Doubt, Improvise
The Christmas season can be hectic, and you just might find yourself near Christmas without a tree to set up. However, even if all the lots are cleared and the store's shelves are devoid of any fake ones, you can always get creative. Take this unconventional ladder Christmas tree whose whimsy adds humor to the joyous holiday for example.
Chocolate Isn't Just for Dessert
Chocolate doesn't have to be just for dessert when you decorate your Christmas tree in warm, chocolatey-toned ornaments. The rich browns and creams of these neutral decorations will make your space feel unbelievably comforting and homey.
Ski Slopes Can Be Fun
An interesting way to one-up your ribbon game this year is to twirl your satin, velvet, or embroidered ribbon around your Christmas tree in a horizontally sloping fashion to create ski slope shapes around your entire tree. For bonus points, carefully place themed ornaments like skiers, snowboarders, and ice skaters all around your impromptu slopes.
Jive With Jewel-Tones
Over the past few years, jewel tones have dominated the fashion and design communities, and you can take their leads by decking your Christmas tree out in highly pigmented ornaments in colors like emerald greens, sapphire blues, ruby reds, and so many more.
Go Big or Go Home
Average ornaments typically come in a standard size, ranging the size of a golf ball to a tennis ball. However, one way to bring depth to your Christmas tree is to vary the sizes of your decorations; take this tree, for instance, with its oversized metallic ornaments. Try out some giant or miniscule ornaments on your own tree and see what you think.
Small Spaces Deserve Decoration Too
Not everyone has the space or physical capability to have and/or decorate a full-sized tree. If you're one of these people, you can always find a small Christmas tree to decorate yourself. Petite trees are incredibly cute and deserve as much attention and love as full-sized trees do.
Don't Stop, Can't Stop
While you may strive to live a minimalist lifestyle, you don't have to apply it to your holiday decorations. Overloading your tree with all of the ornaments, beads, lights, and so on that you've stockpiled over the years might bring you just the right amount of joy this winter.
Christmas in July
While Christmas doesn't fall in summer everywhere around the world, take some inspiration from the places where it does and add ornaments that exude summer fun. For example, you can find nautical and ocean-themed ornaments like starfish and sand dollars to bring the sun and surf to your winter season.
Keep It Classic
If you're feeling the wintery blues, turn towards some familiar things in your life to help bring you comfort, like decorating your Christmas tree in a classic design. Think of a yellow star with red ornaments and some twinkling lights to brighten up your day.
Shine It Bright
Instead of focusing on figuring out what set of boxed ornaments you want to decorate your Christmas tree in, try picking out the perfect set of lights to bring an elegant, refined feeling to your Christmas tree. Of course, this works best with trees that don't come pre-lit, so keep that in mind when picking your trees out this year.
Placement Matters
You may not realize it, but placement of your ornaments really matters. If you're on a tight budget or can't find half of the ornaments you swear you packed up last year, you can easily make your Christmas tree feel full by carefully spacing your ornaments out across your tree.
Keep Things Natural
For people who don't want to bother with matching color schemes or storing boxes of ornaments, try sticking to natural items. Things like acorns and pinecones on your tree will transform your hallway or living room into a woodland adventure.
Bold Is Better
If you've been blessed with a bold aesthetic, let it bleed into your Christmas decorations this year. Show your colorful style with pride, and choose bright colors like pink, yellow, orange, and purple to deck out your trees. You can even go a step further and purchase a colored Christmas tree to really liven up your living room.
Retro Is All the Rage
A really fun way to playfully mix with your Christmas tree decorations is to use vintage Christmas trees as inspiration for your designs. Try covering your tree in tinsel or uniquely colored ornaments to really sell the retro vibe this season.
Try Sustainable Options
With the increasing global consciousness over climate change, you might be thinking about ditching your annual Christmas trees this year. However, you don't have to waste money on plastic if you can get creative with the tree itself. Books and cool boxes can be stacked on top of each other to create sustainably-minded Christmas trees.
Candy Cane Colors Never Fail
Candy canes are major Christmas iconography; peppermint-flavored things dominate the season and the oscillating red and white can serve as a great color-scheme for your Christmas tree this year. You can even take wrapped candy canes and hang them from your tree's limbs to sell the theme home.
Baby's First Christmas
If it's your baby's first Christmas, or you have one on the way, you should incorporate the typical baby shower colors into your Christmas tree decorations. Pretty pastels and baby motifs can be a fun way to help celebrate the new milestones in you and your family's life.
Jack Frost Nipping At Your Nose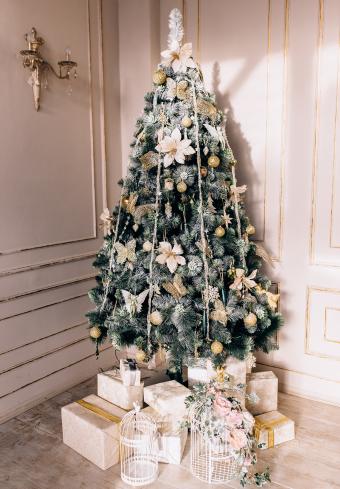 Cover your Christmas tree in frost this year by choosing whites and light golds; you want to gravitate towards ornaments which look like they've been snowed on to help create a snowy scene inside your house. If you're really committed to this idea, you can always purchase a pre-frosted fake Christmas tree.
Christmas Cookies Aren't Just For Eating
Many families share a love for decorating Christmas cookies, and you can translate that family tradition into your Christmas tree decorations by finding candy and cookie themed ornaments. Similarly, you can spray your own homemade cookies to preserve them in order to make your own sugary decorations.
Stick to One Color
Monochrome outfits always look great, and the same can be said for monochrome Christmas trees. You can choose classic Christmas colors like silver, gold, and red, or branch out with things like browns, pinks, or purples. Either way, stick to only using one color to decorate your entire tree for something fresh this year.
Switch It Up Every Year
Decorating can be such a fun family affair, but the most important thing to remember when it comes time to break out the boxes of ornaments is to switch it up every year. Although it's tempting, and cost-effective, to use the same ornaments year after year, it can take some of the magic out of the decorating process. So, however you choose to decorate your tree this year, have fun and switch it up.