Make your holiday treats stand out from the crowd this year with these Christmas cookie decorating ideas that range from sophisticated to simple. It doesn't matter if you have a lot of decorating experience or a little because these festive ideas include something for everyone. No matter what your favorite Christmas cookie is, one of these options is sure to please your palate.
Modern Half-Dipped Christmas Trees
This super simple cookie decorating idea looks really modern and fun, and it's easy for anyone to master. Make basic sugar cookies in the shape of trees and then dip half the cookie in green icing. Make a recipe of royal icing and use a single, smooth motion to dip the cookie, making sure it creates a straight line of icing. While the icing is still wet, top it with festive sprinkles and allow it to harden.
Adorable Melted Snowman Cookies
Melted snowmen are popular for cookie trays because of their silly design, and kids love them, too. To make these creative cookies, dip toothpicks in melted chocolate and orange candy coating and draw a snowman's face on large marshmallows. Use a spatula to spread white royal icing on top of the cookie; it doesn't need to be perfect. Place the snowman's head at the top of the cookie while the icing is still tacky. Add a few chocolate coated candies below the marshmallow for "buttons." Use additional chocolate candy coating to draw stick arms off to the sides.
Sweet Reindeer Bar Cookies
Bar Christmas cookies are always delicious, but they don't always look as pretty on a cookie tray as other festive options. This decorating idea can work really well for no bake cookies too, giving any regular cookie a distinctive holiday look. Simply frost the cookie in chocolate frosting and cut into triangles. Add two candy eyes and a pair of antlers in the form of broken chocolate covered pretzels. Finally, add a nose made of either red or brown candy - think raspberry gum drops, milk duds, and malted milk balls.
Merry and Bright Boots
Cookies shaped like small boots add a punch of color to your holiday dessert tray. Use thinned royal icing in bright jewel tones to decorate the lower portion of the boots. Then cover the top part of the stocking in white icing and gently dip into white sparkling sugar. A small black "x" for laces rounds out the boot design. If you want to make the cookies look like stockings instead of boots, skip the laces and add white icing to the toes and heel.
Cute Snowman Thumprint Cookies
Thumbprint cookies are a basic staple in many Christmas cookie tins, but you can make yours extra special with this cute decorating idea. Make a basic thumbprint cookie and then fill the thumbprint with a white chocolate candy. After the cookie has cooled, use a toothpick in black icing to add a eyes and a mouth. Pipe on a carrot nose.
Sophisticated Lace Christmas Cookie
Lace that looks like cross stitch embroidery is a wonderful way to decorate a plain gingerbread heart. You can purchase pre-made edible lace from Amazon or bakery supply stores. It retails for about $14 for enough lace to decorate a few dozen cookies. Attach the lace to the gingerbread hearts with a little royal icing. When the cookies are dry, package them in a holiday bag.
Easy Ornament Cookie Design
A design that's worthy of your Christmas cookie exchange doesn't need to be difficult. Melt white chocolate and dip thick round cookies or sandwich cookies in the candy. Allow it to dry and add small frosting dots in silver, teal, and white. Unwrap mini chocolate cups (such as peanut butter or caramel) and add to the top of the cookie so the larger end is facing down. Affix using additional melted white chocolate.
Think Outside the (Red and Green) Cookie Box
You don't have to stick to classic Christmas colors when decorating cookies. In fact, it can really make your cookies stand out to choose a non-traditional color scheme. For instance, pick up lots of pink sugar and decorations and make pink royal icing. Then frost your sugar cookie cutouts in a combination of pink and white for a fun and feminine take on the classic.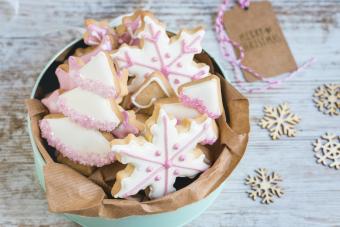 Pastel Penguin Cookies
The pink and purple hues make the penguin stand out among more traditional red, green, white, and blue colors typically featured during the holidays. These cookies require a little more experience to decorate, but they're a fun and adorable challenge for those who want something fancy. Start by covering your cookies in pink and purple royal icing. Once set, add the basic black penguin outline. Outline his white chest as well and then flood with black between the two. Cover the chest with white. Allow the penguin to firm and then add the eyes, beak, feet (if shown), scarves, earmuffs, and fondant icing bows. Finish by adding a few snowflake sprinkles around the top of the cookie.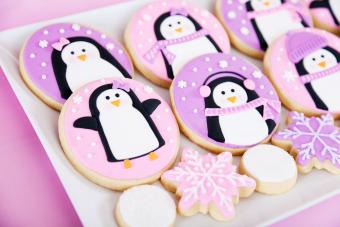 Gingerbread People With Just the Details
There's no rule that says you need to frost the entire cookie. In fact, you can make some truly adorable gingerbread or sugar cookie people with only the details as decoration. This process is actually easier than trying to keep your icing colors separate on a complex all-over design. You only need royal icing in several colors and a piping tip to apply it. Focus on adding facial features, important clothing details like buttons, hands and feet, and hair or hats.
Artistic Angel Cookie
If you're looking for a fun challenge, this angelic cookie will require some skill and patience. Start by outlining the angel's dress (including arms) in blue royal icing and then flooding the center. Then do the same for her face and hands, but in the skin tone you desire. Allow the icing to set and then work on the wings using a brush embroidery decorating technique. Once the dress, face, and wings have fully set, you can start piping on the details. Add hair, facial features, collars, and skirt hemline. Allow them to set before adding the gold halo. Pipe a holiday scene onto the bottom of the skirt. A snowman, snowflakes, and simple tree take this angel to heavenly heights!
Festive Jam Cookies
Decorate the classic sugar cookie with a dollop of jam and another cookie. This is a simple and fun idea that the whole family can enjoy making together. Use a round sugar cookie with a narrow lip and fill the center with a small amount of jam before baking. Separately, bake smaller cookies in the shape of snowflakes or another Christmas design. When all the cookies are baked, place the smaller festive cookie in the center of the round jam cookie and allow them to cool.
Happy Holiday Cookie Designs
You don't need to be a master decorator to create these festive holiday designs. Just bake up your favorite Christmas cookie recipe and start decorating. You'll have the best looking holiday cookie tray in the neighborhood!