German Christmas culture is steeped in tradition, and decorations play an important role. Decorating your home with German Christmas decorations helps you create wonderful holiday ambience.
Popular German Holiday Pieces
If you want to incorporate German Christmas décor into your home during the holidays, or want to add a piece from Germany to a holidays around the world theme, several pieces are essential to decorating with a Germanic touch.
Nutcrackers
Most people have heard of the famous Nutcracker ballet, but few know the history behind the piece. The Leavenworth Nutcracker Museum reports that the current wooden solider design originated around 1800 near the Sonneber and Erzebirge regions of Germany. In 1872, Wilhelm Fuchtner, considered the "father of the nutcracker", created the first commercial nutcracker. Today, many are still produced in Germany.
You'll find nutcrackers in most department stores or stores that sell home décor, but some online retailers sell authentic German versions:
Erzgebirge-Palace offers nutcrackers from several German craftspeople and manufacturers. Nutcrackers are an Erzgebirge folk-art staple; each nutcracker is 100 percent handmade in Germany. Prices vary greatly by size and manufacturer from $35.90 for a 5.5-inch traditional nutcracker king wearing a vibrant red and yellow uniform to $3,399 for an elaborate 39-inch Santa Claus nutcracker decked out in a dark red cape and carrying a Christmas tree and a violin.
ChristKindl-Markt sells traditional German nutcrackers. Santas, a variety of soldiers, and a German fireman are available. Prices range from $57.99 to $169.99.
Rauchermen
Rauchermen, or German Smokers, are made similar to wooden nutcrackers, but for a different purpose. Instead of cracking nuts, they serve as incense burners. They are often resemble common folk or represent occupations.

Rauchermen came about after the end of the 30 year religious war in Germany in 1648. According to Magic of Nutcrackers, they earned their name because of superstitions that led people to believe evil spirits of the Raunaechte, who came out on the "longest nights of the year," can be scared off with light and sound. After spirits had gone, incense would be burned for a blessing upon the home.

Purchase Rauchermen for your home at the following websites:
The Christmas Haus sells a large variety of German Smokers such as Santa, snowmen, mini houses, shepherds, and toymakers. Prices vary -- a Santa house with horse and sled costs $38.00 while a limited edition toymaker costs $390.00. Mini tin-house smokers are $6.00, making them a great way to start your Rauchermen collection.
Christmas Pyramids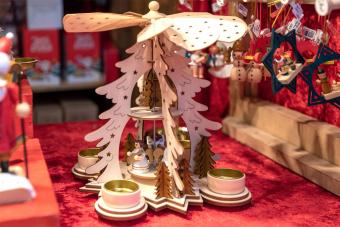 Christmas pyramids are one, two, three, and even more stories high. Made mostly out of wood, they are powered by heat from candles that make fans turn, which powers the pyramid. While the inspiration for the pyramids may date back to how 15th century mines were powered, they were most popular throughout Germany in the 18th and 19th centuries, according to The German Christmas Shop. Once an heirloom brought out at Christmas, the pyramids were manufactured and sold commercially starting in the early 20th century.
You can purchase Christmas pyramids at these online retailers:
M.I. Hummel Figurines
The popular German Hummel figurines are not put away during the Christmas season but enjoyed year-round. The company has developed a Christmas line, including elements like nativity scenes, Christmas trees, angels, Christmas scenes, bells, and more.
These websites offer Hummel figurines to help you start a collection or add to an existing one:
Hummels At A Discount sells current and retired Hummel figurines, many on sale. Keep in mind retired Hummels can be quite expensive and cost around $700.00 like this 9-inch Christmas Delivery figurine depicting a little girl on a sled holding a doll. Other Hummels aren't as expensive but still average between $100.00 and $300.00.
CuckooClocks.com has a nice variety of Hummel figurines. This Wintertime Duet figurine featuring a young boy and his dog costs about $200.00.
Ebay is a great place to find Hummel figurines and collectibles.
German Tree Ornaments
The Christmas tree has deep roots in German history. Therefore, no German home is decorated for Christmas without one. Deck out your German tree in traditional tinsel, lights, candies, and more.
If you love to visit antique stores, look for vintage Christmas ornaments. You may also want to add a straw star to set atop your holiday tree. The German Christmas Museum offers other historical ideas for decorating the Christmas tree, including handmade paper flowers or gingerbread ornaments.
Purchase German tree ornaments at these websites:
Whole House Decorating Ideas
Some Christmas decorations are universal such as lights, nativity scenes, and a Christmas tree. In Germany, Christmas decorating is beautiful but simple, and you'll find decorations that aren't as common elsewhere.
To add German flair to Christmas decor throughout your home, try these decorating ideas. Most ideas work anywhere to bring the separate items together, but some work better in specific rooms, as noted.
Besides lights, adorn your Christmas tree with wax candles. To experience a traditional German Christmas, light the candles for a brief time on Christmas Eve. To do this safely, you should purchase special candle holders and never leave lit candles unattended.
Place an advent wreath made of holly on a prominent table in your home. Do this in the living room, kitchen, or dining room.
Bring nature inside by decorating with evergreens, holly, fruit, and botanicals. This can be done anywhere, but is especially pretty around the bathroom mirror and on top of the toilet tank.
On Christmas Eve, set out bowls of apples, marzipan, and cookies for family members and friends in the kitchen.
Decorate your windows with wooden window candle arches. This is best done in windows that face the street if you don't feel like decorating each room with them.
Create German crafts such as star paper wreaths or stars to hang on walls, decorate windows, or hang from the ceiling. Include the crafts in family rooms, kitchens, and bedrooms.
Have a Merry German Christmas
No matter what decorating elements you incorporate into your home, German Christmas decorations are lovely additions to any décor scheme. Make a few German recipes and sing some traditional German carols, and it will feel as if you are spending Christmas in the country itself.