If you love old-fashioned charm, you can incorporate Victorian Christmas decorations into your regular holiday decor to create tons of antique beauty and vintage flair for the holidays. The Victorian era is famous for its elegant and ornate decorating, and Christmas is the perfect time to embrace this style. Whether you choose to decorate with genuine antiques from the time of Queen Victoria and Prince Albert's reign over England in the 1800s or you try a modern take on some of the decorating motifs popular during this era, your holiday decorations are sure to stand out from the crowd.
Try Some Victorian Era Tree Decorations
German Prince Albert introduced the Christmas tree to the castle while he was married to the queen. After Christmas trees became a holiday staple at Windsor Castle, families across England and America began introducing them into their own homes for the season. Your tree decorations are a great way to add some Victorian charm to your home for the holidays. Start with an antique or vintage Christmas tree stand and get decorating.
Paper Ornaments
Victorian Christmas ornaments came in lots of different materials, but paper provided an affordable and pretty way for people to decorate a tree. You can create ornaments by decoupaging paper Victorian scenes onto glass balls, or you can cut paper into shapes. Experiment with reusing printed paper, such as old sheet music or pages from cast-off books. Cut the paper into stars, angels, and other Christmas motifs.
Nuts, Fruits, and Berries
The tradition of hanging popcorn, cranberry, or nut strands around the tree hails from the Victorian era too. Many families used dried apple slices, which when cut cross-wise produce a pretty star where the seeds are located. You'll also see dried oranges, cinnamon sticks, and more. These decorations were readily available for many Victorian families, and they smelled beautiful and fresh during a season when the house had to be shut up to stay warm.
Ribbons and Bows
Long, trailing ribbons in pretty colors can make a gorgeous tree-topper or pretty decoration for the tree. The Victorian era was all about opulent fashion, and incorporating ribbon in your tree decor can call this to mind. Think skirts with bustles and flounces and emulate the look with high contrast striped ribbon or bows with pleats or ruffles.
Edible Goodies as Ornaments
Hanging goodies, such as gingerbread men or cookies, upon the tree for eating the next day is another classic Victorian choice. Many 19th century families put the tree up on Christmas Eve, so including treats for Christmas day made sense for decorating during this era. In addition to cookie cut-outs, you can hang little bags of candy or popcorn balls.
Candles or Faux Candles
The first Christmas tree lights were candles with real fire. Little holders clipped onto the branches of the tree, and on Christmas Eve, the family would light all the candles. If you have a small tree and place it in a safe place, never leaving it unattended when lit, you could incorporate this Victorian tradition into your decorating. Otherwise, faux candles or electric lights that look like candles can emulate the look without being a fire hazard.
Old Photographs
You can find old Victorian photographs in antique stores and online auctions, or you can use your family archives. Don't destroy the original photos, but you can scan them and have them printed. Then use pretty paper to make a frame for the photo and hang it from your tree.
Decorate for a Victorian Era Christmas Using Antiques
To create an authentic-looking
Victorian holiday home, seek out memorabilia and antique decorations. You can use anything from antique kitchen tools to toys to give your decor instant old-fashioned charm.
Small Antique Christmas Toys
One way to do this is to display antique toys that were popular gifts from the era. Place them on a mantelpiece in greenery or beneath a tree. According to an article from Harper's Bazaar in 1881, popular Christmas toys included the following:
Doll houses
Animals (elephants, pigs)
Musical instruments (drums, trumpets)
Spinning tops
Building blocks
Banks
Alphabet blocks
Old Fashioned Sleds
Antique sleds are a wonderful way to incorporate a fun Victorian feel into your holiday decorating. You can lean a sled up against a fence or wall and attach a bow to it as a welcoming outdoor decoration. Alternatively, use a small sled as a serving pedestal for a holiday meal. You can pile the sled with cupcakes or other treats for a beautiful Victorian display.
Christmas Quilts
If you have antique or vintage Christmas quilts, you can use these for an old-fashioned Christmas decoration that calls to mind the Victorian era. Simply fold the quilt and drape it over the back of your living room sofa or display the Christmas quilt on a guest bed during the holidays.
Rocking Horses
Rocking horses are a classic Christmas choice, and they call to mind the Victorian era. You can place a wreath around the neck of an antique rocking horse or even a new rocking horse with classic appeal. A holiday rocking horse looks great in front of the fireplace or on the front porch.
Silver Tea Service
If you have an antique silver tea set, you can set it out as a Christmas display. Nothing says Victorian like a tea service, and if you tie it with a red ribbon bow and arrange holiday greenery on the tray, it can double as a gorgeous Christmas decoration. You can even use it to serve tea when you have guests during the holiday season.
Antique Ornaments
Antique Christmas ornaments don't have to stay on the tree. Instead, display several in an antique bowl, or hang them from your dining room chandelier with ribbons. Look for glass Victorian Christmas ornaments at antique stores.
More Great Ideas for Victorian Christmas Decorations
There are lots of other ways to give your holiday decorations a Victorian feel. Try some of these.
Christmas Top Hat
A top hat has a distinctly Victorian feel, and you can purchase a new one from any costume shop. Then decorate it with holiday greenery and Victorian-style ribbons to make a wonderful focal point for your coffee table, bookcase, or fireplace mantel.
Holiday Windows
Create a stunning holiday window in homes with bay windows or large front windows. Popularized by the Macy's department store in the 1870s, these windows can be done on smaller scales at home. Ideas and instructions for a holiday window at home can be found in an article Arthur's Home Magazine from 1890. One great option is to hang yards of taffeta fabric in a holiday plaid and add greenery at the corners of the window.
Framed Victorian Christmas Scenes
You can buy authentic Victorian etchings and engravings at antique stores or online, or you can purchase modern reproductions. Either way, one great Victorian Christmas decorating idea is to replace all of the framed art in your home with holiday scenes from this era. Simply remove your normal art for the month of December and hang framed Victorian Christmas scenes instead.
Christmas Card Displays
Use vintage Christmas cards to create a stand-alone display or incorporate them amongst other decorations. The first card, commissioned in the 1800s by Sir Henry Cole and designed by J. Calcott Horsely, was actually a postcard featuring holiday scenes and wished a Merry Christmas and Happy Holiday to the recipients.
Cards often depicted Santa Claus, Father Christmas, trees, children, winter scenes, and activities. Find them at stationary and antique stores. Reproductions are also widely available at home decorating shops. Hang them around mirrors, hang on trees, or hang a shadowbox display on the wall.
Victorian Christmas Greenery
Ivy, mistletoe, and other greenery were a holiday fixture in Victorian era homes. People thought this type of decoration would help usher in spring, you can place greenery anywhere. Consider using greens in the following places:
Fireplace mantels
Doorways
Around staircases
Outside (mailboxes, doorways, porches)
Oil Lanterns and Lamps
Antique and reproduction oil lanterns and lamps offer a beautiful Victorian look to any table or surface in your home. Add pretty greenery (not too close to the heat) and berries or red flowers. This can make a beautiful Victorian centerpiece for your table.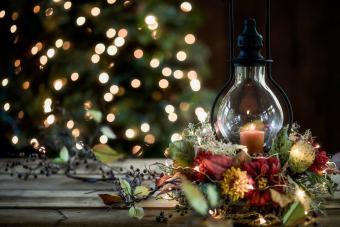 Give Your Christmas a Timeless Feel
While the Victorian era was one of the most incredible when it comes to ornate and lovely holiday decorations, it's not the only time period with old-fashioned appeal. There are lots of other vintage Christmas decorating ideas to try inside and outside your home. Adding a bit of Christmas past to your celebration will give your Christmas a timeless feel you'll appreciate all season long.