Antique Christmas ornaments are among the loveliest Christmas decorations you can find for your tree. From blown glass figures to beaded designs, these vintage ornaments add style and sparkle to your home during the holidays. Learn about the many styles, as well as how to assess an antique Christmas ornament's value.
How Can You Tell if a Christmas Ornament Is Vintage or Antique?
Because Christmas is a time of nostalgia, many companies make ornaments in vintage and antique styles. This can make it confusing for collectors who want genuine antique ornaments. However, there are some important clues that can help you determine whether an ornament is a reproduction or the real thing.
Vintage Ornaments Are High Quality
If you've ever picked up a modern ornament and held it next to an antique one, you know that modern ornaments tend to feel different. Genuine antique ornaments are often made of mercury glass, glass that has been silvered on the inside. Modern reproductions are sometimes made of plastic or thicker, less delicate glass.
Many Antique Ornaments Are Made by Hand
While modern ornaments are uniform and perfect, antique Christmas ornaments were hand-crafted and show some variation. You may see signs of hand painting, a lack of uniformity, and even an indication of mouth blown glass. Even though many antique Christmas ornaments were mouth blown into a mold, you'll see the pontil mark or uneven area where the hanger cap attaches.
Glitter on Antique Ornaments Is Different
The glitter on modern Christmas ornaments is different from the type of glitter used in years gone by. Vintage ornaments often have mica glitter that isn't uniform in shape and size. The glitter may feel bumpy to the touch.
Ornament Caps Offer a Clue About Age
Ornament hanger caps have changed over the years, and they can be a good indicator of age. Newer ornaments have ornate caps that are made of thin metal, while older metal caps tend to be simpler and thicker. You'll also see caps made of plaster or even paper.
Antique Ornaments Have Patina
One of the most important indicators that an ornament is vintage is patina, or the wear that comes with age. Antique and vintage Christmas ornaments will show some wear, even if they are in excellent condition. You'll see the mercury glass flaking off a bit or the metal taking on a dull appearance from tarnish. Painted details may be a little worn or scratched. This wear can add to the beauty of the ornament and help you tell the difference between it and a newer reproduction.
Styles of Antique Glass Christmas Ornaments
Antique glass Christmas ornaments come in a variety of styles, often following what was popular during the era they were made. For instance, 1920s and 1930s Christmas ornaments have Art Deco geometric designs. 1950s and 1960s Christmas ornaments embrace the futuristic style of the era with mid-century modern sleek lines and plastic and aluminum details. In addition to the design styles of the era, you'll see these specific types of vintage Christmas ornaments.
Kugel Christmas Ornaments
Some of the oldest antique Christmas ornaments are kugels. These heavy glass ornaments have a fluted or shaped design and were made in Germany. They date back to the late 19th century, although they continued to be popular into the 20th century. You can find them in the shape of a bunch of grapes, a simple ball, and many other styles. These regularly sell for around $30 in antique stores and on eBay, but they can sell for much more if they are in good condition and are old.
Unsilvered Christmas Ornaments With Paper Hangers
These matte-toned 1940s Christmas ornaments are anything but dull. Instead, they are a statement about wartime rationing, which was important even during the holidays. Because metals were needed for the war effort, Christmas ornament manufacturers could not coat the inside of the glass ornaments with silver. They also had to use paper hangers instead of the traditional metal ones. The result is a very unique look. The fact that these were made only during World War II makes them some of the rarest and most valuable Christmas ornaments you can find. Even simple designs regularly sell on eBay for $15 to $30 each.
Figural Glass Christmas Ornaments
Among the most popular antique Christmas ornaments are figural designs. Often, these were mouth blown into a mold. You'll see shapes like Santas, pine cones, fish, pickles, and more. Some shapes have symbolism, and others are simply designed to be pretty. They range in value from a few dollars to over $100.
Free-Blown Antique Ornaments
Some antique ornaments are also free blown, which means they are not entirely blown in a mold. Part of the ornament may be molded, but other parts may not. These are unique designs, and they can be among the most valuable. Free-blown glass Christmas ornaments sometimes sell for hundreds of dollars.
Indented Antique Christmas Ornaments
Back when Christmas trees used candles instead of electric lights, ornaments with faceted indentations were a great way to add sparkle and reflect the light. This shape stayed popular throughout the early 20th century and experienced a resurgence mid-century. You can often find these indented ornaments, and some even feature indentations on both sides. They often sell for under $20.
Cotton Batting Christmas Ornaments
Some of the oldest and most valuable Christmas ornaments you can find are those made of spun cotton or cotton batting. They originated in the 19th century, possibly as a type of non-breakable ornament children could touch. They come in many styles, but they are usually figural. You'll see animals, people, foods, and more. Well-preserved examples regularly sell for over $100.
Beaded Christmas Ornaments
Beaded ornaments were also popular, especially during the 1940s, 1950s, and 1960s. Some were store-bought, and others were ornaments people could make using pre-packaged kits of supplies. These sparkling ornaments can be difficult to find in good condition, but they tend to be fairly affordable, often selling for $20 or less.
Dresden Paper Animal Ornaments
Dresden paper ornaments, which usually feature an animal shape like a peacock, deer, or bird in flight, are some of the most valuable antique Christmas ornaments on the market. Because these very old German ornaments are difficult to find in good condition, they often sell for hundreds of dollars.
Glass Bead Garlands
Garlands of blown glass beads are another vintage Christmas ornament that can be very collectible. These garlands feature hollow mercury glass beads strung together on wire or cotton cord. Often, the delicate glass got broken with years of use and storage, so these are rare to find in very good condition. Especially well preserved examples sell for just under $100.
Antique Glass and Ceramic Christmas Trees
Although they were not designed to hang on the tree, these table ornaments are a hot item with collectors. Ceramic trees fitted with colored glass lights make a beautiful holiday display, and many light up for a gorgeous glow. Often, the tree and the light-up base were separate pieces, so it can be challenging to find both in good condition. A complete antique ceramic Christmas tree often sells in the range of $30, making it an affordable Christmas collectible.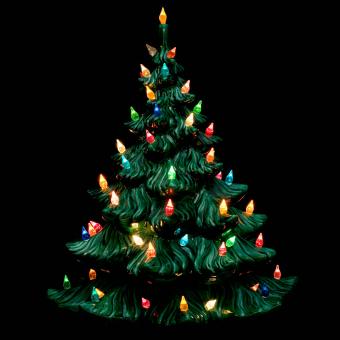 Antique Christmas Tree Stands
In addition to having antique ornaments on your Christmas tree, you can place it in an antique stand. Some of the oldest and most ornate examples were crafted from metal and can play music and rotate. Others feature figures like elves and deer or ornate cast iron designs. It's important to note that many of these may not be practical to use with a fresh tree today, since they frequently lack a place to keep water for your tree.
Assessing Antique Christmas Ornament Values
Many people find old glass Christmas ornaments and wonder if they are worth anything, and the answer really depends on the condition of the ornament, its rarity, and a few other factors. Here's how to assess antique Christmas ornaments values so you can get an estimate of how much a specific ornament might be worth.
Condition Matters
The condition of an antique Christmas ornament is very important. Ornaments with missing pieces, crazing, chipped or flaking paint, or broken parts are worth considerably less than those in good shape. An ornament should look old, but it should still be beautiful.
Rare Christmas Ornaments Are Worth More
Rare Christmas ornaments like Dresden paper examples or cotton batting ornaments are worth the most. Free-blown ornaments are also extremely valuable. Additionally, if the ornament features a less common figure or design, it can be a hot item with collectors.
Compare to Recent Sales
Because sellers on eBay and other sites can ask anything they want for an ornament, the only real way to compare values is to look at recently sold ornaments. Here are some Christmas ornament values from recent sales:
Add History and Nostalgia to Your Holidays
If you love antique Christmas ornaments, there are lots of ways to use them in your holiday decorating. Consider using a Victorian Christmas decorating scheme and pairing the antique ornaments with Christmas houses. Alternatively, you can hang vintage ornaments from your chandelier or collect them in a bowl on your table as a centerpiece. No matter how you style them, these beautiful ornaments will add a sense of history and nostalgia to your holidays.