You may not want to ask Clark Griswold for his yard-decorating ideas this Christmas, but you could channel his energy for your own decor theme. Before you start untangling lights, get inspiration for your outdoor Christmas display. With the right theme and plenty of planning, you'll have the hap-hap-happiest holiday yard this side of the neighborhood.
Have a High-Fashion Holiday
More Details
Forget about the debate over colorful or white lights. What you need to decide is whether you're a stripes or plaid house. Show your sense of Christmas style with a fashion-forward yard featuring oversized ornaments in classy prints, wreaths with velvet ribbons, and all the twinkling lights you can manage.
Make a Winter Critter Oasis
More Details
We aren't all huge fans of Santa and colorful lights. So maybe you prefer a winter-themed approach to your outdoor Christmas display. Feature North Pole animals, like penguins and polar bears, to make your yard a wintery oasis for cold weather critters.
Give a Nod to Santa
More Details
You don't have to include a giant Santa inflatable to honor Father Christmas — though, that's certainly an option. Instead, you can give a subtle nod to the man with the bag by featuring North Pole-themed pieces, plenty of red details, and a classic letters for Santa mailbox.
Make Your Yard Magical
Understated Christmas decorations for your yard can feel just as magical as a lawn full of lights. In fact, small twinkling lights in your trees and a few other small details may be all you need to showcase the simple magic of Christmas.
Display a Thrill of Hope
More Details
If you like to honor the reason for the season, a nativity scene might be the way to go. You can add a twist to the traditional setup by displaying an updated or modern iteration of the biblical story in your yard.
Quick Tip
Swap large figures for silhouettes or wooden stands for a simple approach to the Christmas nativity.
Greet Guests With a Snowman Family
More Details
You may not have snow on the ground this Christmas, but you can still have an entire family of snowmen. A glowing snowman family is sweet for the season and adds a touch of elegant whimsy. Complement your snowy friends with bright white lights and a beautiful wreath.
Create a Candy Wonderland
More Details
Sugarplums, gumdrops, and all the lollies you can find. A sweet candy wonderland is a whimsical theme for your home's outdoor Christmas decor. Use traditional red and green or look for more modern pastel shades.
Try Understated Class
With all the trendy and modern themes you could possibly choose, sometimes opting for the traditional is what helps you stand out. A classic lineup of green wreaths with red ribbons would look beautiful on your windows, your door, and along a fence.
Add an Angelic Choir
Swap helpful elves for a choir of angels on your lawn. Whether they're surrounding a nativity or just focused on their harps and trumpets, this heavenly scene will surely catch the attention of passersby.
Make a Grinchy Getaway
More Details
He's a mean one for sure, but he's also a classic Christmas icon. Feature a Grinch scene on your lawn and watch as all your neighbors' hearts grow three times in size with every glance at your home.
Helpful Hack
Create a scene of the Grinch stealing your lights or sneaking away with gifts to get a few holiday giggles this year.
Tell Everyone Santa Was Here
Eight dazzling reindeer and an empty sleigh let your neighbors know that Santa has already made one stop this year. It's a classic Christmas lawn theme, but it still captures the hearts of the young and not-so-young. Big, colorful lights complete the look.
Infuse Some Rustic Charm
You can embrace the rustic Christmas decor theme with open arms or just add a few touches for character. Either way, you're looking at a charming Christmas display. Focus on muted shades of classic Christmas colors, add in some wood and metal details, and use the nature in your yard in any way you can.
Give a Subtle Nod to a Christmas Movie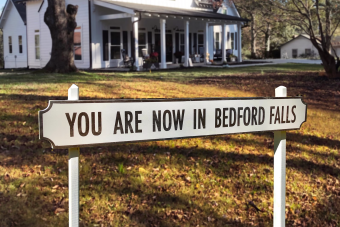 More Details
Christmas movies are one of the things so many of us look forward to each year. If your family has a favorite, use it as inspiration for your lawn decor. You might decorate your front yard like Buddy the Elf, incorporate some Grinch-approved details, or feature a sign welcoming neighbors to Bedford Falls.
Flamingle All the Way
More Details
If you plan on celebrating something similar to a bright, Hawaiian Christmas day, you might need a flamingo or two. Create a tropical holiday paradise in your own front yard and show the neighbors what mele kalikimaka really means.
Have a Griswold Family Christmas
More Details
If you're the biggest fan of Christmas on your street, you may as well go all in. Go for major shock factor and the "more is more" mentality with oversized decorations and lights all over. It might take a while to get the look together, but the excitement on your family's face will be well worth the effort.
Go for Timeless Elegance
More Details
A glowing tree in your window only needs a few details to give your home a timeless and elegant vibe. A lovely family of reindeer and a few twinkling lights completes the look for a classic Christmas display that looks stylish year after year.
Have a Camping Christmas
Campers can be cute all year round, and whether you're traveling or just decorating around your parked RV at home, you can add a bit of Christmas cheer. Lights, lounge chairs, lanterns, and all the cozy Christmas vibes are all you need for a creative holiday display.
Make a North Pole Scene
Welcome passersby and neighbors to a North Pole treat. Create a whole scene of Santa's workshop on your lawn. Include elves at work, Santa checking his list, and Mrs. Claus baking cookies for a welcoming holiday lawn.
Have a Barbie Dreamhouse Christmas
More Details
Pink has its place in Christmas decor, and no one does it quite like Barbie. Embrace the Barbie revival and introduce her signature style to your holiday yard decor.
Channel Vintage Vibes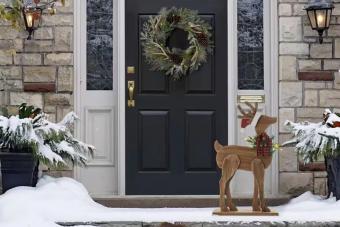 More Details
If you've been holding on to Christmas pieces from childhood or heirlooms passed down from your grandparents, this is their year to shine. Display your vintage Christmas decor collection to stir up all the nostalgia this holiday season.
Show Off Your Holiday Creativity
Anyone can hang lights or set up an inflatable Santa. But for you, this is a chance to show off your personal style and Christmas creativity. Find the theme that speaks to your holiday spirit and crank up the Christmas decorating tunes.