Whether posing as a sexy queen bee, a killer bumblebee or a more humorous version of the winged insect, it's surprisingly simple to apply bumblebee makeup. Use a few basic strategies to create a winning bumblebee look that's sure to impress your friends, and maybe even a few costume contest judges. Get ready for Halloween with these step-by-step bee makeup instructions.
Types of Bumblebee Makeup
Like most Halloween cosmetic applications, there are several ways to apply makeup to create a bumblebee look. Put your makeup emphasis on the eye area, which should be expressive and attractive. The primary colors you must incorporate are yellow and black. You can do this by using yellow eyeshadow and black eyeliner. Try these popular choices to make your bee costume complete:
Queen Bumblebee
Attractive and fun, a Queen bee's makeup should also be colorful and eye-catching. Here is how to get this makeup look: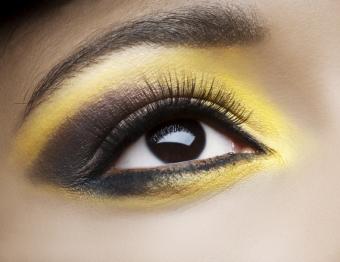 Apply cream to powder makeup to your clean, moisturized face. Use a cosmetic sponge to get the best finish.
Brush your eyebrows upward and darken them slightly (if needed) with a brown eyebrow pencil.
Squirt a little eye primer onto your fingertip and rub it on your eyelids. This will make the eyeshadow more vibrant and keep it in place longer. Allow the primer to dry for one minute before proceeding.
Sweep bright yellow eyeshadow onto the entire eyelid area using an eyeshadow brush. Do this for both eyes. The color should reach from under the brow bone to the lash line.
Use a small eyeshadow brush to apply the yellow eyeshadow under both eyes. Paint on a small line of yellow powder.
Sweep black, sparkly eyeshadow into the crease or the arc of the eyelid using a flat brush. Go light at first, then add color as needed. Paint from the inner corner to the outer corner.
Line the eye completely with black eyeliner.
Add black mascara to your lashes.
Touch lips with light red lipstick.
Killer Bumblebee
Get a frightening, killer bee look using all black makeup. The effect will give you a masked look.
Draw a sideways "V" shape on the outside of the eye with black waterproof eyeliner. The end of the shape should extend one inch past the end of the eye.
Fill in the eyelid and the "V" with black matte eyeshadow. Use a sponge applicator to apply the shadow, as a brush could cause shadow spraying around the eye area.
Line under the eye with black eyeliner. Start from the inner corner and connect to the "V" you drew.
Cute or Humorous Bee
A cute or humorous-looking bee is perfect for a child or someone who wants a humorous look.
Cover the entire face with cream to powder makeup. Use a sponge applicator to cover the eyebrows, too.
Use waterproof black eyeliner to draw large circles around the eyes. Each eye circle should start at the inner corner of the eye, extend up and over the eyebrow slightly and down the outside of the eye.
Finish the circle by drawing under the bottom of the eye, approximately 1/2 inch from the eye rim.
Color in the circles with bright yellow eyeshadow.
Reapply the black eyeliner to the outer circle.
Apply mascara if you want to accent your lashes.
Touch lips with a natural lip gloss.
Brilliant Halloween Costume Idea
Your vibrant bumblebee Halloween makeup will leave little doubt as to what you are dressed like this Halloween, especially when paired with one of these bumblebee costume ideas. With some practice and patience, your makeup will bring you loads of smiles, and maybe even a few screams. If you are using new makeup, be sure to try it out on your skin a few weeks before Halloween. This will give you ample time to observe any makeup allergies that might pop up. If you notice reddening of the skin, or feel a burning sensation, discontinue using the product.