Pirate costumes can be elaborate or simple depending on a person's time, budget and talent. You can buy a number of different costumes, but if you want one that is customized to a specific color scheme or size, consider making a pirate costume yourself.
Use a Pirate Costume Pattern
Sew a pirate costume from a pattern and customize the fabric and color choices.
Pirate Costumes for Women
Go to your local fabric store and look through pattern books for ideas on costumes or check out these options.
Pirate Costumes for Men
Whether the man wants to go as a tattered deck hand pirate or a fancy captain, there is a pattern for him:
Pirate Costumes for Children
Even the smallest of infants can be dressed up as a pirate. Make one of the following cute costumes from a pattern:
Toddler pirate captain for boy or girl by Simplicity
Disney Pirates of the Caribbean Jack Sparrow by Simplicity
Pirate family costume patterns by McCall
Accessories
Add some accessories to your outfit to create the perfect look
Large, rusty keys on a key ring
Beads in hair/dreadlocks
Tankard or beer mug
Whip
A large gold hoop earring in either ear
Scarf around the waist or neck
Dagger tucked into a belt
Tattoos on arms, hands or face
Black boots with or without buckles
A stuffed parrot on your shoulder can be added to any costume
Make Your Pirate Costume from Existing Items
The Captain
The captain was the head of the ship, the man behind the wheel, and the guy who wore his booty all over his person. The captain did not have to be refined as much as cunning and ruthless. Note that women can also be pirate captains!
Shirt
Do not wear a formfitting top for the costume. You can look at local thrift stores and costume shops for a tuxedo shirt (especially after Halloween when everything goes on sale). If you can't find a tuxedo shirt, wear a man's white dress shirt. Here's how:
Wear the tuxedo shirt.
Use a fancy gold pin to attach a white, lace handkerchief to the neck.
Sew a lace ribbon to the cuffs of the shirt to add to the look.
Pants
Knee breeches were often worn by the refined pirate captain:
Pull on a pair of white women's stockings or plain white dress socks.
Squeeze into a pair of black sweatpants that are several sizes too small.
Pull the elastic cuffs to just below the knee.
Footwear
Captains who wore breeches didn't normally wear high boots:
Wear a low-ankle boot or shoe like a loafer.
Distress the boots or shoe by rubbing dust on them.
Vest
Make a vest by cutting off the sleeves of a man's black dress shirt.
Add gold buttons instead of the traditional white.
Hat
The standard tricorn was the hat of choice for most pirates. A tricorn looks like a triangle when placed on the head. You can purchase an appropriate hat at a low cost from a costume shop or dollar store.
The Tattered Scalawag Pirate
The scalawag was the deckhand, the cannon loader and the one in the crow's nest. He was dirty, messy and disheveled with a mean spirit. Unlike a captain. a deckhand was not concerned with looking in charge.
Shirt
Choose a tunic style shirt or some sort of jersey knit. A satin shirt that is dark in color can also work for this costume.
Remove the buttons and then sew the shirt closed
Remove the collar by cutting it off with a pair of scissors (don't worry about being perfect).
Remove the cuffs in the same manner as the collar.
Make a slit from the neckline to about 6 inches down the chest.
Poke holes down both sides of the split shirt and add shoelaces. Lace the shoelaces through the holes in the same way you would lace a shoe.
Tatter the bottom of the shirt and add strategically placed holes, slits and dirt or dark paint.
Pants
Cut the legs off a pair of pants at mid-calf.
Tatter the bottoms by shredding them and rubbing them in dirt or dark paint.
Consider removing the waist from the pants entirely.
Cover the waist area with a red sash and a series of scarves. The best fabric choices would be fabric that flows, like satin and velvet.
Add a wide leather ring belt.
Hat
Place a large bandanna over the head and tie it in back.
Footwear
Scuff and discolor some shoes by rubbing them in dirt. If there are no safety concerns and the weather permits, you could also go barefoot.
Variations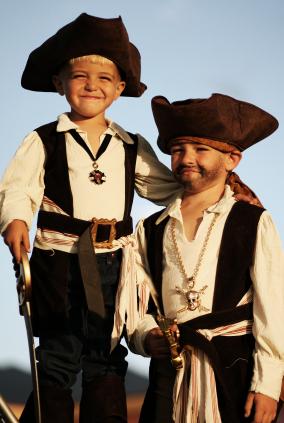 Men
Those who wish to be a captain but prefer to be rougher around the edges should wear long pants and high boots or breeches and loafers. A dirtied leather tricorn hat over felt laced with gold trim, and a long pirate trench over a waistcoat are good additions. The color scheme is unimportant, but should be somewhat flashy without being tacky. An optional overlay piece is the pirate coat that is long with bell sleeves and a split back.
Women
A white blouse tied at the waist and a long ruffled skirt hiked up above one knee is a perfect start to a female pirate costume. Many female pirate costumes tend to be sexy, so the skirt can be very short, and the blouse can hang down over one shoulder. Just about anything goes when making a female pirate costume, including a Captain costume. Net stockings are the perfect sexy accessory for a female pirate.
Children
Tie a small bandana around his head and people will know immediately he is a pirate baby. Toddlers and children can be dressed up in tattered clothing.
Accessories for Homemade Pirate Costumes
There are many fun accessories that can complete any pirate costume:
Carry a sword as a cutlass was the weapon of choice
Guns were very popular and including a flintlock to your belt is impressive
Shiny rings and baubles add a little bling to the outfit and shows off your expert thievery as does wearing expensive silks in vibrant colors
An eye patch is the perfect accessory for a pirate
Blackened teeth can be done with special products available at costume stores
Gold necklaces add a sense of wealth
Doubloons should be in the pocket of every good pirate
A pocket watch adds a sense of wealth
Use eyebrow pencil or face paint to draw on a moustache or scruffy beard
A treasure chest
Inspiration from the Screen
One good way to get an understanding of what a pirate wears is to watch movies and specials about them. Rent movies like Pirates of the Caribbean starring Johnny Depp as Captain Jack or Cutthroat Island starring Geena Davis. Films like Treasure Island also offer much historical merit. From these films you can get an idea of the clothing you can wear and how you could modify things you find to fit the bill.