Whether it's for a party, a play, or just for fun, a festive Christmas costume that you source online or create yourself can help make the season brighter. Women's Christmas costumes run the gamut from carolers and elves to Mrs. Claus costumes and Christmas angels. Get ideas for ladies' Christmas costumes from classic to funny to sexy.
DIY Victorian Christmas Caroler
Whether you are going Christmas caroling or playing the part onstage, wearing a Victorian style caroling costume is always fun.
Put Together the Caroler Outfit
Assemble your own caroling costume using items in your closet or from a thrift store. A typical caroling costume consists of a long gown worn over a petticoat. It may be made of velvet, wool, or cotton. It may or may not include a long cloak, hat, and muff.
Make Your DIY Fur Muff
Once you've settled on the dress and cloak, make a faux fur muff to keep your hands warm on a chilly neighborhood sing.
Supplies
White faux fur (need 14" x 20" per muff)
Measuring tape
Scissors
Glue gun
Silk cord or 2-inch grosgrain ribbon
Steps
Cut the faux fur to a 14" X 20" rectangle.
Fold each of the long sides in 1 inch, wrong side to wrong side. Glue them down.
Once the glue dries, overlap the short ends of the fur by 2 inches. Glue in place to form a cylinder.
Measure the distance around the neck of the caroler, to the muff height (waist-length) and add enough extra inches to run through the muff and overlap by two inches.
Cut the cord or ribbon to this measure, thread it through the muff, overlap the ends and knot or glue the ends together.
Slip the cord over your head and your hands inside the muff.
Find a Ready-Made Caroler Costume
For those looking to purchase, check out online stores. Forum Novelties (available through Walmart) sells a long Victorian Christmas caroler costume. The red velvet floor-length skirt, matching double-flounced cape and red hat come with a faux fur white muff. Add a shirt and shoes or boots and you're ready for a rousing chorus of Jingle Bells! One size (fits most, 8-14) is available for just over $25. The costume qualifies for free two-day shipping.
Traditional Mrs. Claus Costume
The traditional Mrs. Claus costume depicts a cute old lady with a smile and a warm plate of cookies for Santa. The non-traditional Mrs. Claus costume is out to warm the North Pole with her more risque apparel. Go for your authentic self for your holiday fete.
Create a DIY Mrs. Claus Costume
There are lots of Mrs. Calus costume ideas. To dress as the more mature Mrs. Claus, you can simply wear a long slip or long-johns under a red and white flannel nightgown with a shawl or a red bathrobe and a sleeping cap. You can affix faux fur with safety pins to the collar and cuffs of the nightgown or bathrobe for more impact. If you are looking for a funny Christmas costume for women, a Mrs. Claus costume in nightwear is a good option. You can also put together a traditional Mrs. Claus with a long red dress, or skirt and white blouse, a big white apron and a mob cap. Add Christimas costume props like cookies or a Santa mug to complete the look.
Make Your DIY Mob Cap
Making a mob cap is simple -- choose plain white cotton or go for red velvet with contrasting white, green or red ribbon.
Supplies
20-inch piece of heavy white cotton, faux taffeta, or red velvet
Contrasting 3/4-inch ribbon (velvet, satin or grosgrain)
Measuring tape
Scissors
Dressmaker pins
Steps
Cut out an 18-inch circle from the cap material you selected. (Use a sharp scissors to get a neat edge.)
Measure 2 1/2 inches in from edge and mark a circle with the dressmaker pins.
Mark spots to cut along this line with pins, about 1 1/2 inches apart.
Slash or cut the fabric at the pinned marks, using either a craft knife or pinching the fabric with scissors to make a small cut. The cuts should be perpendicular to the edge of the cap.
Thread the ribbon through the cuts, all around the rim of the cap.
Gather the ribbon loosely to begin creating the hat shape. Place the cap on the head of the Mrs. Santa and adjust the gathers, tying the ribbon securely once the cap fits.
Tie the ends of the ribbon in a bow and trim the raw ends.
Mrs. Claus Costume Options
If you would like to purchase your Mrs. Santa costume, check out Costume Discounters for an extensive menu of Mrs. Clauses at varying degrees of hotness, including a plus-size version. Bright red-and-white costumes, trimmed in faux fur and lace, start just under $35 for a knee-length classic Claus in faux velvet with a hat and cape, to about $180 for a fur-trimmed, full-length Granny Claus look with mob cap. A knee-length curvy version with a black belt costs about $45 and goes up to women's size 2X. Free U.S. shipping on orders over $50 and $4.99 for standard shipping (two to ten days).
Mother Mary
If you are taking part in a Nativity play you may need to dress up as Mary, the mother of Jesus. Traditionally Mary wears a light blue robe or gown and a white or light blue head scarf and shawl.
DIY Virgin Mary Costume
Whether it's for a party or for a nativity costume, making your own Mary costume can be as economical and easy as wearing a light blue nightgown or a column of blue fabric stitched up the side with a hole for your head and two holes for your arms. Gather it at the waist with a piece of braided twine, a deep blue sash or a knotted length of white cord.
Create the DIY Headpiece
Make a headpiece to shoulder-, waist-, or ankle-length from a simple square of soft white fabric.
Supplies
Square piece of white cotton, double-knit, soft linen or another light, plain fabric
Scissors (optional)
Glue (optional)
Needle and thread (optional)
Braided bolo cord or twisted elastic cord trim
Steps
Measure and cut the fabric into a square that falls to your chosen length for the headpiece: short, medium, or long.
You can stitch 1/4-inch from the edge of the fabric to prevent fraying. However, this isn't absolutely necessary because slight fraying may add to the authenticity of the costume.
Position one corner of the fabric on your head, allowing the rest to fall behind you.
Fold back the triangular corner that hangs over your forehead or face. Secure the headpiece with hair pins or a circlet of faux leather braided cord or stretchy cord trim.
Make a circlet by encircling your head with the trim, stretching the elasticized trim slightly, and marking a 3/4-inch overlap. Cut the cord at the overlap mark and stitch or glue the raw ends closed to make a circle.
Buy a Christmas Mary Costume
You can buy a Mary costume from Party City. The off-white full-length gown with a goldd-trimmed blue wrap is about $35 and comes with a matching blue tied belt and coordinating off-white headpiece. It comes is small through XL. Shipping is free for orders over $59, or $7.99 for standard ground shipping. Store pick up is also an option.
Sugar Plum Fairy
A sugar plum fairy costume is usually worn during a holiday dance production of The Nutcracker. The sugar plum fairy is a sweet and spangly Christmas party costume as well. You don't have to be a professional ballerina to pull off the cute Christmas dance costume.
Create Your Own Sugar Plum Fairy Outfit
If stage-worthy fairy garb is too rich for your budget, pick up a multi-layered net ballerina tutu, a spaghetti-strap stretch exercise top with a sweetheart neckline, wings and crown (optional), tights, and ballet slippers (not pointe shoes). Those are available at dance supply stores, discount stores and even thrift shops.
Make DIY Fairy Armbands
Make dreamy armbands to match your assembled costume and you'll dazzle your audience.
Supplies
3/4-inch elastic
Gathered 2-inch wide net trim or tulle
Measuring tape
Scissors
Glue gun
Steps
Choose net trim in a color that complements or match your tutu and top. White, pink, or purple are good options.
Measure the circumference of your arm at the midpoint between shoulder and elbow.
Cut a length of gathered net or tulle trim using this measurement plus one inch.
Cut a length of elastic to your arm circumference measurement and spot-glue the gathered trim.
Wrap one armband around your arm, overlapping the elastic at the ends until the band is snug but not excessively tight.
Glue the elastic ends, overlapping them to the fit you tested on your arm. Glue the ends of the trim down over the overlapped elastic ends.
Do the same thing for the remaining armband and let both armbands dry.
Pull the gathered net or tulle armbands up your arms to a point near the top edge of your bodice to complete your costume.
Buy a Complete Sugar Plum Fairy Costume
Knock yourself out with an authentic Sugar Plum Fairy pancake tutu and glittering bodice, just like those magical ballerinas wear in the holiday shows. Fun World, sold through, Amazon has one in sizes XS to XL or custom for under $200 (prices vary based on size). Shtandard shipping is free, but is not eleigible for Prime. Shipping may take seven to ten days.
Christmas Angel Costume
Angel costumes can be seraphic or sexy, to reflect your state of grace at a holiday bash. Go for the classic ankle-length tunic or the flirty fallen angel look, but don't forget the wings. And wear a halo, if you dare.
Easy Holiday Angel Ensemble
Simply wear a nightgown and robe of shimmery white and you are good to go for your angel costume. Or be a cherub and recycle your old Greek goddess toga from last Halloween. Wings are available year-round at most party supply stores and they'll telegraph your angelic status to your public, whether you're going as one of Gabriel's hosts or one of Lucifer's.
Make a Simple DIY Halo
Do your own halo. Custom halos are heavenly.
Supplies
Skinny hairband to match your hair color
Florist's wire or white pipe cleaner
Jeweler's pliers (optional)
Wire cutters (optional)
Scissors
Feather boa craft trim (1" wide)
Glue gun
Steps
Wrap the wire or pipe cleaner around the dead center of the headband about four or five times, finishing with the raw ends sticking up an inch or so apart.
Make a circlet from three twisted strand of florist's wire or one white pipe cleaner by twisting the ends together tightly. (If using wire, the circlet should be no more than 6 inches in diameter. Jeweler's pliers make a good tight wire twist painless.)
Position the circlet over the headband horizontally so the two raw ends of wire/pipe cleaner stick up inside the circle. Wrap the wire or pipe cleaner around the circlet to suspend it about an inch above the hairband. (Cut the wire with the wire cutter or scissors if it is way too long to wrap easily, being sure to leave enough to secure the circlet.)
Wrap the feather boa craft trim around the circlet until the wire is completely hidden and only the fluffy feather trim shows.
Dot the feather trim strands with glue to stick them to the wire as you wrap. This may take several layers of trim, depending on how full yours is.
Allow the glue to dry before wearing the halo.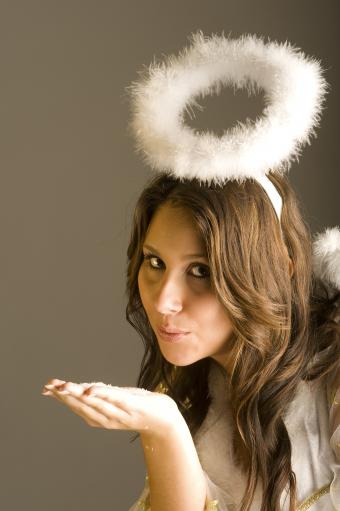 Buy a Snow Angel Costume
For those wanting to purchase an angel costume, check out the Costume Supercenter for a long snow angel costume (about $25, sizes 10-14) or adult angel costume (just under $20, fits up to size 12). Each comes with a tinsel with tinsel halo that's perfect for Christmas. Shipping is free for orders over $99 or pay $7.99 for economy shipping (twot to ten business days). Expedited shipping is available for an additional fee.
Sexy Elf Outfit
The classic Christmas elf wears a green tunic and tights, with funky pointed shoes and an elf hat. Take this basic concept and turn it into a sexy elf costume for Christmas.
Put Together a Hottie Elf Costume
To create your own hottie elf costume, wear a little green mini skirt or shorts, suspenders over a clingy white shirt with a saucy red bow tie or fitted red top with a DIY elf collar, high black boots, and DIY elf hat, from your own Santa's Workshop.
Make Your DIY Hat
Use the Pizza-Slice-and-Glue method for no-sew hat magic.
Supplies
Scrap paper
Measuring tape
Pencil
Scissors
Tape
String
Green and red felt (medium or heavyweight)
Tiny red or green pompoms
One jingle bell
Steps
Measure an equilateral triangle on your scrap paper, 18 inches on each side, and cut it out.
Tie the pencil to the string, stretch the string to the top of the triangle and tape it down. Put the point of the pencil on the bottom edge of the triangle's base.
Draw an arc by holding the top of the string in place as you move the pencil from one end of the triangle to the other, along the base.
Cut along the arc on the triangle's base to complete your pattern. It will look like a slice of pizza.
Fold the green felt in half and place the pattern on it with one long straight side on the fold. Trace the pattern onto the felt with a pencil. Discard the pattern.
Cut along the markings. Overlap the long cut edges slightly and glue them together.
Measure the circumference of the open base of the hat and cut a 3- to 4-inch wide strip of red felt the length you measured plus an inch.
Cut more-or-less even zigzags around the felt, about as deep as half its width.
Glue the red hat cuff to the base of the cap so the open ends overlap in the back where the cap is glued.
Trim the raw ends of the cuff, overlap them about 1/2 inch and glue down. Let the glue dry.
Embellish your elf cap by gluing tiny pompoms to each zigzag point and a jingle bell to the tip of the cap. (You may stitch the bell on if it's too heavy for the glue to hold it securely.)
Make the Elf Collar
To add a collar to your top, you'll need felt, hot glue or craftt glue, and safety pins.
First lay pieces of felt around the collar area to determine how much felt you'll need. You may need multiple felt pieces.
Cut out the faux collar from your determined pieces with a zig zag pattern pointing down. Follow the shape of the collar - if it is a crew neck, for example, you'll need to cut out the felt in a rounded shape according to the collar's size.
Glue felt pieces together if needed with hot glue or craft glue.
Affix the collar to the top of the shirt using safety pins (pin the collar from underneath to make sure the pins don't show).
Buy a Cute Elf Costume
Invest in elvish fabulousness at Yandy with a super-sexy, green velvet dress, a leggings and apron combo, a festive elf costume with striped leggings, or a Santa's helper red and green corset dress with candy cane striped thigh highs. Prices range from about $40 to just over $100 depending on style. Extras like matching hats and belts are included with most costumes. Sizes range from XS to XL. Orders of $70 or more ship free; flat-rate shipping starts at $6.95 for two to five day shipping. UPS and expedited shipping options vary.
Get Into the Season's Spirit
There's no better way to get into the holiday spirit than to dress up. Costume dress-up is more fun than traditional formal wear or those Christmas sweaters with appliqued Scotty dogs or snowmen emblazoned across them. Throw a costume party for your friends or delight your kids with a costumed Christmas that could become an annual tradition.