Whether you want to channel your dark, gothic side, or you're drawn to the idea of a simple and frightful costume, dressing up as a male vampire for Halloween is a great choice. No matter what outfit you choose to wear, proper makeup application is an important key to pulling off a vampire costume. These vampire makeup tips for male vampires will help you unleash your forbidden side. You're sure to look strikingly ghoulish as midnight approaches.
The Allure of Vampire Looks
Vampires are a universally appealing costume choice for many reasons. These creatures of the night allude a sense of cool confidence that appeals to people from all walks of life. They're also prevalent in pop culture, thanks to movies and books like the Twilight series and television shows like The Originals. If you want to dress up in costume as your favorite vampire, you'll need makeup tips to nail the look.
Foolproof Male Vampire Makeup Tips
A vampire costume is all about the details, so be prepared to spend some time perfecting the application of vampire makeup to ensure the believability of your undead style. Whether you're dressing up for a costume party or any sort of themed get-together, your vampire look is sure to steal the show when you use these tips.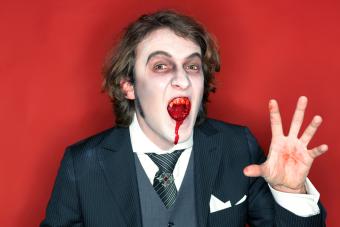 1. Use Face Makeup/Foundation
To lighten your skin and create the pale, ethereal appearance vampires are known for, you'll need to rely on foundation makeup or face paint, followed by the application of a loose or pressed powder to set the coverage.
For face makeup, choose a shade lighter than your skin. For face paint, opt for white.
Apply foundation or face paint to your face lightly. Use a cosmetic sponge for best results.
Apply foundation all the way to the hairline and go past the jawline for the best effect.
Use a fluffy brush to apply the powder lightly, being sure to pat it all over your face.
2. Apply Eyeliner
Eyeliner is vital for creating a defined yet deep vampire-like eye makeup style. These eyeliner application tips will help you mimic the piercing gaze male vampires are known for.
A liquid eyeliner offers the most dramatic coverage but can be tricky to work with. Instead, to create an easy vampire eye, start with a kohl pencil or powdered eyeliner instead.
Line a deep edge along both your top and bottom lashes.
Reapply as needed, and continue to smudge the line to create a heavy, dark eye.
3. Consider Mascara
Mascara is optional for male vampires, but it can enhance the look. It's particularly important if you have light lashes and are going for the appearance of a sensual, modern vampire.
Apply a thin coat of mascara and let it dry before adding more.
Three coats are probably plenty in order to achieve a vampire gaze.
False eyelashes are an alternative way to get a similar look.
4. Stain Lips
Red lipstick is an option to get the look of having just taken a bite to draw blood, but it's not the only option. You may have an interesting alternative in your kitchen cabinets.
To create a just-bitten lip, mix a bit of red Kool-Aid with water and create a paste. Stain lips with your fingers.
If desired, create a special bloody effect by smudging the paste around the perimeter of your lips as well.
See bloody vampire makeup for more ideas to incorporate blood into your look.
Add Fake Teeth
Temporary costume vampire teeth or fangs are a great accessory for creating a realistic vampire look.
Basic Male Vampire Tutorial
Seeing someone actually create a vampire look may make it a bit easier to apply the tips. Review this easy-to-follow video tutorial to see a mere mortal transform into a vampire before your very eyes.
Sexy Vampire Look
Want to be a bit more sexy than scary? Try this look. It provides specific tips on diminishing any red in your skin tone, and also incorporates brown eyeshadow on the eyes and cheekbones.
Explore Your Dark Side
Creating a realistic vampire look is all about taking the time to create special effect makeup. Once cosmetics are applied convincingly, you can get creative with your overall costume choice. Be sure you practice several times before your dress-up event to make sure you're confident with the application techniques. Remember, more is more when it comes to theatrical makeup. Go all out with your makeup for the best vampire results.