There are lots of great options for dressing up as Santa's main squeeze. From making your own look to purchasing an outfit online, it's easy to find the perfect Mrs. Claus costume.
Making a Mrs. Claus Cape
Just like Santa, Mrs. Claus is all about red fabric and white fur. You can create the centerpiece of any costume by making this simple cape.
Things You'll Need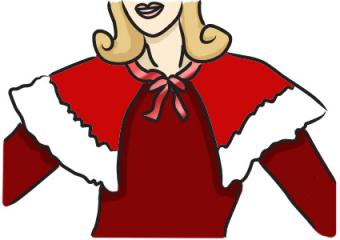 Two yards of 60-inch wide red felt fabric
Five and a half yard of white fur trim
Two yards of wide red satin ribbon
Pencil and dressmaker's pencil
Twine
Scissors, pins, and tape measure
Sewing machine and thread
What to Do
Fold the red felt in half, matching the 60-inch sides together. Measure along the fold, and place a mark 30 inches from one end or exactly in the center of the folded edge.
Tie one end of the twine to the regular pencil. Measure out 30 inches from the pencil, and tie the other end of the twine to the dressmaker's pencil. Cut off the excess twine.
Place the regular pencil on the mark you made along the folded edge. Holding the twine taught, draw a semicircle from one side of the folded edge to the other.
Use your scissors to carefully cut both layers of felt around your semicircle.
Cut a shallow neck hole in the center of the fold. Cut a straight line up through the felt to make the opening of the cape.
Find the center of the red satin ribbon and mark it with the dressmaker's pencil. Fold the ribbon in half lengthwise and finger press to create a crease. Pin the ribbon around the neck hole, leaving the long ends trailing in front. Topstitch the ribbon in place.
Pin the white fur all around the bottom edge of the cape. Sew in place.
To put on the cape, simply tie the ends of the ribbon around your neck.
Creating Mrs. Claus' Other Clothing
The rest of Mrs. Claus' look is fairly easy to re-create after a trip to the thrift store. You'll simply modify some existing clothing. These instructions will help.
Things You'll Need
Red clothes from the thrift store, especially sweaters, skirts, or dresses
White fur trim, enough to go around the hems and cuffs of the clothing
Sewing machine, scissors, and thread
White glitter fabric paint
What to Do
Purchase enough red clothing to complete your look. You might choose a red cocktail dress for a fancy Mrs. Claus, or you might stick to the classic red skirt and sweater.
Sew the red fur trim around the hem and cuffs. If you are sewing on a stretchy fabric, stretch the fabric out as you work. This will create a ruffled effect and won't get in the way of putting the garment on.
If desired, apply white glitter paint to parts of the clothing, giving the effect of a dusting of snow.
Completing Your Look
Mrs. Claus's costume isn't complete without a few key accessories. You can purchase these online.
White Wig
Just like Santa, Mrs. Claus has luxurious white hair. If you're going for this classic look, you'll need the right wig. Consider one of these options:
Mrs Claus wig from Amazon.com

Mrs. Claus Wig - This wig from Amazon.com consists of gray hair pulled back in a tidy bun. It retails for about $12.
Short White Curly Wig - If you're looking for something a little more sassy, this white bobbed wig from Gothic Lolita Wigs is a great choice. It retails for about $55.
Wire-Rimmed Glasses
Mrs. Claus is known for her sweet, wire-rimmed specs, and no outfit is complete without them. Try one of these options:
Round Wire Glasses - These wire glasses from Spirit Halloween Stores are perfect for Mrs. Claus. They retail for about four dollars.
Rectangle Granny Glasses - These rectangle-rimmed glasses from Party City offer an alternative to the standard round shape. They retail for three dollars.
Other Accessories
If you really want to take your Mrs. Claus costume to the next level, add in a few other fun accessories:
Red and White Over-the-Knee Socks - These adorable socks from Spirit Halloween Stores are the perfect choice for adding a little sass to your costume. They'd be perfect with a short red dress. These socks retail for about eight dollars.
White Costume Gloves - A pair of sweet white gloves adds a little authenticity to your Mrs. Claus outfit. Elbow-length is perfect for most outfits. These gloves retail on Amazon.com for about five dollars.
Buying a Complete Costume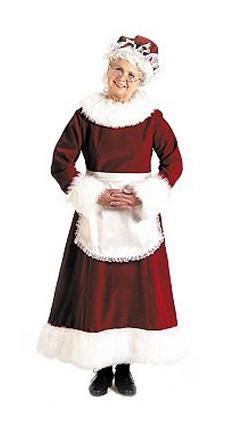 If you don't want to assemble a costume or make your own look, you can purchase a Mrs. Claus costume ready-made. This is an easy option, perfect if you're short on time. Try one of these costumes:
Adult Mrs. Claus Costume - This classic choice from Costume Discounters features a modest, long-sleeved red velvet dress trimmed with white fur on the hem, collar, and cuffs. An apron and ruffled cap complete the look. It's available in women's sizes up to extra-large and retails for about $136.
Plus Size Mrs. Claus Costume - Available in sizes 1X, 2X, and 3X, this costume offers a classic look. The long red velvet dress is trimmed in white fur at the hem, cuffs, and collar. It includes a white lacy apron and cap. This outfit retails for about $105.
Turn Heads During the Holidays
Whether you choose to make your Mrs. Claus outfit or buy a costume that's ready to go, you'll love dressing up as the mistress of the North Pole. Add a perfect Santa costume for your significant other, and you'll be turning heads at holiday parties and other fun events.