Taylor Swift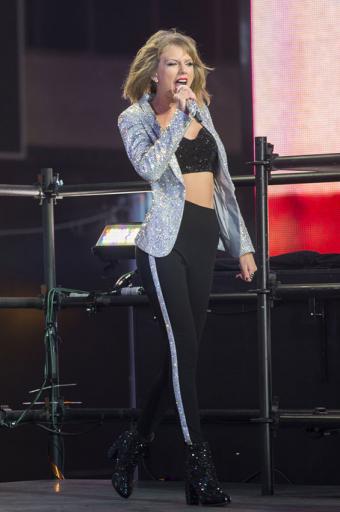 Dressing up as a celebrity can be difficult because there are just so many choices! Get started with some celebrity dress up ideas that range from musicians to actors and actresses.
Generally, musicians have the most outrageous, better known outfits. To get a stunning Taylor Swift look, use iron-on tape and ribbon to create a tuxedo stripe down the length of each leg on a pair of leggings. A black crop top or bralette and a sparkly blazer (pick one up for a few bucks at a thrift store and get creative with the fabric paint and glitter) paired with the leggings, black booties, and red lips will do the trick.
Amy Winehouse
Amy Winehouse's look is another very distinct and easy look to complete. Grab a huge beehive wig, a tight dress with spaghetti straps, and a few fake tattoos and your look is complete. If you have a little extra time and a steady hand, add her eyeliner, too.
Lady Gaga
Musician Lady Gaga's outfits range from ridiculous to outrageous and everywhere in between. Good luck trying to keep your Poker Face on when dressing up as Lady Gaga. For this look, a black bodysuit, round sunglasses, black heels, and a bright red bag will do. You could learn to tie your hair up in a bow, but there are clip-in blonde bows that will do the trick, too. Don't forget to add the outrageously enormous fake eyelashes she likes to sport.
Kanye West
Love him or hate him, there's one thing you can say about Kanye: his clothing is always fashionable. In this case, a sports coat, button-up, trousers, and hip pair of glasses are all you need. And the attitude, of course.
Dita Von Teese
Dita Von Teese is often credited with bringing the sultry art of burlesque back. Her style of dress is definitely provocative (like pictured here) but in a completely classy way. Emphasize your curves with a seductive red dress. If you haven't been naturally blessed with a mole like hers, break out the eyeliner and draw one on! Red lipstick and stilettos are musts.
Jennifer Lopez
If you can pull of this oh-so infamous look by J. Lo, you absolutely should. This dress will probably be difficult to find in any store, but if you're savvy with a needle and thread, you can create your own from green fabric and a strategically placed brooch. Bonus: If you're creating your own, you won't have to make it quite so low-cut and everyone will still know you're supposed to be J. Lo. Pull your hair up into a high ponytail and add some shimmery bronzing lotion to your skin.
Bono
Bono's look is nearly a trademark of his and completely distinctive. Sew some red patches onto the shoulders of an old black jacket. On your feet, don a pair of worn out black leather boots, of course. You cannot forget the big fly-eye sunglasses here to finish off the almost all-black clothing look.
Madonna
Madonna's looks through the years make for plenty of easy celebrity costumes. For this particular look, you'll want to focus on two black-and-white patterns that you wouldn't immediately think to pair together that somehow seem to work side-by-side. One piece is a schoolgirl skirt and the other is a scoop-neck babydoll top. Under those, a black mesh shirt and black leggings supply the foundation for her edgy look. Finish with the tallest black boots you can find, a bright belt, and a few pieces of bold jewelry. Carry a microphone for an extra effect.
Tina Turner
Tina Turner is always a favorite celebrity to dress up as because her look is so fun and easy to put together. Throw on a streaky blond wig, a short fringy-sparkly-sleeveless dress, a pair of killer heels and you've got Tina Turner's look down.
Oprah Winfrey
A curly brown wig, flashy jewelry, a long faux leather skirt, and a fitted shirt are almost all you need to look like Oprah. Don't forget the false lashes; she says you'll never see her without hers! Want a prop? A microphone may help you look the part.
Beyonce
A dress like Beyonce's may be a little pricey for a Halloween costume, but consider shopping the consignment and thrift stores for something short and sparkly that would make her proud. A long blonde wig, big earrings, glossy lips, and cat eye makeup are the finishing touches.
Sia
A pale pantsuit with tapered legs, large hat (consider a beach hat), and a blunt-cut blonde wig are all you need to make yourself into Sia. If you've got an old blonde wig you don't mind experimenting on, you may be able to cut it yourself to fit this look.
Kim and Kanye
Kim and Kanye make a great costume option for a couple. The Kanye part of this costume is simple enough -- navy blazer, black pants, black v-neck, thin gold chain, and black lace-up shoes. For Kim's half of the costume, you'll probably want to check the lingerie stores for a black pleather teddy, corset, or teddy. For the skirt section, choose a lace fabric and wrap it around your waist. Pin it and then top it off with a skinny silver belt. Be sure to sculpt your face with makeup, wear your false lashes, and use volumizing products on your hair.
Paris Hilton
If you naturally have long blonde hair, this look is going to be incredibly simple. It's all about the flashy nude tones. Find a sparkly shift dress (check thrift stores first), nude heels, large beige sunglasses, and throw on a couple of bracelets. Be sure to insert one of her trademarked phrases (no, really--they're trademarked) into conversation as often as possible.
Katy Perry
Feminine, flowing gown? Check. Blue wig or temporary spray-on hair color (assuming your hair is cut in a bob)? Check. Blue eyeshadow? Check. With a combination like that, who else could you be but Katy Perry? If you're still doubting people will "get" your costume, carry around a tube of cherry chapstick.
Robert Downey, Jr.
If you think you'd wear these sunglasses for more than Halloween, check out brands like Oliver Peoples for a match. You may be able to find something similar, however, in costume shops, if you think you'll wear them once and want to toss them. A smart gray suit and a muted blue button-up with matching tie will complete the look. Don't forget the sexy, scruffy facial hair!
Bruno Mars
A well-fitted black suit, a loose white shirt (a t-shirt will do for a costume), a long chain, a pair of aviators with amber lenses, a bandana, shiny shoes, and -- of course -- a white fedora are all you need to look like Bruno Mars.
Miley Cyrus
Want to be Miley? Find a black faux leather mini, a sheer top, and a black bikini top (pleather, if you can manage). White heels and a short blonde 'do complete the look, but feel free to stick your tongue out every now and then so who you're supposed to be is more obvious.
Justin Bieber
A white button-up, any red pants you can find, and a red blazer (sleeves rolled up with the shirt sleeves) are almost all you need to get this bright Justin Bieber look. Don't forget the white loafers and big sunglasses. There are several Ray-Ban knockoffs out there you can use to get this look if you don't have a pair of sunnies that will work. Add a few chains and a watch and you're done.
Pharrell
Want to look like Pharrell in his pink coat and hat? This may be easier than it looks. The first step is to put on a pair of jeans and a t-shirt. The pink coat could be tricky, especially if you're limiting yourself to the men's section. Check thrift stores and other shops for a pink peacoat in the ladies' section. Remove the buttons. Pick up a ranger hat in a light shade and tie a scarf around it just above the brim. Add a few necklaces and a small pair of earrings (clip-ons are fine), and you're done!
Howard Stern
Aside from the curly wig and glasses, you may have everything you need for this Howard Stern costume in your closet. It's all about layering neutrals. Black trousers, a black t-shirt, a well-worn black button-up jacket, and a brown and gray scarf are all you need.
Meghan Trainor
If you really like celebrity Halloween costumes that don't require you to buy much and you have long blonde hair, here's another one you may love. Look like Meghan Trainor with a black A-line skirt, black leather jacket, black headband with bow, black textured tights or pantyhose, and a brightly colored, sparkly shirt. Black booties or pumps will work.
Celebrity costumes can be relatively simple to pull off for Halloween, whether you're shopping for a few key pieces or making your own. Of course, you can always come up with ways to take them over the top, but there are ways to keep them simple and inexpensive.