Trick-or-treating may start to feel redundant after several years and additions to your family, but fear not and don't get discouraged this early into your costumed, candy-gathering adulthood. There are many ideas for trick-or-treating that put a funky spin on the holiday tradition. Whether you want to go on an adventure trick-or-treating at the zoo, or stay at home and experiment with new candy concoctions in the kitchen, there's no right or wrong way to switch it up this year.
Off the Beaten Path Trick-or-Treating Ideas
You're not alone if you don't have a bustling neighborhood to take your kids through for an eventful trick-or-treating experience. Thankfully, you're not limited to traditional rules when it comes to this quirky holiday. No one cares about rules on October 31st, and there are tons of other opportunities to trick-or-treat if you look off the beaten path.
Trunk-or-Treat
A practical go-to alternative to door-to-door trick-or-treating is the trunk-or-treat. While it's not the most exciting adventure, it's an easy way for people in apartments or community groups to create the ambiance of trick-or-treating without needing a row of houses to go up and down. As it describes, trunk-or-treating involves kids asking for treats from car to car, where the goodies are buried in people's decorated trunks. A bonus for parents is that decorating a trunk is also less of a commitment (and clean-up hassle) than decorating an entire lawn and front porch.
Boo at the Zoo
One great way to get your kids out of their regular stomping grounds is by taking them to the local zoo's trick-or-treating events. These events don't always happen on the actual holiday, so there's normally a lot of different opportunities for people to attend. This is great if you need to work on Halloween, and it can also be a way for your kids to experience trick-or-treating twice in one year. The only downside is that you have to pay an admission fee, which might offset the costs of keeping things traditional.
Reverse Trick-or-Treating
Give your kids a taste of the grown-up life this year by getting them to pass out candy to you and your adult friends in your Halloween costumes. This switch-around is especially a hit with younger kids, as they'll find you and your friends' costumes and antics hilarious.
Trick or Trail 5Ks
If you're a little too old to be trick-or-treating but want to share in the magic that it has to offer, one way to participate is running in a Halloween themed 5K. Take this Trick or Trail 5K in Hendersonville, North Carolina, for example. Typically, these races are held during the entire month of October and they partner with local businesses to host booths filled with candy, face painting, snacks, and more. Most of these events also let you dress up in costume to run the race, which sets the tone for a great experience.
Exciting Trick-or-Treat Alternatives
Unfortunately, the trick-or-treat experience is focused on the candy aspect of it all, and store-bought sweets aren't for everyone. With dietary restrictions, economic boundaries, and ableist architecture putting a damper on trick-or-treating for many on Halloween, these exciting alternatives to trick-or-treating should keep everyone happy for months to come.
Make Homemade Halloween Treats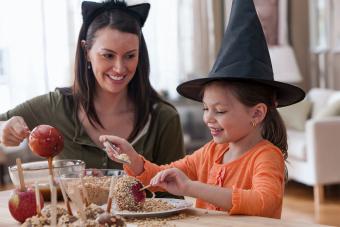 If you've got kids with dietary restrictions or ones interested in the culinary arts, making your own safe Halloween candies at home tailored to your tastes is a great idea. Not only will you cherish the time spent together making the goodies, but you can give your kids a chance to experiment with new skills. You can also limit your kid's sugar intake (as it'll be readily available everywhere throughout October) by selecting recipes with healthy, delicious ingredients.
Launch 'You've Been Boo'ed' in Your Neighborhood
One way to include your neighborhood in some fun leading up to Halloween is starting a round of 'You've Been Boo'ed.' Think of it like a mash-up of catching the leprechaun in elementary school and the ever-popular Elf on the Shelf, where getting 'Boo'ed' by a ghost is a good thing. All you need is some copy or construction paper and a few goodies that you'd like to give to someone.
Attach a goodie bag to a piece of paper with a ghost printed on it that someone can cut out, and drop it off in their mailbox or at their front door. Don't forget to include instructions that explain that what being boo'ed means, and that it's their turn to pass along their own 'boo' throughout the neighborhood. Everyone should keep their ghosts taped to their front doors, so that no house gets passed over.
Candy-Themed Pumpkin Carving Contest
Pumpkin carving is a seminal part of Halloween tradition, and you can add a little twist to it by making your annual creative carve candy-themed. From candy-brand logos to confectionary figures like Willy Wonka, there's a wealth of ideas to choose from, and the parameters will spice up your family's regular pumpkin carving weekend.
Go on a Halloween Candy Scavenger Hunt
To up the ante with your kids this year, make them work for their treats by hunting them down themselves. Take their favorite sweets and hide them in every nook and cranny inside and outside your house, and then set them free to collect the items in their Halloween bucket. You can do this multiple times leading up to Halloween, or have one big bash on the final night of the month.
Unique Trick-or-Treating Activities to Try This Year
One of the best things about everyone's favorite creative holiday is that there aren't any rules you have to follow (however, there is Halloween etiquette). If you're bored with traditional trick-or-treating and you want something different this year, tailor the experience to your family's interests. The whole point of the holiday is to have fun with family and friends, and you can do that any way you wish!