As a mom's belly grows, the people in her life are usually ready to prep for the new baby and help stock up the nursery. Spring baby showers can be blissful and bright, but you might need a little inspiration when it comes to planning the event. For family and friends looking for unique spring baby shower themes, consider these fresh and fun ideas she's sure to love.
A Little Storm is Brewing
They say that April showers bring May flowers! For the mom-to-be who's expecting a little Taurus or Gemini, a weather-themed event can be a spectacular way to shower her with love.
Decor can feature rain drops, sunbursts, clouds, and little umbrellas. You can also adorn the tables with flower-filled rain boots! And since superstition surrounds the weather, why not test the guest's knowledge of old wives' tales regarding pregnancy?
What to Serve:
Individual rainbow pizzas
White cotton candy clouds
O'Baby! Will It Be a Lad or a Lass?
Hold on to your shamrocks! The parents-to-be are expecting a little leprechaun or fairy in their future! A St. Patrick's Day theme is a clover choice for those having their shower in March.
Have everyone wear green, decorate with clovers and rainbows, and have guests try to guess how much "gold" is in the leprechaun's pot. For co-ed showers, see who's the best at drinking down their green beer out of a baby bottle!
What to Serve:
Soda bread scones
Mini Corn beef and cabbage cups
Rainbow fruit spread

Guinness chocolate cake with Irish buttercream frosting
Off to the Races!
For moms in the final stretch of their race to motherhood, a Derby Day can be a fantastic spring baby shower theme! Ask guests to throw on their biggest hats and best bow ties and to prepare to place their bets.
You can even plan to have the shower on the first Saturday in May and ask everyone who wants to bet on the races to bring a bag or box of diapers, along with some cash in hand. The diapers are their admission fee, and your way of stocking up!
Have jars set out for each horse. For $5 a ticket, guests can bet on as many thoroughbreds as they like and throw their name in the pot! Once the winning horse has made it across the finish line, the winners will split the winnings.
What to Serve:
Kentucky Benedictine Tea Sandwiches

Pulled Pork Sandwiches

Sweet Tea

Mint Julips
She Can Do It!
Did you know that March 21st is National Rosie the Riveter day? Help the mom-to-be feel empowered and supported with this surprising spring baby shower theme! Decorate with blue and yellow backdrops and red and white polka dot party accessories.
In terms of games, hosts can come up with a list of baby-related tasks and guests can guess if she will do it, or if the duty will land on dad. The parents to be can give their answers prior to the event to make certain that the answers are correct.
What to Serve:
Since this is a very American theme, go with the classics:
Hamburgers
Hot Dogs
Watermelon
Lemonade
Over the Moon Excited!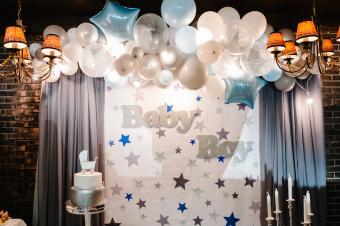 While every month of the year has a full moon, the lunar sights in the months of April and May are known as the Pink Moon and Flower Moon. These titles signify the months in which the flowers started blooming once again.
This can be a unique way to honor the future little moon child! Spruce up your spread with both moon and flower decor.
For your activity, make those late night diaper changes a little brighter by designing lunar-themed stickers and adhering them to diapers. Give guests planet and star stickers, Washi tape, and sharpies.
Fast Fact
Thinking of letting guests decorate directly on the diapers? Sweat and pee can cause ink to bleed onto skin. Don't give mom or dad a middle of the night heart attack. Stick with stickers instead!
What to Serve:
Crescent sandwiches
Cheese spread (since the moon is supposedly made of this delicious dairy item)
Galaxy Cake
Little Seeds Grow Mighty Trees
Parents who are pining for their little sapling's arrival will be rooting for this tree-mendous theme! How do trees tie into spring? Arbor Day, of course!
Create an enchanted forest vibe with wood trunk chargers, moss centerpieces, and twine and burlap accents. In other words, use brown and green everywhere. For those expecting a little girl, you can also use cherry blossom branches and pink accents amidst the typical forest hues.
In terms of activities, consider having a florist come out and teach your guests how to make forest-themed flower crowns. This can be a fun craft that guests can take home.
What to Serve:
Olive or fruit appetizer tree
Romanesco broccoli topped mini quiches
Acorn cookies
Helpful Hack
To make Romanesco broccoli topped mini quiches, simply make the quiches as you see fit. Next, blanch small sections of the broccoli for two minutes and then quickly transfer to a cold water bath. Finally, attach your trees by inserting toothpicks halfway into the base of the broccoli and halfway into the quiche.
Taco Bout a Baby!
Holy guacamole! Cinco de Mayo is another sensational spring baby shower theme. Giant rainbow-colored flowers, sombreros, cacti, and serape style table linens are the perfect accessories for your party space. Have guests pin the tail on the burro and take a swing at the pinata!
What to Serve:
Mini taco bites
Fried Avocado
Mini Churros
Some Bunny Is Coming
Hoppiness is eggs-pected with a Peter Rabbit baby shower theme! This classic children's book is a magnificent motif for any spring baby event - and the decorations are simple. Just grab some wooden crates, carrots, flowers, and gardening pots.
To keep guests entertained, have them plant their own party favors. Buy baby pots and pails, snag some succulents and soil, and let them get arranging.
What to Serve:
Vegetable tray (of course)
Build Your Own Salad Bar
Mini blackberry pies
Carrot cake
Buzzing With Excitement
They are about to bee parents and boy will they be busy in a few months! Help them prepare by sweetening the pot and getting them the items they need most at a bumblebee baby shower.
Honeycomb cookie holders, honey pots, and bees can all embellish your party space and you can even sneak Winnie the Pooh into the decor. After all, he does love him some honey, especially on a rumbly tummy!
A unique activity for this shower is a quick lesson from a keeper of bees. It would surprise you at how many beekeepers are available across the nation. Ask about doing a private honey flight featuring their top products and having them help you pair these local honeys with various pasteurized cheeses.
What to Serve:
Honey butter chicken biscuits
Waffle bar (with honey as one of the toppings)
Baklava Bars
We Got the Baby!
Laissez Les Bons Temps Rouler! Grab your best purple, green, and gold table cloths, ribbons, balloons, and beads. This celebration is known for its signature colors, masquerade masks, and of course, king cake!
Make this delicious treat a part of your festivities. Let guests decorate their own individual king cakes and have one host give a random guest the baby. Then, see if mom and dad can guess whose cake it is in!
What to Serve:
Since Louisiana is famous for its celebrations on this day, make your menu cajun with:
Crawfish
Jambalaya
Hush Puppies
Beignets
Find Inspiration for Spring Baby Shower Themes in Unique Places
For hosts looking for more baby shower ideas, think about the baby's birth month and the meaning behind their name. Just because the baby shower is being held in the spring doesn't mean that it has to be filled with flowers and butterflies. Get creative with your theme and find an option the relates to the couple and their sweet baby on the way!