These 30th birthday ideas will sure give you plenty of inspiration if you are planning to celebrate your special day in style no matter the season, time, and location. From hot air balloon ride to traveling abroad to experience a different culture, be sure to pick a birthday idea that perfectly suits you.
Go Glamping
If you are looking for a way to broaden your horizons and connect with nature, celebrate your birthday under the stars with a glamping experience. From luxurious geodesic domes in the desert to eco yurts in the mountains, find a unique getaway where you and friends can disconnect for the weekend and spend quality time together enjoying the outdoors. Don't forget to shop in advance for all the s'mores making essentials because no glamping is complete without roasting marshmallows with friends.
Spend the Day at the Beach
Whether you live close to the beach or a trip by car or plane is required to get you to your beach destination, spending the day at the beach on your birthday sounds like a lovely way to celebrate. If the budget permits, consider booking a night stay at a hotel nearby for easy access to the beach. If friends are joining you, plan a sunset dinner to finish off the day in style.
Have a Spa Day
Pamper yourself with a luxurious spa day at your favorite resort. Whether you are inviting your closest friends or going by yourself, plan a relaxing and invigorating birthday complete with mani & pedi, massages, facials, and body treatments. You can elevate your stay by booking that suite with a view you have been dreaming of.
Go on a Yoga Retreat
If you are looking for a relaxing way to celebrate your birthday, a yoga retreat is a wonderful option to incorporate deep relaxation, energy clearing, and meditation into your special day. Whether you consider yourself an advanced or newbie to the practice of yoga, spending time in nature for physical, mental, and spiritual well-being will definitely be a reinvigorating experience and a birthday to remember.
Go Skiing
Hitting the slopes with friends will add thrill and excitement to your special birthday. Whether you live close to a ski resort or a trip is necessary to get to your destination, planning ahead is crucial for a smooth celebration, especially if you need to pick up rentals and book accommodations.
Host a Birthday Brunch
Nothing like celebrating a birthday party with a delightful brunch. Whether you are planning to host it at your own place or meeting up with your friends at your favorite restaurant, celebrating a birthday party over delicious breakfast food and mimosas sounds like the perfect idea for a special occasion.
Rent a Boat for the Day
Rent a boat for the day and enjoy your birthday on the water with friends and family. Be sure to plan ahead and contact your local boat rental companies to see what your options are in order to comfortably accommodate the number of guests. From pontoon boats to houseboats, make sure you decide on a service that can provide a boat loaded with free fuel and a professional captain if none of the guests have a boat license that's required by the state where you are located.
Go on a Road Trip
If you have been looking for a great excuse to hit the road to a close destination, your birthday is the perfect time to do some exploring. Decide on the location and do some research on the best places to eat, historical places to visit, and shops featuring local artists you can support.
Plan an Al Fresco Dinner
Break out the fancy dinnerware and host an al fresco dinner out in your backyard under the stars to celebrate your birthday. Keep the menu simple with a restaurant-style food menu, easy homemade desserts, and cocktails to toast to an incredible time with family and friends.
Spend the Day at the Lake
Lake life is the best life. Spending the day at the lake sounds like an amazing idea to celebrate a special occasion. From kayaking to paddle boarding and tubing, there are lots of activities to keep you and friends entertained. If you are not the active type, you can simply grab a pool float and a drink to soak up the sun in the most relaxing way.
Travel Abroad
If traveling to a different country to immerse yourself into a new culture has been on your bucket list, now it's time to do it and celebrate big. If this is your first time traveling internationally, be sure to get yourself informed on how you can plan for your trip, return home, and navigate passenger processing.
Go on a Cruise
When having a birthday vacation where everything is taken care of for you, the occasion is bound to be amazing. Cruises offer great value for your dollar because you can visit multiple destinations and unpack once with everything catered to you including food, accommodations, and all-day entertainment.
Go Snow Tubing
Looking for an exciting and thrilling activity to celebrate your birthday? Snow tubing is the answer. Look for a snow tubing park that has a magic carpet as hiking up to the top countless times can get exhausting.
Go to a Concert Solo
Going to a concert solo isn't as terrifying as people may think. You will be able to be more aware of your surroundings and immerse yourself into the experience. If you feel awkward by going solo, just keep in mind you already have something in common with the crowd --the music from your favorite artist you bought tickets to go see live for your birthday.
Have a Sushi Night
If making sushi seems like a daunting task to you, consider ordering sushi platters you can pick up right before the birthday party starts to ensure freshness or make reservations for your favorite sushi place in advance and let the good times roll.
Visit a Winery
If spending time at tasting rooms and going on wine tours sounds like the perfect way of celebrating your birthday, a visit to a winery is in order. Consider inviting a few close friends to join you, including that one friend who doesn't drink to be the designated driver if you are not planning on booking accommodations and staying overnight.
Book an Airbnb
For a change of scenery, book an Airbnb to celebrate your birthday in style. Whether you are planning on inviting friends to join you or looking for some alone time away from home, make it memorable and plan to do things you don't normally do due to all distractions of everyday life, such as reading that phenomenal book you never got to start.
Have a Cooking Night With Friends
Invite friends over for a night filled with good food and great company. Hosting a cooking night is a wonderful way to bond with friends and learn something new, even if you don't consider yourself particularly gifted when it comes to the culinary arts.
Enjoy a Staycation
Planning a staycation to explore the city where you live can be as exciting as traveling to a different destination. It will give you the chance to take advantage of all that your city has to offer, to become a tourist in your own city, and to support local businesses in your area.
Host a Pool Party
Host the ultimate pool party to celebrate your birthday soaking up the sun or enjoying a night under the stars in the company of great friends. Plan a fun yet simple menu consisting of portable foods and bottled or canned drinks to minimize the mess and clean up after the party.
Plan a Poker Night
You don't have to step into a casino if you think it is an intimidating venture and you don't know how standard etiquette works at a poker room. Consider hosting a poker night at home where you can invite friends over for a fun-filled night complete with poker inspired food and decorations.
Host a Pizza Night
Whether you are planning on making homemade pizza or ordering from your favorite Italian restaurant, pizza is the ultimate party food nobody seems to get tired of. Invite friends over the ultimate pizza night, complete with fun games and activities to keep the party going.
Go Ice Skating
If you are looking for an indoor winter activity to celebrate your special birthday, ice skating will deliver all the fun and excitement you are looking for. Whether you are hitting the ice rink solo or with a group of friends, be sure to make reservations ahead of time, especially if you are looking for a reserved time instead of doing public skating.
Take a Pottery Class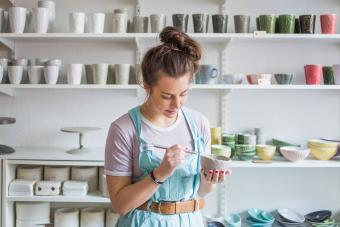 Taking a pottery class will teach you the basics and all the steps from wedging your clay to glazing your pieces. It could be a messy yet fun way to celebrate your birthday and learn something new by doing something creative.
Host a Tea Party
If hosting parties is your cup of tea (pun intended), invite family and friends for a lovely tea party. Be sure to know which type of tea party you plan to host, be it an afternoon tea or a high tea, before planning your tea party menu.
Have a Picnic at the Park
Enjoying a picnic at the park on a beautiful day sounds like the perfect way to kick off a birthday celebration. Whether you are keeping it intimate by inviting a couple of close friends only or planning on enjoying a lovely picnic by yourself for a relaxing time away from other distractions, it's your birthday, so you get to make those decisions.
Host a Backyard Movie Night
Break out that screen and projector you invested a good amount of money into and host the ultimate backyard movie night complete with a concession stand featuring unlimited theater style popcorn, nachos, hot dogs, and drinks. Encourage guests to bring their favorite blankets and pillows for a memorable movie night under the stars in the company of special friends.
Go Hiking
If hiking is an outdoor activity that really interests you, plan to go hiking on your birthday if the weather permits. It's a great way to discover a surprising number of beautiful natural and outdoor spaces that you can explore by hiking. Getting away from the hectic areas to find peace and quiet can be an invigorating way to celebrate a special day.
Get a Tattoo
Permanently adding art to your skin can be an incredible birthday gift to yourself if getting your first tattoo has been on your bucket list for as far as you can remember. Decide on a design and make sure you pick the right artist to do the honors of giving you your first tattoo.
Go on Hot Air Balloon Ride
If you have been dreaming of quietly soaring above the treetops and craving that feeling as if you're being suspended in the air, a hot balloon ride is a once-in-a-lifetime experience for your birthday. If you would like to keep it small and intimate, consider booking a private hot balloon ride instead of sharing the ride with other passengers.
It's Your Day!
Whether you are keeping your 30th birthday celebration simple or going all the way out, be sure to decide on ideas that you genuinely love. It's important to make guests happy, but keep in mind your family and friends will be thrilled and willing to do anything to make the celebration all about you. It's your day and you should embrace it.