The warm weather is here, which means summer parties on repeat. If you are known as the beach bum who is always looking for an excuse to celebrate, get inspired by these ideas for an exciting and doable beach themed party that will certainly take your summer event to the next level.
Beach Party Themes
You can go old school for a beachy party theme, such as a mermaid party with lots of sparkles, a pirate party with treasure and adventure, or a tropical luau with all the trimmings, or you can try something different with off-the-beaten-path beachy party ideas.
Nautical Picnic
Looking for a relaxing way to celebrate a special date? Invite family and friends to join you at the beach for a nautical picnic. You can plan an easy menu consisting of fresh fruit, biscuits, picnic sandwiches, and refreshments. As far as nautical party decorations go, you can incorporate nautical pillows, fabric pennant banners, and of course, a coordinating picnic blanket to go with the theme.
Christmas in July
If Christmas is your favorite holiday, plan a Christmas in July party at the beach. The guests can join forces to build and dress up a snowman. Or should you call a sandman? You can even use a small Christmas tree and under-the-sea ornaments to bring the spirit of the holidays to your summer event.
Shark Week
If your beach party falls during Shark Week, consider hosting a shark themed party. Incorporate fun shark decorations, such as a large shark foil balloon and creative treats--jello cups topped with shark gummies and a fin-tastic shark-cuterie featuring goldfish, shark gummies, lifesaver donuts, starfish cheese, and shark teeth watermelon slices.
Beachy Tea Time
You can host a tea party all year round, so don't be afraid to plan one during the summer. To incorporate the beach theme into your tea party, serve the beloved shell-like shaped cookies known as madeleines neatly displayed in a wicker shell basket.
Delightful Decor for Beach Party Themes
With a party theme firmly in place, plan fun decor that's a beachy delight--or use the decor to inspire a theme.
Message in a Bottle Invitation
A way to get your guests excited about your event is by adding a touch of creativity to your invitation. For a beach themed party, consider using plastic bottles with a cork for your invitations to set the tone to your event and give the guests an idea of what to expect.
Tropical Tablescape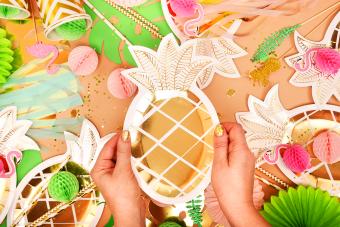 For a beach inspired party, consider setting up a festive tropical tablescape by incorporating pineapple shaped plates, flamingo food picks for mini desserts or appetizers, and monstera leaves for adding a pop of color to your set up.
Tropical Balloon Garland
Inflate colorful balloons to create the ultimate balloon garland decoration. You can add fun textures, such as artificial monstera leaves or palm fronds, colorful leis, paper honeycombs, and fans. The great news is that you don't need helium. You can use a hand pump to create the ultimate backdrop for your summer party.
Beach Themed Party Food
When it's time to eat, you can't go wrong with adorable beach themed party noshes.
Grilled Cheese Fish Sandwich
Spruce up the kids' grilled cheese by playing with fresh fruit and breakfast cereal to create an under-the-sea party plate that will delight your guests. You can substitute the grilled cheese for peanut or almond jelly sandwiches if your guests prefer sweet to savory.
Cupcakes With Beach Inspired Fondant Decorations
Fondant decorations are wonderful for creating coordinating treats for your party. If you have a little experience with fondant, you can create them on your own, or request a custom order from a local cake designer. You can use beach inspired fondant decorations to top cupcakes, donuts, cookies, and more. The possibilities are endless when it comes to fondant art.
Nautical Decorated Cookies
If you are planning a nautical themed beach party, decorated sugar cookies are a must. They will add extra fun to your party set up and make great take-home party favors. Professionally decorated cookies are ideal, but don't be afraid to create your own if you enjoy playing with sugar cookies and icing.
Mermaid Donuts
Turn store-bought donuts into something extraordinary for your beach party. Dip plain donuts in tinted melted chocolate, and then add pearl candies and graham cracker crumbs to mimic sand. You can finish it off with a chocolate mermaid tail you can make a day ahead using a chocolate mold.
Vegetable Platter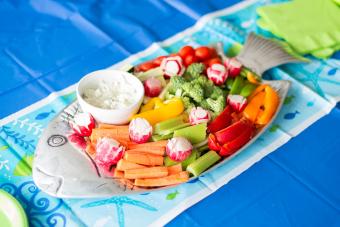 Take your veggie platter to the next level by simply displaying your vegetables on a fish or any under-the-sea inspired serving platter. Add a creative touch with food art techniques--using radishes to create algae and anemone edible decorations for a fun presentation.
Flamingo Cupcakes
A flamingo beach party is a wonderful theme for a summer celebration. Create flamingo cupcakes using fondant decorations or purchase a printable flamingo file online you can print and assemble to spruce up not only cupcakes, but any finger food of your choice as well.
Banana Split Bar
No summer party is complete without ice cream. For an exciting and interactive party experience, plan the ultimate banana split bar. Set out all the essentials for the guests to create their very own banana split--kraft paper boats, bananas cut lengthwise, maraschino cherries, chopped nuts, sundae syrup in a variety of flavors, and other fun toppings. You can even make waffle "shells" dipped in chocolate and graham cracker crumbs (beach sand), and have mini tropical umbrellas to set the theme for your banana split bar.
Watermelon Ice Cream Popsicles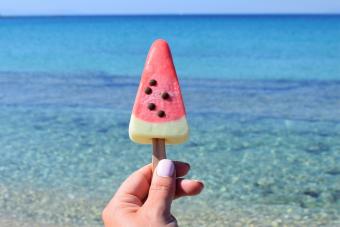 If you have a popsicle mold, you can create your own watermelon popsicles for your summer party. Simply layer green (pistachio or mint) and red ice cream (watermelon or raspberry). Don't forget the popsicle sticks and chocolate chips for the watermelon seeds.
Under-the-Sea Cake
Spruce up a buttercream cake with candy pearls, graham cracker crumbs, and chocolate shells to create a unique under-the-sea cake. And if your party is a mermaid theme, you can add a chocolate mermaid topper to the mix for an eye-catching detail.
Tropical Fruit Drinks
When planning a party, presentation is key. Instead of serving ordinary drinks in glasses, use fresh fruit such as watermelon, coconut, honeydew, or cantaloupe to create impressive drink bowls. Add tropical drink umbrellas, fun straws, fruit slices, and mint for extra fun in your summer drinks.
Brilliant Beach Party Activities
Make the most of sand and sun by incorporating some fun outdoor activities.
Bubble Soccer Match
Plan a bubble soccer match. Find a company near you that can offer bubble soccer rentals. Bubble soccer is a sport of its own, often described by kids and adults as a combination of bumper cars and soccer. Keep in mind you will need a large area, such as a field or court, to organize an exciting bubble soccer match for your guests.
Limbo Dance
Organize a limbo dance at the beach. Divide guests into equal groups and encourage a healthy competition between them. All you need for this fun party activity is a limbo stick and a cell phone to play some tunes, such as Do the Limbo Dance or Limbo Rock. Having fun prizes for the winners can be an extra motivation.
Water Balloon Battle
To keep your party going, organize an exciting water balloon battle. Fill large tubs full of water balloons and place them around your battlefield. You can even hide water guns in bushes for extra excitement. Invite guests to stand in a circle to announce the water balloon fight rules and start the countdown. Ready, set, go!
Hula Hoop Contest
Add extra excitement to your party with a hula hoop contest. All you need is hula hoops for each participant and background music. Participants must try to keep their hoops moving as long as they can. The contest ends when only one person remains. Have a fun prize ready for the big winner!
Sandcastle Contest
If you are hosting your summer party right at the beach, plan a sandcastle contest among your guests. Assign one person to be the judge, announce the rules criteria--design, detail, neatness, and technique. Don't forget to announce the special prize for the winner.
Plan an Unforgettable Beach Themed Party
To plan and execute an unforgettable beach party goes beyond serving perfectly decorated cupcakes. It requires time and effort that one person alone can't make it happen, so consider delegating a few tasks to people who are willing to help make the event extra memorable. By doing that, you will be taking the stress away from the party planning workload, making it an enjoyable experience for you as the host and ultimately, deliver a unique experience for all the guests.