If you're looking to focus on color for your next celebration, you'll love these color-theme party hacks. For kids and adults alike, these color party ideas will have your decorations, food, and activities sporting your favorite color in a stylish way. With these vivid color ideas, you'll be the brightest host on the party scene.
Throw a Roaring Red Rager
Plan a Pretty Purple Party
Go Green for Your Gathering
Get Tickled Pink to Party
Bring the Sunshine With a Yellow Party Theme
Color-specific party ideas are a fun way to incorporate your child's favorite color for their birthday bash or to just brighten up an ordinary gathering. Yellow is punchy, fun, and perfect for an end-of-summer celebration. Yellow drinks, sunny party decor, or bright gourmet cookies give your party guests a warm welcome. Happy yellow party decor will keep your guests in the party mood.
Bring Blue Details to Your Party
Go Bold or Cute With Orange
Host a "cutie" baby shower or a fun citrus-themed brunch with this bright and bold color choice. Orange can be electric and fun for a kids' bash or simply sweet for an adult gathering. These citrus-inspired balloons will help you celebrate with tons of color. Orange martinis keep your party lively, and these cutie cake truffles are too sweet to pass up. Putting tons of thought into the tiny details will help your party stand out, and not just because of the bright color choice.
Party With Neons
You don't have to choose a single color theme for your vivid celebration. A party color palette of neons like hot pink, lime green, electric orange, and highlighter yellow is a bold choice for a teens' party or night-time celebration. Neon black light plates, bold and bright balloon garlands, and a glowing neon sign will let all your guests know that exactly where the party is.
Decorate With Colorful Flowers
The trick to hosting a thoughtful color-themed party is to use your party's color palette in a creative way. If your occasion calls for floral arrangements, like a bridal shower, try displaying flowers in your designated colors. Tulips are great for yellow, orange, or pink themed parties. You might choose elegant roses or bold poppies for red. Violets and dahlias are striking in purple. Blue hydrangeas look feminine and sophisticated. Green is easy with an arrangement of sprigs, leafy blooms, and fragrant plants like eucalyptus. If you prefer white flowers, try dyeing the water in your arrangements with a few drops of food coloring for an elegant pop of color.
Create Contrast
You don't want to overwhelm your guests with color, so create an intentional focus on your modest amount of color with white or black party backdrops for contrast. Tablecloths, place settings, balloons, and even your home itself can act as neutral "blank canvas" areas so the colors in your party truly stand out.
Serve Color-Specific Drinks
Whether it's a bowl of punch, a bubbly mocktail, or a classic mixed drink, a touch of color will help your beverage menu pop. Use color-specific drinks to stay on theme and give guests a fun and colorful party detail they can sip and enjoy. For less colorful drink options, fun glasses or tumblers still add tons of color.
Make a Color-Specific Charcuterie Board
Charcuterie boards are great for dessert spreads, brunch tables, and highlighting the theme of your party. Try using items on your board that show off the color or colors you're showcasing in the party decor. Fruit, veggies, spreads, candy, and colorful crackers will take your ordinary charcuterie board from bland to bold.
Pop Up Some Color
Style a Colorful Candy Bar
Everyone loves candy! Sweeten up your colorful party theme with a spread of candies sporting your color or colors of choice. Display your candies in colorful bowls, on styled platters, or in clear containers that show off the colors.
Set Up an Art Zone for Kids
Give young partygoers a chance to explore color with an art zone at your party. Painting, crafting, and coloring are great for young kids, and you can adjust according to age group. For an extra-sweet art project, let kids decorate cupcakes or cookies with a spread of frostings and sprinkles.
Get Covered in Color
The best way to celebrate with a color-specific party is to get covered in color yourself! Whether it's a round of paint ball, a color bomb on the dance floor, or a confetti shower on the guest of honor, make sure your guests never forget this vivid celebration.
Party With Vibrancy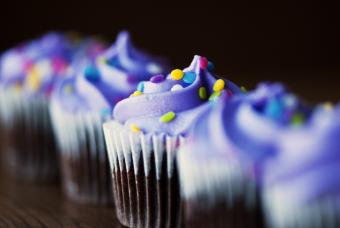 Make your party stand out with vibrant color for an unforgettable experience. Your colorful decor, creative food displays, and engaging activities will have everyone chatting about your stylish soiree for weeks.