There's nothing like balloons to take an ordinary centerpiece from meh to magical. Whether you're celebrating a birthday, decorating for a holiday, or making some other occasion super special, these balloon centerpiece ideas will inspire you to make your table decorations even more fun than usual.
Pitcher Full of Color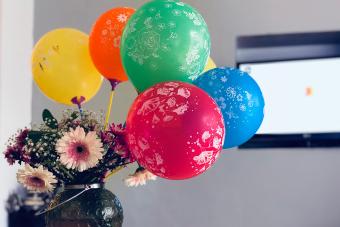 Perfect for a birthday party or colorful summer event, this easy balloon centerpiece idea adds instant playful flair to a cake table or dining table. Just order balloons in your choice of colors and ask that they be attached to sticks instead of on strings. Use a piece of floral foam in the bottom of a pitcher to affix the balloons and keep them from falling out. What's great about this design is you can use any color scheme you want.
Tea Party Balloon Centerpiece
A series of single balloons down the length of a table makes an incredible centerpiece idea that's perfect for an elegant tea party. This is a super easy design too - just ask for helium balloons with weights. Wrap the weights in tissue to match your decor or place the weights in teacups. The balloons will add lots of festive flair and won't interfere with conversation across the table.
Outdoor Balloon Cake Centerpiece
If you're having a picnic, engagement party, or birthday party outdoors, it's usually a good idea to cover the cake until you're ready to eat it. With this cool idea, you can actually turn the cake into a decoration. Just wrap the cake plate in clear cellophane, tie with ribbon, and add lots of colored helium balloons to the top. When you're ready to serve the cake, you can remove the balloons and tie them to something else.
Hanging Chandelier Balloon Decoration
Instead of putting the balloon decoration on the table, you can hang it over the table. This works especially well if you have a pretty chandelier hanging in your party space. Attach balloons in a single color to the bottom of the chandelier for an instant party decoration that's sophisticated and fun at the same time. Keep other table decorations simple to let the hanging center piece take center stage.
Mason Jar Balloon Bouquets
Choose pretty colored Mason jars and fill them with flowers to get started with this lovely centerpiece idea. Attache two or three balloons to each jar and space the jars down the table at your wedding, baby shower, or other event. Keep the balloon strings long and the bouquets low so they don't interfere with conversation, and try experimenting with different pastel shades in the flowers, balloons, jars, and ribbons.
Festive Christmas Balloon Centerpiece Idea
Take your Christmas floral arrangement or poinsettia to the next level of festive with the addition of star-shaped balloons in holiday colors. Red and gold look especially pretty with most holiday bouquets, but you can also use green, silver, or any other color that works with your decorating. The balloons add extra visual weight to the centerpiece, making it a perfect choice for getting noticed.
Balloon Flower Bouquets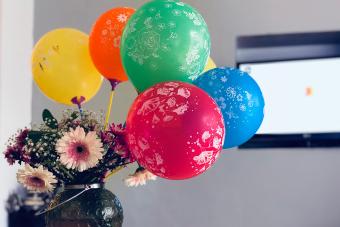 Add balloons to any lovely bouquet by ordering smaller ones set it sticks. You can go with festive colors that match your celebration, keep things neutral with white or gold balloons, or coordinate the balloons with the bouquet. No matter what you choose, this takes any ordinary bouquet to the next level and makes it perfect for a party.
Hanging Halloween Centerpiece
Hang letter balloons that spell out a spooky message over a table. One great option is "Boo!" Sting the balloons on cord and suspend the message high enough above the table that it doesn't interfere with people chatting. Since most letter messages only work from one direction, make sure you orient this hanging centerpiece so the word faces people as they arrive at your party.
Fairy Lantern Balloon Decoration
For a fairy party or other magical event, tie a bunch of helium balloons to a lantern and use that as a centerpiece at your party. As long as you ensure the ribbons and balloons aren't actually touching the lantern (just the handle), you can even light it to create mystical ambiance. If you keep the color combination simple, this can even make a pretty wedding table decoration.
Baby Shower Balloon Centerpiece
Pick up a baby-shaped balloon to create the ultimate baby shower centerpiece. Combine the baby balloon with plain balloons in pastel colors, plus clear, silver, and white. Have the strings at different heights to give plenty of visual interest and variety. Tie everything together to a balloon weight to make this into a table decoration the mom-to-be will love.
Tips for Ordering Balloons to Make a Centerpiece
You can order a grouping of balloons from a party store or pick single balloons and combine them yourself. Either way, keep these ordering tips in mind:
Decide on how large you want the centerpiece to be before you pick balloons. That way, you can choose the right sizes.
Consider mixing metallic or special shape balloons with plain or solid ones to give some variety.
For helium balloons, plan to pick them up from the store on the same day as the party. That way, they won't have a chance to lose helium and sink.
Weather conditions can affect how balloons behave. They can get smaller or larger if the weather is super cold or hot, so keep that in mind when you take them out of the store.
If you are ordering balloons that don't have helium, you can have the store inflate them to save you time and lung power.
Order extra balloons if you're making a centerpiece, since some of them might pop while you're working with them.
So Many Ways to Use Balloons
While centerpieces are awesome and can definitely set the mood for your party, there are actually a ton of cool ways to use balloons in your decorating. Consider adding a balloon arch, a column of balloons, or just scattering balloons all over the place for a playful look. There's nothing quite like the magic these simple decoration add.