You didn't see planning your baby's first birthday coming so quickly, but it's here and it's real. And you deserve a big congrats for surviving hours of sleep deprivation, countless diaper changes, and 'round the clock feeding. Deciding on a birthday party theme to celebrate your child turning one can be an overwhelming task, but with some planning ahead and a little creativity, you can bring to life a sweet first celebration that perfectly fits their little personality. From adorable gender neutral to girly girl party theme ideas, get inspired by these fun first birthday party themes to celebrate such an important milestone.
"B" Is for Barnyard
The traditional Old MacDonald Had a Farm nursery rhyme has inspired and continues to inspire many first birthday celebrations. If your baby has learned how to hum this ever so popular children's song before they could even say their name, this adorable theme is a perfect fit.
Consider incorporating fun and unique DIY farm party ideas, such as a pigs in a mug birthday cake, corn on the cob popcorn bags, and pig cupcakes. To set the tone, neatly display sweets and snacks on decorative straw bales and serve milk in old-fashioned bottles.
To take your event to the next level, hire a petting zoo service. A petting zoo provides the soon-to-be toddler and little guests with a fun and interactive cuddling experience.
Winter One-Derland
A winter one-derland party is a fantastic theme to celebrate a first birthday if your baby was born in the wintertime. Transform your space into a winter wonderland and get guests in a festive spirit by hanging sparkling snowflakes from the ceiling and decorating a white holiday tree in soft color tones and shimmery decor elements, which can include shatterproof plastic ornaments, glittery snowflakes, bows, and tinsel garland.
In addition to a buttercream cake and cupcakes coated in coconut flakes, setting up a hot cocoa bar with all the fixings will be the talk of the party. Serve delicious toppings, such as crushed peppermint, marshmallows, chocolate chips, crushed nuts, and other toppings of your choice, in individually-labeled jars for convenience. Paper cups with lids, stir sticks, whipped cream, and a thermal carafe for your hot cocoa will complete the look of your exciting hot cocoa station.
Cocomelon
JJ and his Cocomelon crew have taken the toddler world by storm with their bright visuals and catchy nursery rhymes. If you decide on this festive theme for your child's first birthday, it's bound to be a one in a melon event.
Set the scene with a watermelon balloon garland backdrop and have a dessert table as your focal point featuring Cocomelon-themed birthday cake design, decorated sugar cookies, and watermelon cupcakes. Dress up your tablescape with handmade Cocomelon toys, watermelon party hats, and themed tableware.
O-Fish-Ally One
If your child requests goldfish for breakfast, lunch, and dinner, a birthday party inspired by the famous crunchy crackers might be in order to celebrate your baby o-fish-ally turning one!
The traditional goldfish party decor in blue and orange is perfect for a gender-neutral "under the sea" birthday celebration. Consider setting up a party buffet with fish bowls filled with goldfish, popcorn, Swedish Fish, and other under-the-sea gummies. Send the little guests home with a plastic beach bucket filled with party goodies they can happily enjoy at home.
Paw-ty Time
A puppy-themed party is a sweet theme for a dog-loving child. Once you decide on your color palette, create your own party backdrop using foil letters to spell out "pawty" or "woof". Incorporate balloons in solid colors and paw prints. In addition to a themed birthday cake design, hot dogs and chips served in mini baskets are great choices to keep the menu stress-free with not a lot of preparation involved.
Very Hungry Caterpillar
Every child deserves a storybook inspired birthday party, and the Very Hungry Caterpillar is by far one of most popular children's books for providing wonderful creative ideas to throw the ultimate celebration.
You can go above and beyond and create your very own Very Hungry Caterpillar using balloons for an inexpensive yet eye-catching party décor. Serve up snacks and sweets based on the book, including cheese, fresh fruit, cupcakes, and lollipops. Complete the fun-filled party experience with an easy and age-appropriate butterfly craft.
Donut Grow Up
The possibilities are endless when it comes to a donut-themed party. Whether you are planning on a big celebration or keeping it casual for close friends and family only, you can host a fun-filled memorable party!
You can keep it simple by ordering donuts in advance to coordinate with your party, but if you are feeling adventurous, you can bake them from scratch a day ahead. Considering the donuts are the stars of the show (after the birthday child), you may choose to skip a birthday cake altogether and quickly decorate your donuts with birthday candles. A donut balloon backdrop can easily transform your space and set the mood to your event.
Baby Shark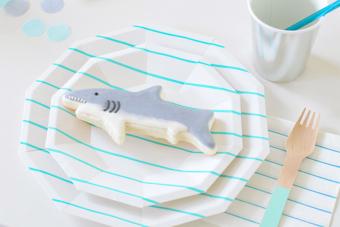 Congratulations if you are still surviving the catchy Baby Shark tunes. If there's no sign your baby will ever stop listening and jamming to the Baby Shark song, a party around this theme makes perfect sense to celebrate their first birthday.
An under-the-sea inspired tablescape can easily take your event to the next level. Have assigned seats for the little ones complete with baby shark-themed partyware and party favors. Finish off the look by inflating clear balloons in different sizes to resemble bubbles and create the ultimate centerpiece. Keep the little guests entertained with fin-stastic shark crafts.
Perfect Party Planning for a First Birthday
Planning a child's first birthday is such a momentous time. Focusing on what would make your child the happiest is far more important than throwing a picture perfect celebration. No matter the final result, consider your event a success.