Although it has certainly evolved over the years, men's formal dress code still maintains clear standards. Once you understand the nature of the invitation, you will be able to put together an outfit that suits the event.
The Traditional Formal Dress Code
The traditional formal dress code for men usually falls into two main categories: "black tie" and "black tie optional." "White tie" is the most formal dress and not as common.
White Tie
Most modern-day events rarely require strict "white tie" attire. However, examples of events where white tie dress may be required include highly formal charity events and government or official ceremonies. The dress code requires a white dress shirt with a detachable wing collar, a white waistcoat, a white bow tie, a black tailcoat, black pleated trousers, and black patent leather court pumps or oxfords. Although traditionally the dress code called for mother-of-pearl cuff links, that standard has been relaxed and men can wear a different cuff link style of their preference for white tie events.
Appropriate accessories for white tie attire include white gloves, a white pocket square, a black top hat, a boutonniere, and a pocket watch (traditional looks favor gold styles).
Black Tie
A "black tie" event is a formal social affair, such as a party, where people wear formal clothes called evening dress. For men, this traditionally includes a dinner jacket or tuxedo with a bow tie, which is where the name for this type of formalwear came from.
Black tie formal dress will vary by time of day, but it will always conform to a certain style:
A traditional daytime black tie look, also called morning dress, demands a black or gray tailcoat or walking coat with trousers that either match exactly or feature pinstripes. This look, still seen for weddings and formal diplomatic receptions especially in Europe, also includes a double-breasted vest, long tie, gloves, a boutonniere, tall hat and smart cufflinks.
Evening black tie formalwear still consists of the basic tuxedo, but any dark suit can work. Traditionally, the suit is accompanied by a white shirt, dark tie, dark socks and shoes. This can vary depending upon the event. Many men prefer a tie with a bright color or pattern, worn with a matching handkerchief. Not only is a suit and long tie often more flattering than a tuxedo, especially if that tux is not tailored to fit exactly, but it can be more comfortable and allow a man to express more of his individuality. However, it is important that the tie be of exceptional quality. Only a silk tie, preferably tied with a classic knot, is acceptable when choosing this look for a black tie formal evening occasion.
Black Tie Optional
If you receive an invitation stating that an event will be "black tie optional", it means exactly that. The event in question is usually an "after" party proceeding, like a formal wedding reception or awards ceremony, and suggests that fellow guests will be wearing black tie.
You have two options in this case. You can either:
Wear black tie formalwear as described previously. If fellow guests are doing this, then you might feel more comfortable following suit, however it would be completely acceptable to opt for less formal attire.
Dress smart casual and wear a suit, or chinos with a formal shirt and blazer jacket for a summertime. Bear in mind that your fellow guests will be dressed suitably for the occasion, so make sure that you don't look out of place by also choosing smart footwear and accessories.
Variations in the Formal Dress Code
Black tie formalwear has always been rather traditional; however, other varieties of formalwear have become less strict in the modern era.
Hollywood Black Tie
"Hollywood black tie" is a type of formalwear where you wear a black suit and a black tie and it's considered appropriate for eveningwear.
Black tie events such as the Oscars allow for even casual dress; what is formal is not always strictly defined or adhered to. A man might wear semi-formal or cocktail attire, for example, and not feel out of place; whereas in the 1940s, he might not have been allowed into the function.
Summer Occasions
Formalwear for an outdoor summer wedding these days is sometimes given a fashion-forward, contemporary twist.
For daytime events, a good linen or silk suit is widely accepted. However, these must be worn with a tie. Formalwear simply doesn't allow for even the most expensive T-shirt or open collar dress shirt.
For an evening event, the standard formal dress code is still a dark suit. Although, if you are going to be outdoors in summer, you can feel free to add some variations, depending on the nature of the event. That is, you should still wear a suit and tie and dressy shoes, but you can wear a light dress shirt in a contrasting color and a patterned silk tie.
Playful Accessories
Another way to play with your formal look for the 21st century is by having fun with accessories. Instead of plain cufflinks, opt for something vintage or artistic. An outdoor summer event might allow for a trendy belt, rather than something classic, so long as it doesn't clash with your attire. You could even swap a dress hat for a straw boater or Panama for a 1920s look.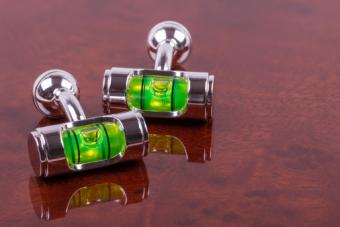 Assess the Event
If you are going to bend the formal dress code, you need to know the nature of the event and the people hosting. If the occasion is of an artistic nature, then you can feel very comfortable indulging in a little experimentation, as long as you still look respectable. A very traditional wedding or reception, however, will demand that you adhere to stricter standards. Keep in mind that anything official means you have to dress the part faultlessly. If you're not sure if your suit will fit the bill, you can go to a high-end menswear shop and ask advice - the salespeople will be happy to help you. With a good, well-fitting suit and shirt, matching tie, and dress shoes, you can feel confident that you'll look appropriate.