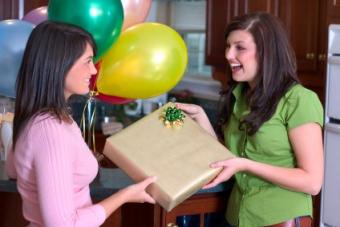 Your housewarming party doesn't have to be tame and dull if you throw a few housewarming party games into the mix. These games will keep your guests entertained and give you some great new memories to start out life in your new home.
Ideas for Housewarming Party Games
Planning a few housewarming party games are a great way to jazz up a boring housewarming get-together, and can also be a great way to break the ice with your new neighbors and between family and friends who are meeting for the first time.
To get your party started right, try the following game ideas:
Home Unscramble
Create a list of scrambled words related to the home. Use words such as:
Door
Roof
Lawn
Deck
Pantry
Shower
Give each guest a list of the words and the first person to unscramble them all is the winner. You can give the winner a small prize such as a candle.
New Town Trivia
If your new home is in a new town or even a new state, you can plan a trivia tournament using facts and figures about your new location. This game can work even if you have moved within the same city as well - just be sure to make the questions a little more challenging in that case!
Scavenger Hunt
One way to make sure your friends get the lay of the land in your new house is plan a scavenger hunt. Hide clues and treasures throughout your home and split your guests up into teams to complete the hunt. Make sure to have a good prize on hand for the winning group!
Rotating Tour Guide
This game helps your friends get to know your new home while also giving you a little break! You lead the first group of guests on a tour of your home, and then pick a member of that group to act as tour guide, and so on, until everyone has gotten a tour. You'd be surprised how much fun people will have while showing off your home, and you'll be free to stick by the door and greet people as they arrive.
Room Memory
Pick a room in your home that has a door that can be closed. Give guests a minute in that room to look around at everything in it. Once everyone leaves the room, close the door and ask the guests to write down as many details as they can remember about the room.
Housewarming Gift Game
This game will only work if someone else is planning the party for you, and it starts before your guests even arrive. A certain gift "theme" can be noted on the invitation, such as a color or accessories for a certain room. At the party, give your guests the opportunity to explore your new home and select the perfect place for their gift. You'll get stocked up on things you may need, and you'll have a lot of fun watching your friends have a hand in decorating your home.
Other Options
While the previous ideas are good for a housewarming, remember that any board game or standard party game you love to play can easily be translated into a housewarming party game. Some other games to consider including at your party are:
Monopoly
Pictionary
Karaoke
Charades
Cards
Additional Game Playing Tips
When you're picking your party games, keep in mind all of the usual factors:
Age of your guests
How many people will be at your party
How well your guests know each other
Whether you'll be playing games inside or outside
Tailoring your game choices to your guests will make your party that much more successful. Remember that the most important part of any game is to simply to have fun!
Welcome Friends and Family
Housewarming party games will instantly give your new home a warm and inviting atmosphere that will ensure your friends want to come back again and again. Games are a great way to break the ice and get everyone mingling in your new home.