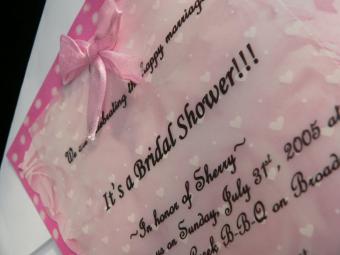 In order for your event or party to be a success, you need to have the right wording on the invitation. The invite wording should convey not only the date, time and location of the party, but also the theme, formality and additional information guests need to know.
Include the Right Info
Before you worry about your invitation wording, you have to make sure you have all of the correct information together that should be included on a party invite. However you arrange it, all invitations should provide the following information:
Party location, date and time: This information is imperative to getting the party-goers to your fete. If you would like to wrap the party up at a certain time, feel free to write that in the invitation, too. Many children's birthday parties have a definite start and finish, as do many holiday parties.
Party type: The invitation design and wording should both convey the type of party, from birthday to shower to retirement party. If you're planning a surprise party, make sure that is explicitly clear in the wording.
Formality: Formality can range from party to party, even if it's for a similar event. Let guests know a housewarming party is casual by including that in the wording, or make sure everyone wears their black-tie best by wording the invitation properly.
Directions: If the party will be held at someplace off the beaten path, make sure guests know how to get there. Add a small enclosure card with a map and directions.
RSVP: Let guests know how to inform you they are coming. Include your phone number and your email address, along with a "reply by" date.
In addition to this basic information, it is important to include any additional information guests need to know. For example, guests will need to know they should bring swimwear and accessories for a pool party. Similarly, if the party is a costume party, guests will also need to know the theme so they can dress appropriately.
Birthday Party Wording
Typically, a birthday party invitation has wording that lets the guests know that it's someone's birthday, and often, how old the honoree will turn on that special day. Choose more casual wording for a child's birthday party invitation and a little more formal wording for a 90th birthday party invitation. If the guest of honor is sensitive about age, keep that off the invite and instead, use terminology like "celebrate this milestone" or "over the hill" for the invitation.
A surprise party invitation requires special attention to the wording. It's not uncommon to add big bold words at the top of the invite that say "shh, it's a secret" or "zip your lips" to the top of a surprise party invitation.
Make sure you also word the invitation so guests know what time they need to arrive versus what time you expect the guest of honor to arrive. A guest who arrives late could give away the surprise.
Theme Party Wording
A theme party needs special wording, along with design, to convey the party's theme. Festive luaus, motorcycles, and the 1980s are just a few of the hundreds of themes you can add to your party. Many theme parties use casual, fun wording to show off exactly what they are up to during the party. Short rhymes and verses are commonly used in wording for theme party invitations.
If you're having a party for a special occasion that has a secondary theme, make sure that is also clear through the wording. For example, a birthday party may have a princess pirate theme, or a graduation party may celebrate the Australian outback. Make sure you include this in the invite by using lines like:
It's a fine day for a party on the planks! Join us as we send Sarah Smith overboard for her 14th birthday!
Grab your graduation finest, because we're hosting a fancy dress party in honor of Bob's high school career.
Start practicing the hula because we're throwing Ron a luau for his early retirement party!
Event Party Invitation Wording
It's important to word your party invitation so that guests know if the party is casual or formal. For example, a christening dinner could be a casual backyard barbeque, or it could be a fancy sit down dinner at a restaurant. The wording of your invitation will let guests know what to expect from your party so they come prepared.
Casual Party Wording Examples
A causally-worded invite really doesn't have any rules. You can use everyday language, contractions, numbers and abbreviations. In fact, you could even write a simple invitation that says "Please come to my party!" with the details listed separately on each line.
While the invitation may be casual, it is still important to include all the basic information to get guests to the party on time and in a festive mood.
Formal Party Wording Examples
Writing a formal invitation letter is the proper thing to do for special occasions and events. A fancy Christmas cocktail party, awards presentation or quinceanera are all appropriate times to word your invitation formally. Formal wording typically follows these rules:
Use nice calligraphy or scripted lettering
Spell out all numbers, including dates, times and addresses
Do not use contractions or abbreviations
Wedding invitations have their own set of special rules for wording, depending on whether the wedding will be casual, semi-formal or black-tie, as well as who is hosting the event. These rules are explained in the articles Wedding Invitation Rules, Wedding Invitation Wording and Wedding Invitation Verse.
Party Wording Etiquette
When it comes to wording the invitation, there are a few etiquette rules to follow. While they are not as strict as formal wedding invitation etiquette, they should still be followed closely so guests know exactly what to expect.
Food and Drink
Let guests know the food situation by adding a line or two at the bottom of the invite that says "Light refreshments and drinks provided" or "Full cash bar available," depending on the party circumstances. Place this line of information in one of the bottom corners of the invitation.
Gifts
Typically, it is considered poor etiquette to even mention gifts on a party invitation. However, in recent years, many people find it necessary to write "your presence is present enough" at the bottom of invitations birthday parties, showers or invitations. Decide if this is acceptable in your social circle before you print your invitations with this wording.
Grammar
Finally, make sure you read over the invitation several times. Check spelling, grammar and all details before mailing. A simple misprint of the date or time can cause many headaches for both yourself and your guests.
Wording Informs Guests of Party Details
However you choose to word your party invitation, the important thing to remember is that a good invitation gives guests all the details they need to know in order to have a great time at your party. It doesn't matter if you list the wording in a fun poem or as a simple line-by-line list of information, as long as it's easy to understand.