In this day and age, expectant mothers have had to get very creative with celebrating their babies to be. Large, in-person showers are not always the safest or most convenient route, so party-throwers have taken to the virtual realm to throw online baby showers for their loved ones.
Online Baby Showers Push Creative Boundaries
Before web baby showers were all the rage, people poured creativity into baby shower games, fun menus, and decorations galore. With everything going virtual, shower hosts have really had to push the creative boundaries to pull off an amazing party. Throwing an online baby shower can be just as fun as an in-person shower, so long as some careful thought and planning get put into it.
Who's in Charge?
Typically, someone close to the parents gets assigned shower duties. They often take on duties from invites and games to menu and decor decisions. If someone in your life wants to do this, then let them. They can design invites and send them to a list of shower guests. They can also include their personal email on the shower invite, fielding all questions for you. Without in-person contact as an option, your host can either send a box of fun decor to your home so that you can decorate a space for the shower, or together, you can discuss other fun decor elements, and you can purchase them yourself. This person will also be responsible for setting up a virtual space for everyone to meet on the big day.
If you decide to skip the host and throw your own shower, that is totally fine too! Sometimes taking a well-intentioned middle man out of the equation simplifies tasks such as throwing virtual events. The decision is ultimately up to you. If you're the one in charge, you can print this virtual shower planner to help you get organized. If you need help downloading and printing, use the Guide for Adobe Printables.
Invitations
Invitations will be an important component of the virtual baby shower because of the amount of information that the invites will contain. Hosts can choose to create traditional paper invitations, or they can send virtual ones. Regardless of which invitation is chosen, the following information should be included:
Fun theme and design
The date and time of the baby shower
The link that guests will need to click to participate in the event
A website where the expectant couple is registered.
Any notes and addresses about sending gifts directly to the couple
Any notes or directions about items guests might have to have ready to participate in virtual baby shower games
A contact address for the person who is fielding questions, either the host or the mother-to-be
Where to Hold the Event?
You don't have to rent a space for a virtual baby shower. That is a bonus and a money saver right there. If the weather is warm and your theme is nature-inspired, you can set up your computer outdoors and hold it in an open space. Otherwise, you'll want to choose a room in your home to set up a chair, the gifts, any decor you choose, and your computer.
Choosing Theme and Decor
Just because you didn't rent a hall or a private room at a restaurant doesn't mean that you can't get creative with the decorations. Consider ordering balloons, streamers, flowers, and a fun backdrop for a corner of one room in your home. Your guests will only be able to see a small portion of your space from their personal devices, so there is no need to decorate an entire room. You can also save time and money and choose a custom background on platforms like Zoom. One fun idea is to ask all of your guests to do the same and pick a winner for the most interesting and fun background.
If you have a certain color theme or are planning to reveal the gender of your baby at your shower, ask your friends and family to be a part of the decor and theme. Include specific instructions on your invitation if you want them to dress in a certain color.
Entertainment and Games
Guests can still have lots of fun at the virtual baby shower, with a bit of pre-planning. There are tons of virtual baby shower games for people to participate in. Make sure that you tell guests to print out any materials that they may need to join in the fun. For example, any printable baby shower games or "how well do you know the mommy" games will have to be printed out by virtual participants beforehand. Because your friends and family are not at arm's reach, prizes for game winners will also take an added step or two. Record the winners of each virtual shower game and send those people little something after the shower day.
Opening Gifts
In the invitation, you or the host likely included an online site where guests can purchase a shower gift and send it directly to your home. Store all the sent gifts in a room in your home and open them during your baby shower. Have your partner pile them up so that you may easily open them and then record who gave you what so that you can easily send out thank you cards following the baby shower.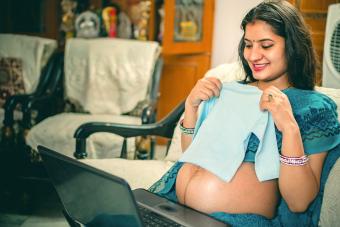 Pros and Cons of a Virtual Baby Shower
There are plenty of pros and cons to throwing a virtual baby shower.
Pros
Everyone stays safe
People don't have to travel
Save money by not including a menu or splurging on decor
Gifts are at your home, no need to haul them back to your residence following the event
Very little set up and clean up
Perfect for moms on bed rest
Cons
Will have to adjust shower games and prizes
Some moms might be disappointed with the theme and decor adjustments
Can't hug those you love
You will be scraping any crafty projects like creating onesies, nursery art, or photobook-making
Different Kind of Shower, Same Purpose
Yes, things are looking very different these days, including showers, but the event's intent remains the same. Even with a virtual event, people who love you will be thrilled to participate. The day will still be filled with love and laughter, and excitement from those who can not wait to meet your little bundle of joy.