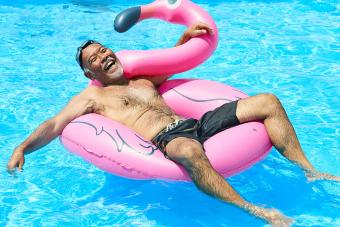 When pink is the star of the show, the party is bound to be amazing. Whether you are planning a pink party for kids or adults, this fun color selection will help you quickly decide on a perfect theme and bring your plan into action.
Pink Themes for Adult Parties
If you love to find any excuse to gather with family and friends, these pink themes will inspire you to throw a successful bash your guests won't stop raving about.
Spa Party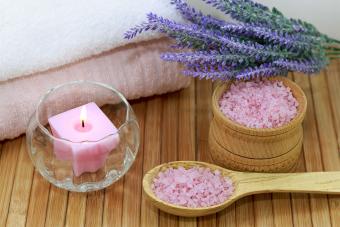 A spa party is the perfect excuse to celebrate a special occasion and to relax and to unwind with family and friends, whether it's a birthday party, bachelorette, or bridal shower. Who doesn't like to kick back, enjoy a soothing massage and have a manicure or pedicure while catching up with friends? Whether you are hosting a spa party at home or at a venue, you can transform any space into a relaxing oasis by incorporating calming elements, such as scented pink candles, essential oils, and incense to set a peaceful mood for a wonderful pampering experience.
Afternoon Tea Party
An afternoon tea party sounds like the perfect opportunity to bond with family and friends over sipping flavorful loose tea and enjoying delicate finger sandwiches, freshly baked scones with jam, and other afternoon tea delights. Set the tone by setting up your tablescape with tea party essentials, such as a porcelain tea set and a three-tier stand to neatly display your tea party menu. Fresh flowers and candles, both in soft pink tones, will add style and elegance to your set up.
Flamingo Pool Party
Nothing beats a good summer bash. Whether you are celebrating a special occasion or just want to gather friends for some backyard fun, a flamingo themed party is a fresh and bright theme you can incorporate all shades of pink. Consider inflatable flamingo drink holders for the guests to enjoy a refreshing drink while in the pool. As far as the party decor goes, consider keeping it fun, tropical, and waterproof. Pink beach balls, beach towels, plastic shutter glasses, and decorative tropical leaves are great choices to spruce up the pool area without worrying about the decor elements being compromised.
Galentine's Day Party
Just because it's Valentine's Day, it doesn't mean you should celebrate with your significant other only. Hosting a Galentine's Day Party is an exciting way to celebrate love and friendship with your girl gang. Encourage your besties to dress in pink for the occasion, set up a lovely sparkling pink drink station, and build the ultimate Valentine's Day snack board complete with heart shaped veggies, fruit, and cheese. Card exchange is also a great way to show love and appreciation for your bestie.
Pink Cosmo
Cheers! A Pink Cosmo is a wonderful theme to socialize with friends and meet new people while enjoying delicious cocktails and appetizers. If you decide to play the mixologist and prepare cocktails on your own rather than hiring a bartender, mix up cocktails ahead to save yourself time. A great rule of thumb is to plan at least 3 cocktails per person for a two-hour cocktail party. Keep the food casual and serve finger foods, such as hors d'oeuvres, canapes, savory tarts, and sweets the guests can enjoy while mingling. For a fun sophisticated vibe, incorporate candles, fresh flowers, and play nice background music, such as jazz.
Not into the booze? Try a pink mocktail.
Baby Sprinkle
Similar to a baby shower yet far more casual, a baby sprinkle is a party organized to celebrate an expectant couple welcoming their second child. Typically, the guest list is composed of very close friends and family members only. Guests sprinkle the expectant mother with warmth, love, and gifts, preferably baby necessities, such as diapers, wipes. and clothes.
Baby Sprinkle party decorations and food menu should be as stress-free as possible. If you are the host, make arrangements with family and friends to bring dishes and refreshments to share. Whether you are hosting the affair at a house or venue, decorate the space with pink balloons, baby onesies, and other baby shower party decorations that can easily be found at local supermarkets and/or party stores.
Rosé All Day Wine Tasting Party
Raise your glasses. It's wine o'clock! If you have friends who share the same level of love for wine, why not throw a rosé wine tasting party? A wine tasting party is a fun-filled entertaining and educational experience that provides an opportunity to socialize with friends, taste, and compare different wines with one another. Plan a menu with great pairings for dry rosé, such as a seafood dish and for sparkling rosé, fresh fruit like strawberries.
Pink Theme Parties for Kids
Whether you are hosting a pink themed party for boys or girls, these themes are fun guaranteed.
Pinkalicious Cupcake Decorating Party
If your child loves pink and cupcakes, it makes perfect sense to combine her two favorite things and throw the ultimate Pinkalicious cupcake decorating party. You may choose the tablescape as your focal point to feature pre-baked cupcakes, pink frosting in piping bags, sprinkles, a variety of mini sugar decorations and toppings to encourage creativity. If the budget permits, gift each guest with aprons, pastry chef hats, and a cupcake decorating kit.
Pink Pajama Party
There's no secret to hosting a successful pajama party. Just add friends, delicious snacks, and feather-filled pillows for an ultimate pillow fight. Depending on the age group, a fun movie, exciting games, or easy crafts are encouraged to keep the kids occupied until it's finally time to tuck themselves into their beds. Whether you are throwing a pajama party for boys or girls, there are plenty of sleepover ideas to get inspired by.
Royal Princess Dress-Up Party
Tiaras, gloves, gowns, slippers, wands, oh my. Hosting a pink royal party fit for a princess may sound like a challenging task for a parent to take on, but by narrowing down the theme, you will be able to nail the concept and create a magical experience for your child and her guests of honor. Consider creating a dressing room at a designated spot at your house for the kids to play dress-up while enjoying princess inspired treats and perhaps the Hide and Seek Cinderella's slippers game.
Wildly Pink Sweet 16
What is a Sweet 16? It's a special occasion in which the 16th birthday is a mark a girl has come of age. This important transition into becoming a young adult should be celebrated with a special Sweet 16 party surrounded by loved ones whether you choose casual, formal, or semi-formal. Animal prints are all the rage when it comes to Sweet 16 parties. Fuchsia animal prints can be tastefully incorporated into the birthday cake and décor elements, such as balloons and partyware, without looking overdone. Consider tiaras, tutus, and boas in bright pink tones.
Pastel Pink Cotton Candy Party
No other theme can be any sweeter than a cotton candy party. And when you think of fluffy cotton candy, you immediately have visions of pastel pink. Take your child's love for cotton candy and plan the cutest celebration. Consider renting a cotton candy machine or hiring a service complete with a professional spinner. Even though the cotton candy is the star of the party, having other sweet treats to complement the theme is essential - cupcakes, birthday cake, and themed cookies are always a crowd-pleaser among children. You can DIY a cotton candy garland and use it as a party backdrop for your dessert table.
Pink Lemonade
Who doesn't appreciate a cup of refreshing lemonade to cool off on a warm summer day? If you are planning a celebration for your summer baby or just want to get the kids together during the summer when school is out, a pink lemonade party is the perfect idea. You can go the extra mile and build your own lemonade stand to display not only pink lemonade, but also other party sweets, such as melt-in-your-mouth lemon cookies, lemon cupcakes with pink frosting, and scrumptious lemon bars. Spruce up your lemonade stand with pennant banners, balloons, and a lemonade stand sign to set the stage for the celebration.
All-Pink Donut Celebration
Donuts are the type of hole foods kids can get into. An all-pink donut party with pops of other fun accent colors might be the perfect look you are trying to achieve. It's the perfect sweet theme idea for your donut-loving child. You can get extra crafty by building your own donut wall to display your pink frosted donuts in a fun, eye-catching way. A mix of standard and themed balloons, such as donut mylar balloons, can instantly transform your space and get the party started.
Pink Parties Are Always a Crowd-Pleaser
Pink parties are always very exciting to plan, no matter what size and style of the event. Whether you are hosting an over-the-top bash or keeping it simple and intimate, pink screams fun and is always a party-pleaser.