Quinceañera cakes are a crucial part of a traditional 15th birthday celebration. Times have definitely changed, and Quinceañeras have evolved, giving more room for contemporary and fresh party ideas while still preserving most of Hispanic traditions. Whether you are hosting your event at your house or a banquet hall, this wonderful selection of Quinceañera cake ideas will take your event up a notch with whimsical themed cakes for mid-size celebrations or more elaborate designs for a sophisticated event fit for a quince girl filled with hopes and dreams for the future.
Ombre Ruffle Cake
Ruffle cakes are sweet, feminine, and playful. For a stunning Quinceañera cake, opt for the quince girl's favorite color to create an exciting ombre effect. Large fresh blooms can complement the cake beautifully.
Vintage Rose Cake
Roses, polka dots, satin bows, lace, oh my! This three-tier rose cake is ideal if you are going for a vintage style with a touch of whimsy. The cake design can be tailored to the birthday honoree's liking if pink is not the color of preference.
Chocolate Polka Dot Cake
If the quince girl is a chocolate lover at heart, this chocolate polka dot cake makes the perfect choice for the special birthday celebration. Topped with fresh cream and fresh strawberries, this cake will sure make an impression.
Princess Candyland Cake
This candyland themed cake makes perfect sense if you are looking for an eye-catching cake design filled with intricate fondant details. It embodies both candyland and princess themes all in one, with ruffles that mimic a princess gown, candy decorations and the top tier being a castle tower complete with a 15 flag.
Tropical Birthday Cake
A tropical birthday cake is the perfect fit for a fun spin on a Quinceañera held at a banquet hall near the beach or a celebration by the pool. This impressive three-tier cake features a waterfall, fresh hibiscus, tropical trees, and chocolate shells complete with graham cracker crumbs offering a cool tropical beach vibe.
White and Purple Glam Cake
This purple and white glam cake is a Quinceañera gown, but in cake form. It's sweet, young, and romantic with a vintage feel to it. The fondant bows, flowers and mini pearls add elegance without overwhelming the design, making it a perfect option for a special 15th birthday party.
Breakfast at Tiffany's Themed Cake
Bring the popular Tiffany inspired cake back by throwing a Breakfast at Tiffany's party to celebrate your child turning 15 years old. The iconic blue box with oversize white bows will set the theme for the event and bring luxury and elegance to the celebration.
Doll Cake
If you are planning a Quinceañera, opting for a doll cake makes perfect sense. The presentation of a porcelain doll is a tradition for Hispanic girls who are celebrating their 15th birthday. During the reception, the Quinceañera passes an old doll to a younger sibling, symbolizing the transition from childhood to womanhood.
Yellow Daisy Cake
This daisy cake design will definitely make a statement at your event. The simplicity of this three-tier yellow cake adorned with fondant daisy flower decorations is simply breathtaking. Its fresh look design makes it ideal for a spring birthday celebration.
Whimsical Woodland Birthday Cake
This woodland themed cake is a showstopper featuring stunning hand drawn details on the bottom tier and beautifully decorated with artificial blooms for amazing textures in different color hues that really make the cake stand out. In case of inclement weather, bring the woodland atmosphere indoors for an incredible birthday celebration fit for a princess fairy who is turning 15 years old.
Pink and Gold Royal Cake
The crown has a symbolic meaning during a Quinceañera celebration. It celebrates the birthday honoree being a daughter of God. This pink and gold cake design features a rose buttercream bottom tier with the top tier being covered in fondant to perfectly hold the weight of the gold crown.
Watercolor Flamingo Cake
If you are planning a tropical themed birthday party, this breathtaking flamingo design, neatly decorated with watercolor wafer paper Monstera leaves and flamingos in soft tones complete with ranunculus flower decorations takes the cake. It's a great departure from the usual bold tropical colors if you would like to keep the aesthetics of your event fresh, bright, and clean.
Butterfly Themed Cake
An elegant mid-sized cake is ideal for a casual yet sophisticated birthday party in the springtime. The beautiful wafer paper butterflies add texture to a flawless ombre buttercream cake.
Turquoise Orchid Cake
Keep it simple yet elegant with a three-tier turquoise watercolor cake beautifully decorated with either fresh or faux orchids. It's a great option if the birthday girl prefers buttercream rather than fondant and has a love for exotic flowers.
Watercolor Rainbow Unicorn Cake
Rainbow and unicorns are every girl's sweet dreams. Turning 15 is a big deal, so it deserves a cake to fit the special occasion. This cake design is composed of all the magical elements a girl could dream of--watercolor bottom tier cake, sweet and young flower and bow decorations, and the top tier cake setting the theme with incredible unicorn and rainbow pieces of fondant art.
Ombre Petal Cake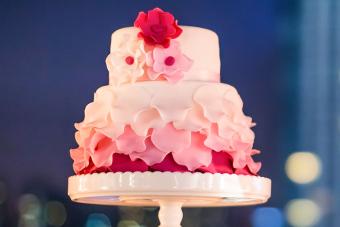 This girly girl cake design screams fun. The ombre fondant petals and 3D flowers add visual interest while keeping the cake elegant and playful, perfect for someone who is celebrating the transition from child to young adulthood.
Zebra Print High Heel Cake
A zebra print cake is the perfect fit for a wild themed 15 birthday party. You can add a meaningful detail, such as a high heel topper made in fondant. The high heels have a symbolic meaning. The shoe ceremony is an important event during a Quinceañera reception in which the father switches the girl's flat shoes to high heels, celebrating the girl leaving childhood behind and embracing all the responsibilities of a young adult.
Winter Wonderland Snowflake Cake
This snowflake cake design makes the perfect choice if your child's 15th birthday falls in the winter. It features a rose buttercream bottom tier and a blue top tier decorated with fondant snowflakes and adorned with a princess crown and number 15 cake topper to set the mood for the event.
Mermaid Candyland Birthday Cake
Mermaid and candies? Why not? If you are searching for cake designs with a wow factor, this cake is the answer. Overflowing with colorful under the sea chocolate decorations, this cake will give the guests something to talk about. Mermaid tails, sea turtles, silver dollar shells, star fish, a giant swirl lollipop--no details were left behind in the making of this birthday cake.
Strawberry Picnic Cake
Add a creative spin to your Quinceañera with a strawberry picnic cake. It's a sweet and unexpected theme idea for a 15th birthday celebration, but it makes perfect sense if your child enjoys going strawberry picking during the hot summer days.
Queremos Pastel!
Traditionally, a pink cake is the most popular choice for a Quinceañera; however, many birthday girls are starting to steer away from the usual princess-y pink and opt for more unique cake designs that best fit their personalities. If the party is in the summer, why not consider a tropical cake in vibrant colors? If you are still undecided on what birthday cake design to choose, take into account the birthday girl's preferences in terms of themes, color combinations, and style.