We have Fitzgerald to thank for the everlasting pop culture trend that is 1920s parties, but you're not going to glue a few craft feathers to a sparkly headband and call it a day. No, you want your 1920s-themed party to be a bacchanal worthy of a gossip magazine with glitz, glamour, and extravagance that'll be remembered for years. It's time to take a deep dive into what the 20s were really like and how you can bring it to life in a party Gatsby would be jealous he didn't throw.
The Location Sets the Stage
No matter what the theme is, locations are important for every party. But, a backdrop will either set the stage or ruin the show when you're choosing a historical theme that people have expectations about. Parties in the 1920s were quite lavish, but you don't have to spend thousands of dollars to find suitable places to host one.
Speakeasies
Prohibition was inescapable in the 1920s, and while it made people get creative about making spirits on their own, it also led to the coolest venue for party hosting - the speakeasy. These exclusive locations are hidden from view, either by interior panels (like secret doors and bookshelves that open) or by being underground. A lot of old speakeasy locations are open for people to rent, so look in your area and see if there's anything available.
If not, then a suitable alternative is finding 'hidden' locations and calling them a speakeasy. Leading people into private back rooms or giving guests a certain knock to use to enter can all compensate for not having a historic location.
Hotel Ballrooms
To get the grand scale of legendary parties that were thrown in the 20s, think big locations. Of course, you can make your living room work, but if you're committed to the aesthetic, you can rent out a hotel's ballroom, and bedeck it in all your decadent decorations.
Train Depots
Train travel was still a major part of people's lives in the 1920s. While automobile travel revolutionized the world, trains didn't stop existing, and they were really useful, especially in metropolitan areas. Even newer train depots usually have that industrial look that will pair well with your decorations, and some of them let you rent out their space.
Decorate Like Your Life Depends on It
If you've got money to spend on anything to sell a 1920s themed party, spend it on decorations. Décor can make even the most modern space look like it walked out of a silent film. Keep in mind that with a 20s theme, your guests are going to expect to see metallics, and it's a safe option to keep all of your decorations in silver, black, and white with pops of deep blues and reds. Punch up your 20s party theme with some great decorations.
Balloons - Yes, they had balloons in the 20s, and people loved cutting a rug on a dance floor full of balloons.
Feather centerpieces - Large ostrich feathers were seen in people's clothes and fans, as well as décor. Don't just leave feathers everywhere. Make sure you use them purposefully, but sparingly.
Chandeliers - Chandeliers are super expensive, so this is where a little DIY magic comes in. Hot glue strands of fake pearls or rhinestones to pieces of cardboard that's been cutout to look like bottoms of cake tiers, creating that domed, sparkling chandelier look.
Silk screens - Silk screens were really popular in the 20s, and if you have one or can borrow one from someone, they'll help set the stage.
Fabric tablecloths - You'd be surprised how a white fabric tablecloth can make such a difference in setting the tone for a party, but it'll elevate the vibe.
Confetti - You might not have a reason to use confetti, but if you can come up with one, tossing silvery confetti into the air will make the glitz and glam even more real.
Roaring 20s Party Music You Want to Charleston To
Music was a huge cultural aspect of the Jazz Age, and thanks to early recording technology, you can immerse yourself in exactly the same songs and artists people were listening to 100 years ago. To curate the perfect 20s playlist, stick to artists like these:
Jelly Roll Morton
Benny Goodman
Irving Aaronson and His Commanders
Ma Rainey
Bessie Smith
Helen Kane
Gene Austin
Eva Taylor
The Missiourians
Al Johnson
Sophie Tucker
Annette Hanshaw
Chick Endor
Time Travel to the 20s With Every Drink and Bite
If you want to keep your guests happy, you won't forget to have enough food and drinks to go around. It's an area where you can easily incorporate the theme without having to buy some ingredient no one's heard of. Thankfully, food wasn't weird yet (just look at gelatin molds and 'salads' from the '60s, we dare you), and speakeasy cocktails were easy-to-make. Let your guests time travel to the 20s with these delectable choices.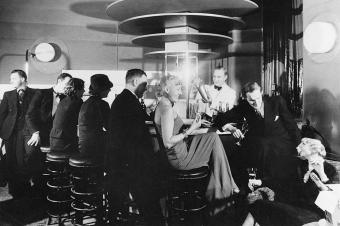 Cocktails
Despite (or probably, in spite of) prohibition, people in the '20s loved their liquor, and cocktail making really started to flourish during this period. Some long-lasting cocktails come out of the 20s, and they're foolproof enough that anyone who can read a recipe can make them.
Gin: Gin Fizz, Gin Rickey, Bees Knees, Hanky Panky, Aviation
Whiskey: Old-Fashioned, Whiskey Highball, Mint Julep
Cognac: Sidecar
Rum Drinks: Hemingway Daiquiri, Mary Pickford, El Presidente
Champagne: French 75
Cream: Grasshopper, The White Lady
Moonshine: In the spirit of other people making their own spirits, you can serve (legal) hooch straight up.
Food and Dessert
The 20s might be lauded for its incredible cocktail menu, but their go-to recipes aren't something to write home about. Don't fret about having to serve Oysters Rockefeller at your 20s-themed book club party; we've got you covered with the most palatable Jazz Age food and dessert options.
Keep Your Guests Entertained the 20s Way
Getting a bunch of people together is already a huge feat, but to keep them past their weekday bedtime takes some good planning. To avoid the late-night snooze, you can turn to these 20s-inspired activities.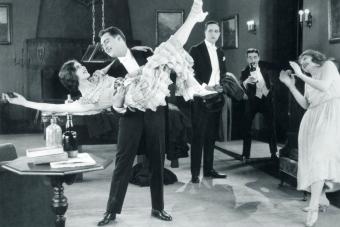 Dancing - Once you've gotten your 20s playlist made, you crank up the volume and send your guests out onto the dance floor.
Burlesque performance - Hire a burlesque dancer to perform for your group. Usually, they come in vintage-inspired outfits, and their performances reflect revues from the early 20th century.
Gambling - You can always set up a card table or two to occupy your more sedentary folks.
Hire a magician or mentalist - While not a strictly 20s activity, magicians and mentalists are great at keeping crowds entertained.
Jazz Up Your Jazz Age Party in No Time
A 1920s-themed party doesn't have to look like a cookie cutter idea of what pop culture deems the 20s was. So long as you've got a few statement pieces, the right cocktail menu, and music to set the mood, you'll blow your guests away.