Whether you are planning a birthday party for your child or hosting a baby shower for a mom-to-be, this selection of spring party themes has wonderful ideas for everyone. From hands-on party ideas for large groups to low-key intimate celebrations, get ready to welcome spring in style.
Flower Arranging Party
Celebrate the season with family and friends in a creative way by hosting a flower arrangement party. Whether you opt for fresh blooms or artificial flowers from a craft store, be sure to let them know you are providing them with all the supplies and tools they need, including vases, wire cutters, scissors, floral tape and other materials necessary to bring your flower arrangements to life.
Peeps Themed Party
Calling all Peeps fans! Having Peeps as your focal point will give you the opportunity to host a bright and colorful celebration to welcome Spring in style. The beloved marshmallows are wonderful for turning simple treats, such as cakes and cupcakes, into something extraordinary. You can get extra creative and plan crafts, games, and activities using peeps to keep the party going.
Spring Break Pool Party
If the weather is already warm enough to kick off the outdoor activities, plan a spring break pool party for the kids. Ask them to bring their own pool floats for taking wonderful pictures together with friends. Keep the menu simple with delicious finger foods, bottled drinks, and frozen treats to minimize clean up once the party is over. If time permits, you can plan a movie night complete with theater style popcorn.
Succulents Workshop Party
Host a unique spring party by turning your space into a succulents workshop. Attendees can get their hands dirty by putting together a beautiful terrarium using materials, such as glass bowl, moss, rocks, soil and a live succulent plant. Bonus? Guests can take their own personal unique creations home and use them as an indoor decorative piece.
Puzzle Piece Easter Egg Hunt
Add a fun spin to your Easter egg hunt by placing puzzle pieces in plastic eggs before hiding them. You can divide the kids into two groups and have two different colors of plastic eggs. Each group should collect their assigned color only. After all eggs have been collected, group members will collaborate to put the puzzle together. Before the groups go on their Easter egg hunt, let them know how many eggs they should try to find to make sure they collect the right number of puzzle pieces. Have small prizes ready to congratulate the kids on the great team work.
Cactus Birthday Party
A cactus birthday party is the perfect gender neutral theme if your child is a spring baby or the special date falls around Cinco de Mayo. You can get creative with the theme by adding a fiesta touch to your set up or by decorating with neutral colors paired with bold cactus green. Set the theme for your event with a birthday cake adorned with a cactus topper, make cactus cupcakes and incorporate mini cactus and succulent pots into your set up.
Sweet Little Lamb Baby Shower
Hosting a baby shower to welcome a new bundle of joy into the world? A sweet little lamb is a lovely gender neutral theme for baby showers, sip and sees, and gender reveal parties. In addition to little lamb party decorations, food, and drinks, bring the theme to life through sweet treats decorated with little lamb fondant decorations you can order from a cake designer. Make the event extra special by encouraging family and friends to bring a baby book to add to the nursery.
Easter Chocolate Bunny Decorating
Invite a group of kids for Easter chocolate bunny making and decorating fun. Guests will have a blast with melting chocolate and using a mold to create their own chocolate eggs. Set out bowls of sprinkles, M&M, and mini surprises they can fill up their eggs with. Have clear treat bags or boxes they can use to take their creations home.
Mother's Day Chocolate Fondue Night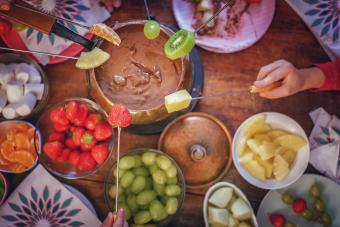 If your mom is a chocoholic at heart, celebrating Mother's Day with a chocolate fondue night makes perfect sense. Use an electric fondue pot that has temperature control so the chocolate is the perfect temperature and consistency. Then, provide lots of yummy things to dip, including fresh fruit, brownies or cookies (or both!), and marshmallows. Want to add some wine? Try wines that pair well with chocolate like tawny port or pinot noir.
Garden Bridal Tea Party
She said yes. You have volunteered to host the bridal shower to celebrate such a special moment for the bride and groom as they embark on such an important chapter of their lives. A garden tea party is a romantic and whimsical theme for a spring bridal shower. Think vintage teapots, teacups, and fresh linens. When it comes to party sweets and tea pairings, they can be neatly decorated with buttercream or fondant flowers to set the theme for the event. If the budget permits, incorporate fresh bloom arrangements to bring elegance and sophistication to the event.
Decorate-Your-Own Birdhouse Party
You know spring is in the air when birds start to chirp and sing with more frequency. To celebrate all the beauty that comes with Spring season, a decorating-your-own birdhouse party can be a unique idea for families to enjoy the outdoors while working on a special keepsake for their backyard. Gather paint in different colors, twine , scissors, brushes, paint cups, and paper towels (for drying paint brushes) to set up a lovely craft station for your guests. If you are inviting a large group of people, you can purchase natural wood birdhouses in bulk. For a proper head count, it's extremely important to follow up with your guests to confirm if they are attending the event or not before shopping for craft supplies.
Cinco de Mayo Cocktail Party
No Cinco de Mayo is complete without a classic margarita, so why not host a cocktail party complete with an interactive make-you-own margarita bar? Set out margarita glasses, carafes filled with fresh juice, triple sec liqueur, tequila, lime wedges, ice cubes, and Kosher salt for the rim of the glasses. Make your margarita bar extra festive by incorporating Cinco de Mayo props and decorations, such as maracas, papel picado banners, fresh or artificial cacti, and sombreros.
All-Ages Easter Egg Decorating Party
Host a spring party to decorate Easter eggs, inviting people of all ages. You can put out cups of dye, stickers, markers, and glue-on decorations and let everyone have a great time creating masterpiece eggs. Add in plenty of egg-themed foods, such as quiche, and you'll have a party that will appeal to everyone.
Egg Carton Float Parade Party
Gather all your egg cartons to host the ultimate craft party for the kids. The kids can get creative using stickers, mini spring decorations, washable paints, and markers. Once they have completed their egg carton projects, ask them to line up for the cutest Easter parade where they can show off their fun creations.
Spring Cheese & Charcuterie Board Party
Entertaining with cheese & charcuterie boards has become a new trend as hosts start to get extra creative when building their grazing boards for their social gatherings. Say bye-bye to boring cheese & meat platters and say hello to large snack/appetizer boards that perfectly match your event. There's no right or wrong when assembling a cheese & charcuterie board, so just make sure you have a great variety of cheeses and cured meats, nuts, fruit, crackers, and jams.
Saint Patrick's Day Cupcake Decorating Party
Everyone loves cupcakes, and hosting a creative St. Patrick's Day cupcake party is a good way to enjoy this spring celebration. Have guests bring different flavors of unfrosted cupcakes and have everything on hand for them to decorate the cupcakes beautifully. You'll need lots of green frosting and sprinkles, plus Lucky Charms marshmallows, gold coins, rainbow candy, and other fun treats.
Lucky You Rainbow Celebration
If you are planning to host a Saint Patrick's day party, you can opt for a rainbow theme if the idea of an all green party is not what you are looking for. Set the mood for your event with rainbow party decorations using balloons in different colors and plan an exciting nutritious menu, including colorful rainbow pizzas and rainbow fruit platter.
Butterfly Themed Birthday Party
A butterfly theme is a sweet idea for spring birthdays. You can bring the theme to life with a DIY butterfly cake and plan a butterfly craft for the kids. For extra fun, have butterfly wings in different styles and colors for the kids to keep themselves entertained playing dress up while the parents socialize.
Modern Farmhouse Gender Reveal Party
If you are hosting your own gender reveal and the traditional pink and blue parties are not your style, a modern farmhouse inspired event is a wonderful gender neutral idea. You don't need to shiplap everything in order to nail the concept and host a successful event. Think of decor items you can easily incorporate to add a special personal touch, such as mom-to-be's favorite scented candle, a baby onesie, eucalyptus branches and a wooden bunny for a modern rustic touch. An olive green picture frame for displaying an ultrasound photo will surely make Joanna Gaines proud. If you are coming up with your own creative and unique idea to reveal the gender of the baby to family and friends during the party, make sure it's a safe and enjoyable experience for everyone.
Fiesta Taco Social
A taco social is a fun spin on the ever so popular ice cream social. Set up the ultimate taco bar featuring all the essential for the guests to build their own tacos. Set out soft and crunchy tortillas, different choices of protein, such as shredded chicken, ground beef, steak, and sofritos if any vegans are attending. For convenience, place fixings in separate labeled bowls--shredded cheese, pico de gallo, cilantro, sour cream, avocado, and other fun toppings.
Countryside Sunset Picnic
Planning a picnic is the perfect way to celebrate the season. Gather family and friends for a day out in the countryside for some outdoor fun to enjoy the beautiful weather and breathtaking sunset. Encourage everyone to pack their own picnic blankets, portable meals, and desserts to share--layering rice, vegetables, and shredded chicken in a jar and sweet treats that won't require spoons or forks for example, are convenient choices for a stress-free picnic adventure. No kids attending the get-together? Pack your favorite wine and pairings for extra fun.
Easter Basket Decorating Party
Hosting an Easter basket decorating party is a wonderful idea to give the parents the opportunity to socialize while creating something special for their kids. This hands-on party idea is ideal for those parents who would like to put together a more elaborate Easter basket for their kids, but they need the extra push and get inspired to bring their ideas to life. Ask guests to bring their baskets and the supplies they need for the project. For the party to be successful, the guests need to decide on the decorating idea ahead of time so they can shop in advance for their craft materials.
Spring Wreath Decorating Party
Invite friends over for a flower wreath decorating party. Ask guests to bring their own wreath (foam, grapevine or wire) and decorations they are planning to use for their projects. It's a great way to socialize with friends while creating something beautiful to decorate your house for springtime.
So Many Spring Party Options
As the weather warms up, it's nice to celebrate with a spring party. From holiday-themed get-togethers to simple spring celebrations, there are many ways to enjoy the season with friends. There's no wrong answer if you're having a good time in the nice weather.