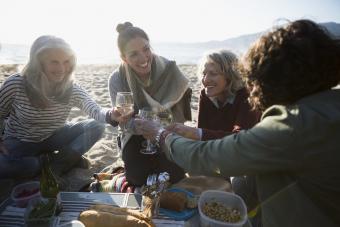 If you're headed for a picnic and want the perfect wine recommendation, you have many options. A good picnic wine is refreshing, balanced, and pairs well with the foods you pack. Picnics are all about the food, company, and of course, the perfect wine to pair with all of that.
Barbecue vs. Picnic Wine
The wines you serve at a barbecue aren't necessarily the same as those you'd serve for a picnic. Barbecues are also another summer "must do" activity, but the style of flavor in barbecue calls for a different type of wine than foods prepared for picnics. Barbecue is all about bold and spicy, while picnics are more broad and lighter fare. Think about all the famous picnic foods, and you'll quickly realize that most of the foods are cold and most is on the lighter side. Remember all of your favorite picnic foods? Potato salad, cold fried chicken, cheeses and crackers, a charcuterie board and fresh bread, ripe fruit in season, and more. So what are the best picnic wines? Think cool, crisp, and white/rosé or very light red.
Picnic-Perfect Whites
Picnic fare is all about the variety, ease, and "travel ability". The food has to survive the time it takes to get to the picnic area, handle not being too cold for a long period (unless you want to lug around a cooler), and not be too messy. Therefore, you'll want a crisp, chilled white that pairs well with such food.
Crisp, delicious white wines are a must in these situations.
Sauvignon Blanc and Fumé Blanc wines are dry, crisp, herbal whites that are ideal for summer sipping. They won't overpower picnic food.
Chenin Blanc, Pinot Gris (also called Pinot Grigio), and Pinot Blanc are fruitier but still light and perfect for a picnic. They are bright, acidic, and loaded with crisp citrus fruit and minerality. Lighter white wines like this make the food come to life while refreshing your palate.
Try a dry Riesling, which has crisp acidity and light mineral flavors that pair well with spicy foods such as charcuterie.
Moscato d'Asti is a lightly fizzy white with apricot and almond flavors that works well with light fare such as fruit and salads.
Slide a freezer sleeve over the bottle before you pack it to keep it chilled to the perfect temperature.
Rosé Wines Are Easy Drinkers for Picnics
Many people enjoy crisp rosé or blush wines in the summer because of their light, almost floral flavors. They are so versatile that they are a must-pack with your picnics. Serve rosé wines chilled as you would whites. These lightly acidic wines offer fruit flavors such as melon/strawberry/red fruit qualities that pair well with cheese and crackers, seafood, salads, or cold chicken. The nice thing about rosé is it's also inexpensive. You can pick up some really good ones for under $10.
Light Red Picnic Wines
For picnics, choose a light bodied red wine. You don't want to pack your 16% alcohol Zinfandel in your picnic because it will overpower any of the foods you bring. So you need to find something that isn't heavy or brooding, but lighter and with less alcohol. What fits that bill? Pinot Noir, Gamay, and Beaujolais are all lighter red wine choices that go well with picnics, particularly charcuterie and cold cuts. While these wines don't need to be served chilled, they also aren't great when they are overwarmed, so carry them in the cooler and allow them to sit for about 10 minutes outside of the cooler before serving.
5 Picnic Wine Recommendations
Try any of the following wines, which are perfect for picnics.
Hanna Winery Sauvignon Blanc
This wine is a perfect example of the Sauvignon Blanc grape at its purest. Tart lemon, lemongrass, and mineral shoot out of the glass. Keep some in the fridge ready to pack at a moment's notice. Cost is under $20 per bottle.
Dry Creek Vineyards Chenin Blanc
At around $12 per bottle, the Dry Creek Vineyards Chenin Blanc is similar to a Sauvignon Blanc, but with a little more melon and lighter citrus notes. This one is a great buy and an easy summer day quaff. Notes of pear and tropical fruit show through in the palate, too.
Robert Sinskey Vineyards Vin Gris of Pinot Noir
This is a stellar effort from one of the best producers of rosé in Napa Valley. Using Pinot Noir from their vineyards, they produce this light-bodied, yet full flavored pink wine! It's a fruity, complex blush wine that's perfect with almost any picnic food, and it costs around $30 per bottle.
Alexander Vineyards Dry Rosé of Sangiovese
Guava, strawberry, and melon are just a few of the flavors you'll find in this tasty and versatile rosé made from the Sangiovese grape. Try it with chilled salmon or a light salad. The cost is about $15 per bottle.
Enjoy Wine at Your Next Picnic
So enjoy the next picnic you're on with friends and family. Pack your favorite foods with the confidence of knowing you have many wine choices to create the perfect picnic experience.