The first year of your child's life is certainly one worth celebrating. Honor your little one's first trip around the sun with a wild one birthday party. With plenty of animal details and jungle themes, these first birthday party ideas will have your little party animal feeling loved and celebrated.
Start With a Neutral Color Scheme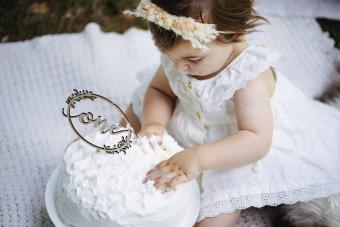 Make sure your little wild one stands out for their first party. Start planning around a neutral party color scheme. Draw inspiration from animals and nature for a perfect jumping off point for this untamed celebration.
Decorate Your Party Like a Jungle
Welcome all your party guests to the jungle with large leaf decor throughout your celebration. If this party is going to be truly wild, you need a touch of inspiration from nature. Use tropical or jungle leaf decor on table settings, balloon displays, overhead decorations, and centerpieces.
Be True Party Animals With Balloons
Is it a kids' party without balloons? Make this a truly wild gathering with balloons inspired by jungle, safari, or forest animals. Animal prints or even animal faces on your balloon displays will capture the attention of your little party animal.
Add Wooden Details
In keeping with the neutral and natural party scheme, wooden details elevate your celebration. Wooden signs, decor, and table settings feel sophisticated and understated for this wild celebration.
Showcase a Safari Cake
Elephants, zebras, and giraffes, oh my! A safari-inspired cake looks cute and stylish with your neutral color scheme, and it still captures the attention of your little birthday babe. Captivate guests with sweet animal details on cupcakes, a sheet cake, or even a smash cake for the guest of honor. For an extra surprise, choose a marble cake base for a fun animal print design when you slice.
Use a Wild One Cake Topper
Add Zebra Stripes to Confections
Adding zebra or tiger stripes to your desserts and snacks is super easy. Use melted chocolate or chocolate ganache to drizzle stripes on pretzels, cookies, and chocolate-covered fruit. Guests will think you splurged for gourmet catering when you only spent a few extra minutes adding designer details to your treats.
Serve Up Some Jungle Juice
Send Guest Home With Animal Treats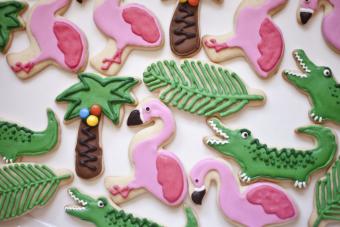 Thank your guests for celebrating alongside you with delicious party favors inspired by your wild animal theme. A box of animal crackers for kids or a selection of gourmet cookies that are decorated like animals or that sport an animal print should tell your guests just how much you appreciate their attendance.
Let Guests Adopt a Stuffed Animal
Whether you're partying with safari animals, forest creatures, or jungle critters, your youngest guests might love to adopt their own little wild one. Use a shelf or table to display a collection of stuffed animals and call it your "party animal adoption center." This creative party display doubles as the perfect party favor for young attendees.
Plan an Exciting Event for Your Little Party Animal
The first birthday celebration of your child's life is as much for you as it is for them. Making it through that trying first year is worthy of partying the day away. Celebrate your little wild one and show everyone you're still a party animal at heart with these clever and creative first birthday party ideas.