Hosting Thanksgiving for the first time? Congrats! That's truly an adulting milestone, but it's also natural to feel a little intimidated. Whether you're nervous, excited, or both, don't worry - you've got this! It's your time to shine and put your unique spin on a wonderful celebration to enjoy with people you love. Add a pinch of helpful Thanksgiving advice to the hosting skills you already have, and your first Thanksgiving gathering is sure to be fabulous.
Talking Turkey: Thanksgiving Advice for Making the Big Meal
Food is the centerpiece of any Thanksgiving celebration. Sure, you get to gather with loved ones, watch a parade and some football, give thanks, and all of that good stuff, but it's the food that gets people really excited. If you have a culinary degree, you probably don't need a ton of advice about food. But if you're like many others - a decent cook who also enjoys takeout and quick and easy weeknight meals - prepping turkey and all the fixings may seem a bit daunting. Fear not, we've got you.
Keep It Simple
There's no need to get fancy. Stick with traditional Thanksgiving recipes, which are reasonably easy to make. Ask family and friends for their favorite easy Thanksgiving recipes and make those. You can try fancy stuff when you have a few Thanksgiving dinners already under your belt, but for this one, go with the classics, which are classics for a reason. Or, try this list of straight-forward Thanksgiving foods.
Ask for Help
Don't attempt to do it all yourself. If you love grandma's sweet potatoes and grandma is coming, ask her to bring them. It's perfectly fine (and even expected) to ask people to bring something to share at the table. Make the turkey and one side yourself and divvy up the rest among your guests.
Order What You Can
You can order the entire meal or just parts of it. For example, order the pie and rolls from your favorite bakery, find a local restaurant that is making and delivering the entire meal, or consider a Thanksgiving meal kit. Check out Goldbelly's Thanksgiving dinner options that you can select from various levels of how much prep/cooking will be involved on your part.
Learn Turkey Basics
Turkey is the centerpiece of your meal, so you'll want to get that right. It's not hard to make a good turkey, and it's not even difficult to make an Instagram-worthy turkey and all the fixings. Still, there are a few things to know about cooking the bird.
Plan 1 to 1½ pounds of turkey per person. So, for 10 people, you'll want a 10 to 15 pound turkey.
If you buy a frozen turkey, it needs time and space to thaw. Plan for about 3-4 days to thaw a turkey thoroughly and safely in a cooler or in the fridge (never on the counter or at room temperature). If thawing in a cooler, put it in a large turkey roasting bag and seal it shut. You don't need to add ice to the cooler. If you're thawing it in the fridge, place it in a rimmed pan on the bottom shelf so raw juices don't drip in your fridge. Thawing time depends on the size of the turkey, so check out Butterball's turkey thawing calculator to see exactly how long yours needs. Generally, if the turkey is 15 pounds or more, plan to start thawing it on Sunday morning. If it is under 15 pounds, plan to start thawing it on Sunday evening. If thawing in a cooler, once the turkey has completely thawed, move it to the refrigerator until you're ready to roast it.
Cook the turkey sitting on a rack in a rimmed roasting pan. Cook it breast-side up with the wing tips tucked underneath the bird.
Cooking time will vary depending on the size of the turkey. While you're on the Butterball page, you can also check out the cooking time calculator or do a little math: it takes about 13 minutes per pound in a 350°F oven for an unstuffed turkey or 15 minutes per pound for a stuffed turkey.
The turkey is done when the temperature in the thick part of the thigh reads 170°F. Make sure your thermometer isn't touching bone.
Allow the turkey to rest, tented in foil, for about 30 minutes before you carve it. If you carve it straight out of the oven, the juices will come out of the turkey and onto your cutting board, and your turkey will be dry. While the turkey rests, you can make gravy and green beans.
Don't Forget Drinks and Appetizers
Is there anything that smells better than a roasting turkey? Thanksgiving aromas definitely get stomachs rumbling, so as your guests wait for the big meal, they're bound to feel at least a little hungry. Give them something to nosh on while they wait. It doesn't need to be fancy - it can be as simple as a few bowls of mixed nuts, some veggies and dip, or some cheese and crackers. As for the drinks, begin serving them pre-dinner. Offer a selection of bottled water, sodas, wine, cider, or beer, and possibly a Thanksgiving cocktail or mocktail.
Make Sides and Dessert Ahead of Time
Make as much as you can ahead of Thanksgiving so you're not chained to the kitchen when you have guests. You can prep one or two dishes after work on each day leading up to Thanksgiving.
Make pumpkin pie and cranberry sauce on Monday and keep them covered in the fridge.
Make mashed potatoes on Tuesday and store them in the fridge. To reheat, put them in a slow cooker bag and twist tie to seal it. Put the bag in the slow cooker on low for about 3 hours.
Roast sweet potatoes and make stuffing on Wednesday. Store covered in the fridge. Reheat the stuffing and potatoes, covered in foil, in the 350°F oven in the 30 minutes that the turkey rests.
Make green beans and gravy as the turkey rests.
Refrigerator Tetris: Advice for Thanksgiving Storage
Remember playing Tetris when you were a kid? Those skills definitely come into play when you're hosting Thanksgiving and trying to find fridge space for all the food you make ahead - and for leftovers.
Clean Out Your Fridge
In the days leading up to your turkey day shopping trip, use up any leftovers you have in the fridge to make space for what you're about to bring home. You may also want to do a fridge cleanout to get rid of foods that are past their prime. That way, you'll have space, and your guests won't accidentally add out-of-date salad dressing to their Thanksgiving meal.
Use Coolers for Overflow
Use ice chests/coolers for fridge overflow leading up to the meal. Make sure they're clean and that you have plenty of ice packs for them. If you don't have a good-sized cooler, ask friends and family if you can borrow a few. If you're thawing your turkey in a cooler, don't forget you need one for that job as well.
Be Smart About Containers
Invest in some nesting food storage or meal prep containers to save space in the fridge. You can stack them on the shelves, and they easily store in a cupboard or drawer when you aren't using them.
Plan for Leftovers
Now that you're the host, you get to be the person who makes sure everyone leaves with a goodie bag. Purchase some takeout containers so it'll be easy to offer guests leftovers to take home.
Host With the Most: Thanksgiving Party Planning Tips
At its heart, Thanksgiving is just a big party--one with lots of food, football, and family. Try these tips to make your hosting duties come off seamlessly.
Choose a Gathering Time
Has your group traditionally celebrated Thanksgiving at noon, 4 p.m., or some other time? This year, the time is up to you. It's fine to stick with the traditional time or to make a change, as long as you are considerate of your guests. Find out what time everyone prefers by surveying the invitees, then use their input to select a time that will work for everyone. Once you decide, let people know the time well in advance. After all, some may be attending multiple Thanksgiving meals on the same day.
Get a Sense of the Guest List
Before you can dive deep into planning your first Thanksgiving as host, you'll need a good sense of how many people to expect. Around a month before Thanksgiving, reach out to everyone you usually spend Thanksgiving with to find out if they'll be attending this year's celebration at your place. For a personal touch, you can call or text to ask. Or, opt for the more formal route of sending Thanksgiving invitations that include an RSVP request.
Survey the Seating Situation
Don't forget to think about where everyone is going to sit for their meal. If you need to improvise extra space for people to sit, ask some of the guests to bring folding tables and chairs or TV trays they may have rather than (or in addition to) contributing a dish. If you can't get enough seats that way, ask your friends who are going elsewhere for Thanksgiving if they have some you can borrow. Anyone who regularly hosts gatherings surely has a few folding table sets tucked away in a closet.
Request Info on Dietary Needs
Thanksgiving Day is not the time to discover that someone in the group has special dietary needs. Once you know who's coming, ask each person to let you know if anyone in their party has special dietary needs or food allergies you should consider when putting together the menu. That way, you'll know if there are any known allergens to avoid using, as well as if you should prep (and label) a selection of dishes that are sugar-free, vegan, gluten-free, etc.
Order Must-Have Items in Advance
Would Thanksgiving just not be Thanksgiving without a cake from your favorite bakery or a pan of stuffing from the restaurant where your family celebrates special occasions? Place your order for these must-have items well in advance of Thanksgiving. That way, you can be sure to score your spot on the list before they stop taking holiday orders. Ideally, you'll want to pick up your items at least two days before Thanksgiving to avoid a mad dash in holiday traffic the day before.
Select Your Shopping Strategy
Avoid the last-minute supermarket rush by planning out your Thanksgiving shopping list in advance. Use your menu to make a list of all the items you will need for your Thanksgiving feast. Identify any that you have on hand and set them aside so you don't use them up before the big day, then make a list of what you need to buy. Shop for nonperishables a few weeks before Thanksgiving to avoid the last-minute rush, then go back for fresh produce and other perishables early on during Thanksgiving week (ideally Sunday or Monday).
Decorate as You Clean
You don't want to have to worry about decorating and cleaning when it's time to start prepping food, so take care of those details at least a week in advance. Start by deep cleaning areas that guests will frequent, such as the bathrooms, living areas, and guest rooms (if you're having overnight guests), and add special touches like lovely Thanksgiving decorations or beautiful harvest table settings as you go. Be sure to put out some seasonal scented candles and autumn-themed decor.
Pre-Set the Thanksgiving Table
You don't have to wait until just before the big meal to set up the buffet table or areas where guests will eat. Put any extra tables and chairs in place a day ahead of time and get the buffet station situated, so it's ready for the yumminess that's in store for the next day. Put tablecloths and fall centerpieces in place, and decide how the serving line will flow. Put trivets on the serving surface so it'll be easy to situate dishes as they are ready, along with plates, utensils, and napkins.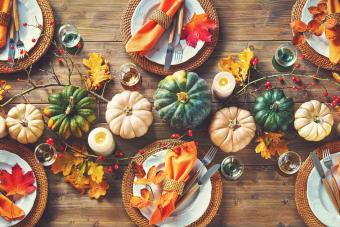 Rise and Shine
Set your alarm on Thanksgiving Day so you can get up early and take care of all the details you couldn't handle in advance. Start the day with coffee and a healthy breakfast so you'll be at your best all day long. Go through your to-do lists and compile one last list of things to do just before everyone arrives. If there's more left to do than you expected, all is still good. Simply call a few of your favorite guests and ask if they can come over a bit early to help - chances are they'll be glad to pitch in.
Keep Up With the Kitchen
Before you start cooking and heating items on Thanksgiving morning, get situated to keep things as simple (and clean!) as possible. Unload the dishwasher before you begin, so you can add dirty items as you go. Have a plan to minimize the number of bowls and utensils that are dirty at one time. For example, when you finish with a mixing bowl, clean it and reuse it rather than sticking it in the sink and getting another one out. Wipe the countertops and stovetop areas as you go so they stay clean. You can also cut down on after-party clean-up by using recyclable paper plates. If your place is tiny, don't let a small kitchen kill your vibe. Discover how to cook a big Thanksgiving meal in a small kitchen.
Congrats - You Did It!
When the doorbell rings and the first guests start to arrive, take a deep breath and pat yourself on the back. You did it! Your first Thanksgiving celebration as a host is in progress! There's nothing left but to smile, welcome your guests, and enjoy the big day. No matter what comes next, you've got it handled. This is sure to be the first of many holiday celebrations you will host where your mad entertaining skills will shine.