You know you need to return that RSVP and leave your white dress hanging in the closet unless you're the actual bride, but there are some lesser-known wedding guest etiquette rules we're all guilty of breaking. Read up and don't stress. Once you know what to do (and what not to), you can stop worrying about social awkwardness and concentrate on social awesomeness instead.
Remember That "Plus One" Means Plus One
If your invitation includes "and guest" or "plus one," you're welcome to bring a date to the wedding. But don't be the person who brings a plus one when dates aren't invited or the couple who brings the kids when it's an adults-only affair. If in doubt, just check with the couple about who you can bring.
Send Large Gifts to Their House Before the Wedding
It's totally normal to bring a card or gift to leave on the gift table at the reception, but if you're giving a gift that's physically pretty big (we're looking at you, air fryer), it's more considerate to send the gift to the couple's house. That way, they won't have to hassle with hauling it home after the wedding.
Stick With the Dress Code
You know there are certain things you shouldn't wear (white, black, anything really flashy or revealing), but wedding dress codes can be a little confusing. Most of the time, the invitation will include information to help you pick your attire, but if you're not sure, just ask. Don't veer off on your own path here, or you risk being the person wearing heels in the mud at a farm or a sundress when everyone else is in black tie.
Be There Before the Couple
It's always good etiquette to be on time, but it really matters at weddings. It's considered bad form to show up after the couple getting married (after all, you don't want everyone turning from the aisle to look at you arriving late). Plan to get there at least 15 minutes before the wedding begins.
Keep Your Phone in Your Pocket (and Silent)
We're all used to the constant distractions of texts and phone calls and social media, but you don't want your phone distracting you from this special event. It's good wedding guest etiquette to keep your phone out of sight and silent. If you need to access it from time to time (in case the babysitter texts or you need to tell your best friend about your ex in the bridal party), do it under the table or in a spot that's hidden from view.
Avoid the Unintentional Photobombs
Intentional photobombing is one thing (clearly not a great plan with wedding pictures), but it's actually unintentional appearances that can really wreck the pictures. As you're moving around the wedding ceremony and reception, pay attention to where the photographers are and the direction they're shooting. Stay out of the background if you can, and in the name of all that's old, new, borrowed, and blue, do NOT put your phone in front of their camera (trust us; it happens).
Respect the Seating Chart
So you find yourself sitting at a different table than your college friends, and it really doesn't seem like a big deal to anyone if you switch things around a little? Just stop. Move away from the place cards. A ton of planning went into the seating chart, and there could be stuff happening behind the scenes that you don't even know about. Keep it simple (and polite) and just sit where you're supposed to. You can mingle later.
Check Before Posting on Social Media
We totally get it: the bride looks gorgeous in her dress and the vows were so beautiful that you really want to share this moment with all your friends, family, and followers. The thing is, many couples want to be the ones to break the news of their big day the way they want to, and you have to respect that. Don't post anything about the wedding without checking first.
Watch How Others Handle Cultural Customs
If you're invited to a wedding that includes unfamiliar cultural customs, lucky you! It's going to be amazing to learn about the new traditions. It can be a little tricky to know how to act in these situations, though. Fortunately, the etiquette is pretty simple here - just do what other people are doing.
Keep Your Conversations With the Couple Short
Even at a fairly small wedding, the happy couple has a lot of people to talk to. When you get your chance, keep your conversation short and take your cues from them. The same goes for the parents of the couple, since they are likely trying to talk to everyone at the event.
Make Sure Your Toast Is Family-Friendly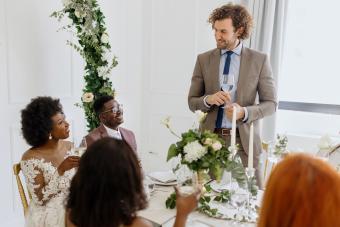 Making a toast is a great way to show your support for the couple, especially if it's a small wedding and toasting is encouraged. Still, take a moment before you raise that glass to think about who's there. There may be kids, grandparents, people of different cultural backgrounds, and other groups, so keep your toast family-friendly and rated PG.
Be Thoughtful About the Good News You Share
Just like you wouldn't wear a super flashy dress that would distract from the couple, you shouldn't share any good news that might steal their thunder on this special day. This is definitely not the time to announce your own engagement or a new job or a baby on the way. Instead, let this day be all about them and save your news for after the wedding.
Eat and Drink in Moderation
We've all been to weddings where someone fills their plate with way more than their share at the buffet or drinks a few too many cocktails before strutting their stuff on the dance floor. The key here is moderation. As a guest, don't eat or drink more than everyone else, and you should be all set.
Give Some Thought to Song Requests
If there's a DJ, it's totally fine to request songs during the reception. In fact, it's encouraged at most weddings. But before you ask for that favorite song, take a sec to think about the implications. Does it have explicit lyrics? Was it the bride's song with her ex? Does it talk about doomed love? This isn't anything to stress about; just make a quick gut check before you stroll over to the DJ.
Don't Overstay Your Welcome
You know that moment when the DJ or band leader announces that the couple is leaving for the night? That's definitely everyone's cue to go. Often, the venue has specific hours for the event, and staying later could cost the couple and their families more money. Plus, there's always a ton of clean-up to do, and they may well put you to work if you stay too long.
It's All About Perspective
Etiquette for wedding guests mostly involves being considerate of everyone else at the event. If you think about the perspectives of the couple, their families, and everyone else there, you can't go wrong.