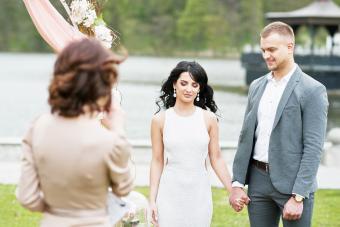 Maid of honor speeches for sisters honor the bride while also honoring the important relationship between sisters. Writing and presenting a maid of honor speech as a sister of the bride is a big deal, but with these speech ideas for sisters, you'll feel confident as you step up to the mic. Show your sister she made the best choice in her maid of honor with a sentimental and sweet speech on her big day.
How to Write a Maid of Honor Speech for Your Sister
What a huge honor to toast your sister on her wedding day as the leading lady in her wedding party. You're responsible for a lot of things on her big day, and your speech will be heard by close friends and family of both the bride and groom. Don't stress over your speech though, you can choose from a wide range of sample speeches and edit them to reflect your personality and the bond you and your sister have.
Print any of the following speeches by clicking on the speech images, opening them with Adobe Reader, and filling in the details so that they apply more specifically to your sister and the special relationship you share. Details are added at the appropriate places indicated by the brackets and suggested information.
Maid of Honor Speech From a Little Sister
In the sample speech below, you'll find a template perfect for a younger sister filling the maid of honor role. This maid of honor speech for a big sister is perfect for you if you always looked up to her as a role model or if she felt you were a bit of a tag along when little. Share all the ways you tried to be just like her - from stealing her clothes to copying her haircuts. You could even adapt it to include one of your favorite nicknames for your sister.
This sample was written by Kathleen Esposito.
Your Sister's "Prince Charming"
The sample speech below offers the opportunity for the maid of honor to share her sister's earliest thoughts about the man she would eventually marry - no matter how funny or silly they seem now. For example, some of the desirable traits she may have wanted when she dreamt of him at age 15 might be that he has a driver's license, a job at the pizza parlor, be blonde, and play soccer. Share those details and how they compare to their relationship today and all the things she truly loves about her groom, even if his soccer days are long gone. This speech allows your special bond to show through and pokes a little fun at the bride without going overboard.
Kathleen Esposito wrote this sample speech.
For Those With ''Strong Family Ties''
This speech is written from the perspective of a sister who has a strong bond with the bride. The speech discusses their upbringing, recalls a childhood story or two, and talks about how growing up with this sister is entirely unique. The spouse is casually mentioned and included as an integral part of the speech by welcoming them to the family and warning them of the chaos you often go through.
Danielle Reed is the author of this speech.
Based on a Quote
This sample speech is based on a quote from the Broadway hit Hamilton. You can choose a quote from your childhood, a quote about sisterhood, or a quote about love. No matter your choice, build a speech around the importance of this quote or the impact it's had in your sister's life. It is important to add a slight personal touch to the quote. Discuss why you chose it, what it means to you, and congratulate the couple on their marriage. With a few simple changes or this exact speech, it is easy to show your love for your sister.
Speech sample is by Danielle Reed.
Write the Perfect Sister Speech
While a fairly generic speech may work well for a friend, a speech for your sister as her maid of honor should celebrate your special bond. Construct your speech around your relationship and work outward from there. Follow these maid of honor speech tips for sisters to build a speech your sister will never forget.
Follow a Maid of Honor Speech Template
You're excited to give the speech and share all your favorite sister memories, but organizing your thoughts on paper feels intimidating if you aren't a seasoned speech writer. Follow this simple template to help you write a speech that conveys all the things you're feeling for your sister on her big day. Follow the five-point rule for your speech in this template to toast to the bride with all the wit and emotion you've been longing to express.
The five-point rule for a maid of honor speech is:
A strong intro: this is your opportunity to start with a lighthearted joke or to simply greet the crowd, share your name, and your relation to the bride, as well as your place in the wedding party.
A brief story: a personal story about your history with the bride helps the audience connect with you. Keep it short and simple and only choose a story the bride would like you to share.
Relate the story to the present: bring the story full circle and relate it to the wedding couple today. If you loved to stay up late on Friday nights and watch movies as kids, give the green-light for the spouse to take over in this new chapter of life.
Address the couple with advice: Give practical advice directly to the couple in your speech. This doesn't need to be profound. It can be as simple as advising the spouse to never set the thermostat too low at night or to always leave the last slice of pizza for your sister.
Toast the couple: This is your big finish. Tell your sister how much you love her, wish her well in her new life, and invite the entire audience to toast the newlyweds with you.
Things to Include
Some ideas on things you can include are:
Funny memories from early childhood, such as when she used to tag along with your friends, or vice versa.
Ways that you look up to or aspire to be like your sister, past and present.
Special nicknames that you used to call each other (keep it PG, of course).
Secret things that you used to keep from your parents, such as staying up late talking on school nights.
Early dating stories, and how you supported one another through love and heartbreak.
How you knew she had finally found her special someone.
Additional Speech Tips
Finally, these general tips for making a maid of honor speech for your sister can help.
Don't force yourself to be funny, sentimental, or formal if that's not your personality. Your sister wants to hear from the real you on her special day.
Avoid embarrassing stories even if you think they're funny. You don't want to humiliate your sister in front of her friends and family.
Focus should mostly be on your sister, the bride, as the best man speech will have covered many personal thoughts about the groom. However, be sure to mention him at some point, because without him, there wouldn't be a wedding!
Avoid too much alcohol until after your speech is over. You don't want to slur your way through the toast.
Raising your glass in a wedding toast for your sister and her spouse is a great way to end the speech. Be sure to have a glass, even if it is just water, ready to go.
If you have a talent, like singing, writing poetry, or playing an instrument, you can always do this as part of your speech. Your sister will be honored if you sing her favorite love song or write an original poem in honor of her wedding day. Just be sure to okay this with the wedding couple first.
Honor Your Sister on Her Big Day
With the right personal touches, maid of honor speeches for a sister can be a heartwarming expression of love, support, and friendship. These speeches can be great wedding toasts in honor of the bride, and you can change them to suit your personality and create the perfect tribute to your sister and her new spouse. Practice ahead of time so that you can concentrate on your sister and not on your nerves.