When making a maid of honor toast, the key is ensuring it's a memorable and touching moment for the bride and groom. The maid of honor toast is one duty that will throw you in the spotlight unlike the other maid of honor duties carried out "behind the scenes." A few helpful toast writing and speaking tips, along with great examples of ways to end your speech, will help you make the perfect toast.
Maid of Honor Toast Writing Tips
Writing a toast is not always the easiest thing for some people. Even if you are the maid of honor and sister of the bride or her very best friend, you may find yourself at a loss for words when it comes to the toast. Try following these pointers when writing your toast.
Introduce yourself to the guests and tell them your relationship to the bride.
Offer a short memory or two of the bride in her youth.
Mention both the bride and the groom in the toast. While most of the toast is directed towards the bride, you should remember to offer congratulations to both of them.
Write how you speak. This is not the time to be following proper essay or report writing guidelines. You want the words to sound natural when you say them aloud.
Even though you want to write your full toast out, do not bring the entire copy to the wedding reception. Instead, write down a few key points that will help you remember each topic.
Speaking Tips for Toasting
Once you have written your speech, you need to practice giving it. Not everyone is a natural public speaker, so a little practice will go a long way. Try rehearsing your maid of honor speech and toast in the following ways:
Take a few sips of water before standing to speak. You do not want to have cottonmouth or a cough while talking.
Smile while you are giving the toast. The wedding is a happy occasion.
Look at the guests, but remember to glance at the bride, too. Look at the bride and groom if addressing them personally.
Feel free to use some hand gestures if you naturally do when speaking; otherwise, keep your hands at your side, resting on a podium/table, or hold a glass.
If you are incredibly uncomfortable with public speaking, talk to the bride. She may not feel strongly about having the maid of honor give a long-winded speech. Options you could present include saying the opening and closing remarks for the toast or handing over the duty to a bridesmaid who is more naturally suited to being in the spotlight. However, wedding speeches are a tradition for maids or matrons of honor, so be prepared to deliver at least a short wedding toast.
Maid of Honor Toast Examples
You can tweak the maid of honor toast examples to fit your relationship with the bride. If you have a fun-loving relationship, then you may want to interject some humor. If the bride is reserved and observes formality, then you want to keep your maid of honor speech reserved and formal.
Maid of Honor Toast Example #1: Fun-Loving Theme
You can start out with a brief introduction about your relationship with the Bride. Then y's nameou can tell a story about how the two of you first became friends. You want to keep this very light and humorous.
"I met (Bride's name) when we were in playschool. She stole my fingerpaint paper, so I decided to use her face for my fingerpainting project. We had so much fun painting each other's face, only Mrs. Jenson wasn't very amused with our living art."
You can take a breath to share a smile and laugh with the Bride before continuing to another humorous story that shows how your relationship grew, but still pivoted around having fun and sharing laughter together. You will then include the Groom in your toast.
"I knew when she met (Groom's name) that he too was someone who enjoyed life. (Groom's name), I love the way you make (Bride's name) laugh and how you appreciate her fun-loving spirit. (Bride's name), I'm so happy you found your true soulmate in (Groom's name), and I wish both of you a lifetime together filled with love and laughter. Cheers!"
Maid of Honor Toast Example #2: Serious Theme
When the bride and groom are serious-minded individuals, you want your maid of honor to reflect the temperament of the couple. Their personalities govern the mood and theme of the wedding and wedding reception, so you should follow their lead.
"I met (Bride's name) during our first year in college. She struck me as someone who knew what she wanted but more importantly, she knew how to get what she wanted. So, I wasn't surprised when she told me about (Groom's name), and after their third date she said in a very matter-of-fact tone, I'm going to marry him. Today she did!
"(Groom's name), you are a very lucky man to have (Bride's name) for your wife. She is steadfast and loyal. (Bride's name), you knew you wanted to spend the rest of your life with (Groom's name), and I am so happy that you found each other. I know the two of you share a deep love and you will be each other's biggest cheerleader and fan!"
You will then bring your toast to an ending. Raise your glass to the couple and then to the guests.
"Please join me in wishing two of the most accomplished and successful people I know, best wishes and a giving a warning to the world to watch out for this new power couple! Congratulations and may life give both of you all the great things you so richly deserve."
Maid of Honor Toast Example #3: Heartfelt Theme
If you and the Bride are close, you may want to share your heartfelt emotions in a toast. You can gauge the depth of emotion that is appropriate for your toast.
"I want to share with everyone just how special (Bride's name) is. I would never have made it through my last year of college had she not been my friend. I went through several things that threatened to derail my plans to finish my degree, but (Bride's name) wouldn't let me give up on my dreams. She put me and my welfare before her own. She rode with me to the hospital to visit my mom every week.
"I just want you to know, (Bride's name), that I'm always and forever here for you. I don't care what you need, I'm here. I'm here for both you and (Groom's name). Nothing could ever be too great to ask of me. I love you as though you were my sister. May the two of you have a blessed life together because you both deserve only the best that life has to offer. I love you both!"
Maid of Honor Wedding Toast Quotes
You may have your maid of honor speech finished, but you might want to insert one or two wedding toast quotes. You can use these maid of honor wedding toast quotes word for word, or you can modify them to better express your sentiment and relationships with the bride. Just insert the bride and groom's names to personalize them.
"Bride, I'm so lucky you're my sister/friend/cousin. I love you, dearly!"
"Bride, I know the Groom will always shower you with love and affection."
"Groom, you need to understand that Bride knows you aren't always listening when she asks you questions while you're watching sports. Just remember in the future, all that mindless head nodding to her questions is how you ended up here today."
"Bride, you're my sister and I love you, dearly, so when you're faced with one of those challenges that comes to every married couple, just remember my cardinal rule, don't text me at two am in the morning."
"Bride, I'll never worry about you being taken care of as long as you're with Groom."
"Bride, you always knew what you wanted, so I wasn't surprised when you became engaged to Groom."
"Groom, you should prepare yourself for those special moments when you ask Bride, 'What's wrong?' and she answers, 'Nothing.'"
"The two of you are adorable together and when I look at you, my heart fills with such joy!"
"May your lives together be an endless journey of love and joy."
How to End a Maid of Honor Speech
The end of the maid of honor speech, or finale, is where you actually raise your glass in honor of the bride and groom. Commonly used phrases for the maid of honor speech ending include:
Please raise your glasses in honor of Bride and Groom.
Join me in honoring the marriage of Bride and Groom!
With love and happiness, here's to you, Bride and Groom!
Cheers to the happy newlyweds! May you love each other more every day you spend together!
Let us toast the happiness of Bride with her new husband, Groom!
Best wishes and years of bliss to the new couple!
What a wonderful wedding day indeed, so let's raise our glasses to wherever their lives may lead.
The End of the Wedding Toast
Even if you do not drink wine or champagne, have a glass ready to raise at the end of your speech. This way, everyone understands that the speech is over, and they are ready to toast the bride. Pick up the glass a few moments before ending the toast and then raise your outstretched arm to eye level. Take a sip of your drink after completing the whole toast.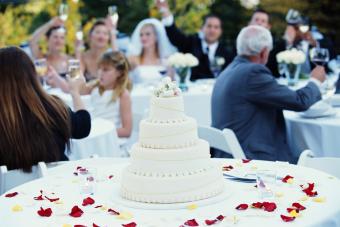 Best Maid of Honor Toasts Come From the Heart
Giving maid of honor toasts is a tradition honored at many weddings. Offer the bride and her new husband wedding wishes in a toast that honors the new life they are embarking upon. If you're still looking for more inspiration for your toast, consider adding a meaningful sister quote to what you plan to say. It's perfect if the bride really is your sister, but you can adapt a quote if you're simply as close as sisters can be.