Letting guests know what to expect is a courtesy you can extend by including an order of service, a wedding ceremony agenda that lists what will occur. Add it to your wedding program which is handed out prior to the start of the ceremony.
Order of Service Examples for a Wedding
Service orders often follow a similar format, regardless of what type of ceremony you will have.
Traditional Wedding Ceremony Order
A basic order of service: a wedding ceremony may follow these guidelines:
Processional: The bridal party marches down the aisle.
Bridal March: The entrance of the bride to the ceremony service site.
Welcome/Introduction: The officiant welcomes guests, bridal party and couple.
Exchange of Vows: The couple commits to one another; personal wedding vows can often be used.
Exchange of Rings: A common ritual in weddings in the U.S. and other countries.
Pronouncement: The officiant declares the couple married; the couple may kiss.
Recessional: The couple and bridal party exits to a musical selection.
The outline above provides a basic structure for many ceremonies performed in the U.S. today. Optional items are usually scattered throughout the basic order listed.
Civil Service Order Example
Having a civil service does not mean you have will end up having a short and impersonal service. You can add special touches that will make it intimate and memorable. One example of a personalized civil order of service would be:
Prelude: Optional: Musical selections played while guests are being seated.
Processional
Bridal March
Welcome/Introduction
Reading: Optional: A short love poem or sonnet can be read.
Musical Selection: Optional: A soloist can sing the couple's favorite love song.
Exchange of Vows
Exchange of Rings
Rose Ceremony: Optional: The couple may choose to honor their parents or children by exchanging roses and then presenting them to the family member(s).
Pronouncement
Recessional
In a civil service, you will have a good amount of leeway when it comes to placement of optional rituals and rites beyond the basic requirements. Keep in mind that you will want to let your officiant know any changes before the wedding rehearsal, so it can be practiced in the correct order.
Religious Service Order Example
A religious service will often follow a prescribed formula set out by the particular religion. Whether you are Buddhist, Catholic or Christian, your religion will end up dictating a large majority of your wedding order of service. The order may end up similar to this:
Prelude: Optional: Religious music played before the service beings.
Processional
Bridal March
Welcome/Introduction
Prayer: Optional: A prayer is said by the religious leader.
Declaration of Intention by Couple: Optional: The couple reads a statement about their religious beliefs and intent to marry.
Declaration of Support: Optional: Parents and/or guests in attendance may be asked to affirm their approval of the marriage and make a statement to support the couple's marriage and faith efforts.
Musical Selection: Optional: A religious selection is sung or played.
Scripture Reading: Optional: The religious leader or honored guest reads a selection from a religious text.
Sermon/Address: Optional: The leader will give a short sermon regarding love, marriage and faith.
Musical Selection: Optional: A religious song is sung or played. The congregation may be asked to participate.
Exchange of Vows
Exchange of Rings
Lighting of the Unity Candle: Optional: The couple lights a candle to represent their marriage. Sometimes this is done during a musical selection.
Blessing: Optional: The officiant will bless the couple and guests.
Pronouncement
Recessional
Communicate with your religious officiant what additional things you want to include in your wedding service. Some religions may ban particular practices or encourage others, so your leader is the best resource for finding out the proper order of service. Your church or religious secretary may have wedding program samples from previous ceremonies for you to use as a guide.
Traditional Service Template
Select this style for a classic religious wedding.
Modern Service Template
Modern and simple, this service template and program is perfect for the couple who don't feel the need to get into detail.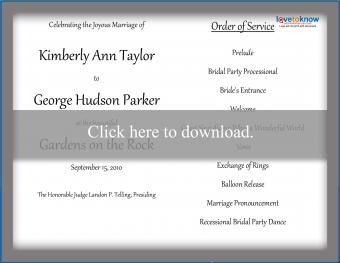 Options for Services
Whether you are having a Christian, Irish, Celtic or Native American wedding ceremony - or some other type of service - you will have to pick and choose what options you want to include. The number of readings, musical selections, and any rituals you want to include will be up to you and your officiant. Common rituals done in wedding services include:
Hand-fasting
Lighting of the unity candle
Scripture readings
Reading of a poem
Moment of silence for lost loved ones
Honoring parents
Music (prelude, postlude, solos, instrumentals, congregational hymns)
The kinds of rituals and options you end up doing will depend on any religious affiliation you might have, cultural preferences and the recommendations of your civil leader or religious guide. You might want to take into consideration traditions that have been followed in family weddings, like using particular songs or prayers.
Ceremony Program Service Information
Regardless of the kind of service you have, you will want to let your guests know what will happen during the ceremony. Have ushers hand out wedding programs to guests as they are shown to their seats. Include the references for any readings that are done, whether they are from a poet or from a religious text. You should also include the names of love songs used within the service, such as the bridal march, solo(s) and recessional. Any special guest readers or musical performers should be listed by name in the ceremony's program order of service.