As you're scrolling, plotting your next vacation or ways to make the day-to-day more like a vacation, welcome to the world of cocktails straight from Brazil. Consider trying out the classic caipirinha, Brazil's national cocktail, or warm yourself up with Brazilian mulled wine that won't leave your head as fuzzy as other versions. Let's get to work!
Caipirinha
Hands down, without contest, the caipirinha is the most famous Brazilian cocktail. It's made with the Brazilian spirit, cachaça.
Ingredients
3-4 lime wedges
1-2 teaspoons sugar
2 ounces cachaça
Lime wedge for garnish
Instructions
In a rocks glass, muddle the lime wedges and sugar.
Add ice and cachaça.
Stir to mix.
Garnish with a lime wedge.
Need to Know
Don't mistake cachaça and rum! While it's easy to describe cachaça as a Brazilian white rum, it's actually not rum at all. Cachaça is a distilled spirit, but distillers use sugar cane juice instead of the sugar products you find in rum, such as sugar from sugar cane or molasses. And, most likely, cachaça came well before rum. Now you know!
Caipiroska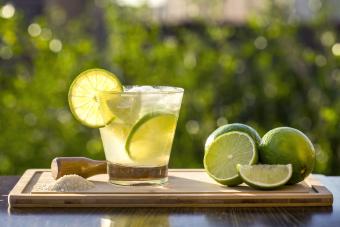 The caipiroska is everything you learned about the classic caipirinha - except this Brazilian drink drops the cachaça and uses vodka instead. Think of this as the perfect first step in your exploration of a Brazilian cocktail.
Ingredients
3-4 lime wedges
1-2 teaspoons sugar OR ½ ounce simple syrup
2 ounces vodka
Ice
Lime wheel for garnish
Batida
There are a few batida recipes, including batida de coco. The latter pulls focus to coconut flavors, with two ounces each of cachaça, coconut cream, and condensed milk, and a splash of simple syrup, blended together and garnished with shredded coconut. The batida, however, uses more tropical fruit flavors, with only a whisper of coconut.
Ingredients
2 ounces cachaça
1 ounce passion fruit syrup or puree
¾ ounce freshly squeezed lime juice
½ ounce coconut milk
1 cup ice
Pineapple leaf and pineapple wedge for garnish
Instructions
In a blender, add ice, cachaça, passion fruit syrup, lime juice, and coconut milk.
Blend until smooth or desired consistency.
Pour into a cocktail glass.
Garnish with a pineapple leaf and pineapple wedge. Add a pinch of nutmeg for a bonus, finishing touch.
Rabo de Galo
In Portuguese, rabo de galo is a clever play on words. While the phrase translates to the tale of the rooster, you can think of it more punnily as "cocktail."
Ingredients
Instructions
In a rocks glass, add ice, cachaça, cynar, sweet vermouth, and orange bitters.
Stir to mix.
Garnish with an orange peel.
Quentão de Vinho
Toss all the ingredients into a pot on your stove, allow the flavors to mingle and the aroma to fill your home. Oh, and no liquor needed, either. Just a bottle of red wine. Cheers to that! This makes approximately 5 servings. Brazilian mulled wine is your new cold-weather game changer.
Ingredients
750mL red wine, such as Cabernet or Malbec
1 cup simple syrup
½ cup water
1 orange, sliced
1 lime, sliced
5 whole cloves
2 whole cinnamon sticks
1½ tablespoons candied ginger
Cinnamon sticks for garnish
Instructions
In a large saucepan over low heat, add simple syrup, water, fruit, cloves, cinnamon, and ginger.
Allow to simmer for no more than 30 minutes.
Add wine and continue to simmer, covered, for ten minutes or until warm.
Strain the fruit and spices prior to serving.
Serve in mugs, garnishing each serving with a whole cinnamon stick.
Leite de Onça
If you're put off by this cocktail, allow me to make the introduction easier: think of this as the Brazilian Alexander. A cousin of the brandy Alexander only, well, if we're being honest, way better.
Ingredients
1½ ounces sweetened condensed milk
1½ ounces chocolate liqueur
1½ ounces cream
1½ ounces cachaça
Crushed ice
Grated nutmeg and cinnamon stick for garnish
Instructions
In a cocktail shaker, add ice, sweetened condensed milk, chocolate liqueur, cream, and cachaça.
Shake to chill.
Strain into a rocks glass over crushed ice.
Garnish with grated nutmeg and a cinnamon stick.
Exploring the World of Brazilian Cocktails
Say boa tarde to these Brazilian cocktails. Sip your way to a soul quenching cocktail with Brazil's national cocktail, the caipirinha, or dabble in a rich leite de onça, or Brazilian Alexander. Whatever you mix, you can't go wrong.