Garnishes are the finishing touch on a cocktail, and you should no more skip your shoes before leaving the house than you should skip a garnish. While a missing garnish has less consequence than going shoelessly about your day, a cocktail can feel incomplete without one. While some cocktails intentionally don't call for a garnish, the ones that do would be missing an important puzzle piece- and quite underdressed.
Citrus Garnishes
One of the most well-known, most prevalent, and easiest garnishes, a citrus garnish adds a touch of citrus and acidity to both the taste and scent of a cocktail. Any citrus peels can be used on their own or paired with another garnish, including stacked on a cocktail skewer.
Citrus Peel
The iconic citrus peel is quick and easy to make. You'll often see these in lemon drops or old-fashioneds.
Instructions
Using a peeler, carefully peel a short strip of the fruit peel by moving from the top to the bottom, careful not to push too hard, avoiding the bitter white pith.
Run the outside of the peel along the rim of the glass or simply discard straight into the drink.
Citrus Twist
Similar to the above citrus peel, the twist follows the same steps but adds a curly flair.
Instructions
Using a peeler, carefully peel a strip of the fruit peel along the middle, rotating the fruit as you go, making a strip that's approximately two to three inches long.
Drop the twist into the drink.
Citrus Ribbon
These tightly wound citrus peels are a great way to add a smaller citrus touch.
Instructions
Using a channel knife, carefully cut a strip of the fruit peel along the middle, rotating the fruit as you go, creating a ribbon that's anywhere from an inch to three inches long.
Drop the ribbon into the drink.
Citrus Coin
This small citrus garnish adds the same flair as its counterparts, just in a smaller package.
Instructions
Using a paring knife, carefully cut out a circular shape in the fruit peel.
Drop the coin into the drink.
Citrus Zest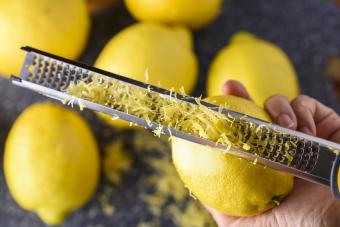 Zest isn't quite interchangeable with citrus peel garnishes. Zest is typically a garnish with egg white drinks or when the cocktail can support the zest.
Instructions
Using a zester, carefully zest the outside of the fruit peel, careful not to zest the pith, rotating the fruit until there's enough.
Sprinkle on top of the cocktail.
Candied Citrus
Citrus doesn't need to be sour all of the time, and this candied version adds a sugary upgrade as a garnish.
Instructions
Without peeling, slice the citrus fruit.
In a large saucepan, add two cups of water and two cups of sugar.
Stir to mix
Bring to boil, then reduce heat to medium-low.
Add orange slices and boil for approximately 20 minutes, flipping occasionally.
Monitor to ensure slices do not stick together.
Reduce heat to low and cook for approximately ten more minutes.
Remove when slices are tender.
Cool on wire rack or parchment.
Refrigerate in an airtight container.
Allow to fully dry before using.
Dehydrated Citrus and Fruit
Different sizes of citrus and varying types of fruit will require different cook times, but the process is relatively similar.
Instructions
Slice the citrus or fruits into the desired shape, careful not to go too thin. This can include fruit peel or not. For bananas, peel first.
Carefully place fruit onto trays.
Place into dehydrator at proper temperature, allowing to dehydrate for approximately six to eight hours, or until done.
Remove and store in an airtight container.
Garnish by dropping into drink or piercing with a cocktail skewer.
Vegetables and Herbs
Cocktails sometimes need something more savory or perhaps a pop of color or a neutral garnish to complete their look. Vegetables and herbs offer just that.
Cucumber Ribbon
While a cucumber slice is itself a great garnish, the cucumber ribbon adds an elegant touch.
Instructions
Using a peeler, peel a strip of cucumber length-wise, careful not to slice too thin in order to preserve the integrity of the peel.
Weave the ribbon onto a skewer by folding it up and down for the length or wrap around the inside of a cocktail glass.
Herbs
Fresh herbs make for an easy garnish; they're elegant and give the cocktail a bouquet of scent. Think basil, rosemary, mint, thyme, sage, or even dill. Be sure to use clean and dry herbs.
Instructions
Lightly smack the fresh herbs against the back of your hand before adding to the garnish in order to release the essence.
Place the herb in the drink stem side down or clip to side using a cocktail clip.
Charred Rosemary
Using a charred or smoked herb adds an extra level of complexity to the cocktail. This is done with herbs that are a bit sturdier, such as rosemary, which won't burn away.
Instructions
Holding the rosemary sprig in hand, carefully char the tip furthest from you using a kitchen torch.
Place in drink, taking care not to submerge completely.
Whole Spices
Ground spices aren't the only way to use spices in a garnish.
Instructions
Using a whole, large spice such as star anise, place on top of cocktail.
Charred Cinnamon
Charred cinnamon is a popular garnish that adds a smokey and familiar aroma.
Instructions
Holding the cinnamon stick in hand, carefully char the tip furthest from you using a kitchen torch.
Place in drink, taking care not to submerge completely.
Hot Toddy Garnish
Some cocktails, such as the hot toddy, call for an intricately pierced garnish.
Instructions
Using a medium-width lemon slice, carefully pierce the peel with whole cloves, going all the way around, using approximately six to ten cloves.
Float pierced lemon wheel flat in cocktail.
Top with whole star anise on top of pierced lemon wheel.
Unique Garnishes
With a wide world of options and supplies, a unique or fun garnish could be right at your fingertips.
Bitters as a Garnish
Although you may be most familiar with bitters as a cocktail ingredient, they're most often a garnish for cocktails that have a foamy layer, most often those made with egg whites.
Instructions
Taking bitter of choice, carefully drop one to five bitter droplets on top of the egg whites. This can be done in a straight line, a circle, pattern, or at random.
Slowly drag a toothpick through the bitters to create a design or swirl lightly together.
Cocktail Rims
Adding a rim not only adds a visual appeal to a cocktail, but it serves as an additional layer of flavor, be it salt, sweet, or spicy. Rim styles include salt, sugar, sprinkles, tajin, chili powder, or melted chocolate, among other options.
Instructions
To prepare rim, rub the rim of the glass with a citrus wedge. If a stronger adhesive is required, use a small amount of honey or agave by dipping the rim into the honey on a saucer.
With the desired rim garnish on a saucer, dip either half or the entire rim of the glass in the rim garnish to coat.
Carefully strain the cocktail into the prepared glass, careful not to touch the rim prior to serving.
Coffee and Colorful Ice
While ice is often looked past as a garnish, they can add a unique look or spin to a cocktail. While these instructions make coffee ice cubes for chilled chocolate or coffee drinks, consider making ice cubes using food coloring.
Instructions
Freeze coffee in ice cube tray.
Allow to freeze completely before using.
Candy
Soft candies make for an excellent and very easy garnish. You can even mix it up with infused gummies to really add something special to your drink. Avoid using hard candies as they can present a choking hazard. This can also include candied foods, such as ginger or bacon.
Instructions
Using candy or gummy of choice, pierce, skewer, or drop candy into drink.
Flowers
Just about any type of small flower makes for an eye-catching garnish, such as lavender, rose petals, or baby's breath, but be sure to only use edible flowers. Flower garnishes look best when clipped to the cocktail glass.
Instructions
Using a small flower or small bundle of small flowers, pin to side of glass using cocktail clip.
Traditional Garnishes
If you're more of a traditional or classic cocktail person, you may love sticking to the basics. These are a few of the more common cocktail garnishes.
Citrus wheels, slices, and wedges
Ground spices, such as ground cinnamon or nutmeg
Chocolate shavings
Whole coffee beans
Syrup drizzles on the inside of glasses
Whipped cream
Marshmallows
Olives
Blue cheese stuffed olives
Cocktail olives
Cocktail cherries
Outside the Box
If you really want to go outside the box, you can consider a few of these.
Using a cocktail clip to secure a sticker to the outside of the glass
Edible gold flakes for sparkly cocktails
Bacon, clams, shrimp, pickles, celery stalk all make great Bloody Mary garnishes
Cross Your T's and Dot Your I's
When you're wrapping up your cocktail, don't skip the final step. Even if you don't have the traditional cocktail garnish on hand, go ahead and find a comparable alternative, or go for something completely different. Whatever you do, don't leave your cocktail incomplete.