With the winter chill that occurs around the Christmas holidays, finding recipes for hot Christmas drinks can help to keep the season warm and bright. These recipes for hot holiday drinks will warm your insides as you enjoy the warmth and joy of the holiday season.
12 Recipes for Hot Christmas Drinks - Alcoholic
Adults who are old enough to imbibe might enjoy something with a kick for the holidays.
1. After-Ski Wine
This drink gets its name because it's the perfect drink to have after a tough day on the slopes. It will warm you up quickly, but be careful since it is strong. This recipe makes four servings.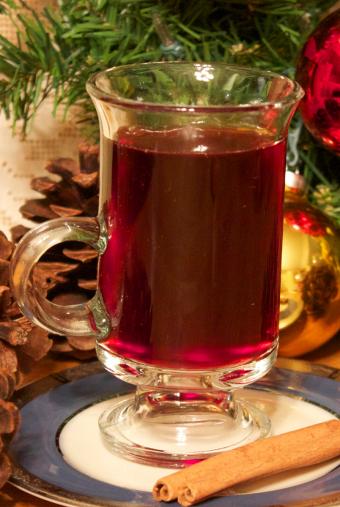 Ingredients
1 cup water
1 cup sugar
1 orange
1 cinnamon stick
10 cloves
1 bottle of any type of red wine
Directions
In a saucepan, combine the water, sugar, and cinnamon stick.
Heat the mixture until boiling and then turn it down to simmer.
Squeeze the orange over the pot to capture the juice.
Put the orange's peel and the cloves in the liquid.
Let the mixture simmer for half an hour. It should thicken.
Add the entire bottle of wine and heat the mixture until it begins to steam.
Ladle the drink into mugs and serve.
2. Warm and Fuzzy
Experience the coziness of the season with coffee and sweet almond flavors. This recipe makes one serving.
Ingredients
8 ounces freshly brewed hot coffee
1 ounce Bailey's Irish Cream
1 ounce nut-flavored liqueur, such as Frangelico
Whipped cream and freshly grated nutmeg for garnish
Directions
Add the hot, freshly brewed coffee to a mug.
Stir in the Baileys and Frangelico.
Top with whipped topping and a dash of nutmeg.
3. Wassail
Mix up a batch of hot wassail, the classic Christmas hot cocktail. It makes about 12 8-ounce servings. You can also make a non-alcoholic wassail.
Ingredients
2 quarts apple cider
¼ cup brown sugar
1 750 mL bottle of sweet Madeira wine
1½ cups Armagnac
1 orange, sliced
1 apple, sliced
1 lemon, sliced
1 teaspoon whole cloves
3 cinnamon sticks
1 teaspoon whole allspice
1 star anise
Instructions
In a large slow cooker, combine all ingredients. Stir to mix.
Cover and cook on low, stirring occasionally, for four hours.
Reduce the heat to keep warm. Keep covered and serve as needed.
4. Tom and Jerry
If sweet is not your thing, the savory Tom and Jerry drink should do the trick. Note that it does contain a raw egg. This recipe makes one serving.
Ingredients
1 egg, any size (organic preferred)
1 teaspoon raw sugar
1 ounce dark rum
1 ounce brandy
8 ounces boiling water
Directions
Separate the egg and beat the egg yolk and the white in separate bowls.
Combine them together and pour the mixture into a mug.
Add the remaining ingredients.
Fill the mug with boiling water.
Stir vigorously.
5. Hot Apple-Cinnamon Cider
Looking for a hot apple cider recipe that's filled with boozy goodness? This hot apple-cinnamon cider has flavors of holiday spices, and you can mix up a large batch in the slow cooker. It makes about 5 servings.
Ingredients
½ gallon apple cider
¼ cup brown sugar
Cinnamon sticks for garnish
Instructions
In a large slow-cooker, combine all ingredients.
Cover and bring to simmer on low.
Simmer for four hours, stirring occasionally.
Reduce the heat to keep warm and serve as needed. Garnish with cinnamon sticks.
6. Hot Pumpkin Pie
Pumpkin pie isn't just for dessert; you'll enjoy this delicious recipe that makes 4 servings.
Ingredients
2 cups whole milk
1 cup pumpkin puree
¼ cup light brown sugar
½ teaspoon pumpkin pie spice
1 cup RumChata
Whipped cream for garnish
Freshly grated nutmeg for garnish
Instructions
In a saucepan, heat the milk, pumpkin puree, light brown sugar, pumpkin pie spice, and RumChata on medium-low, stirring with a whisk.
Bring the mixture to a simmer. Reduce and simmer for five minutes, whisking.
Pour into mugs and top with whipped cream and freshly grated nutmeg.
7. Warm Cinnamon Roll Cocktail
There's nothing like a gooey cinnamon roll for Christmas breakfast, but you can also enjoy it in the form of a warm cocktail. This recipe makes one serving.
Ingredients
½ cup whole milk or half and half
1 shot RumChata
1 shot caramel Bailey's Irish Cream
1 shot Fireball whisky (or another cinnamon whiskey)
Cinnamon stick or ground cinnamon for garnish
Instructions
In a small saucepan on low heat, whisk the milk, RumChata, and Irish cream, whisking constantly until it simmers.
Whisk in the Fireball. Serve warm garnished with a cinnamon stick or ground cinnamon.
8. Orange-Maple Warm Old-Fashioned
Sure, you can go with a classic old-fashioned cocktail, which is always a classic. However, warming it up and adding all kinds of tasty flavors makes this an instant holiday hit. This recipe serves one.
Ingredients
Instructions
In a coffee mug, muddle the sugar cube with the cocktail bitters. Stir in the Grand Marnier and maple bourbon.
Stir in the boiling water.
Garnish with the orange slice and cinnamon stick.
9. Spiced Almond Pear Cider
Make a big batch of this tasty boozy cider in a slow cooker to serve a crowd. It makes 10 8-ounce servings.
Ingredients
½ gallon pear juice
1 cup amaretto liqueur
1 cup Cognac
1 star anise
3 cinnamon sticks
12 cloves
1 1-inch knob gingerroot
¼ cup brown sugar
Instructions
Combine all ingredients in a slow cooker.
Simmer, covered, on low for four hours.
10. Mulled Ruby Port
Warm Port wine simmered with spices makes a lovely addition to any warm Christmas cocktail menu. You can also use this recipe with a red wine to make mulled wine. Yields 4 8-ounce servings
Ingredients
1 whole orange
15 whole cloves
1 (750 mL) bottle ruby Port
2 tablespoons brown sugar
½ teaspoon nutmeg
1 cinnamon stick
Instructions
Stud the whole orange with the cloves by inserting cloves through the orange peel.
Add to a slow cooker with the Port, brown sugar, nutmeg, and cinnamon.
Cover and simmer on low for four hours.
11. Hot Toasted Nuts
This non-dairy hot Christmas drink is warm, soothing, and delicious. It makes one serving.
Ingredients
1 cup unsweetened, plain almond milk
1 ounce amaretto
1 ounce Frangelico
2 tablespoons dark brown sugar
Instructions
In a small saucepan, combine all ingredients.
Cook on low heat, whisking constantly, until it simmers.
Serve in a mug.
12. Hot Peanut Butter Cup
If you like a peanut butter cup in your Christmas stocking, then you'll love this easy hot holiday cocktail. The recipe makes one cocktail.
Ingredients
Instructions
In a mug, mix the hot chocolate and peanut butter whiskey.
Garnish with the whipped cream.
More Alcoholic Hot Holiday Drinks
Looking for more hot, boozy holiday goodness? Try these!
5 Non-Alcoholic Warm Christmas Drinks
Guests of any age can share these alcohol-free hot holiday beverages.
1. Hot Cranberry Apple Cider
This drink has a delicious fruit taste with a bit of a bite. It's nonalcoholic, so the entire family can enjoy it. The recipe below makes six servings.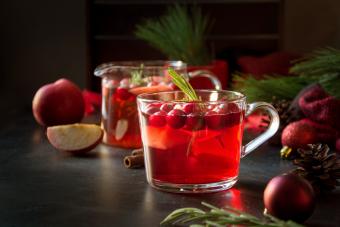 Ingredients
3 quarts apple cider
1 quart cranberry juice
2 cloves
1 cinnamon stick
Directions
In a large pot, combine all the ingredients.
Place the pot on the stove and heat until boiling.
After the mixture has been boiling for five minutes, reduce the heat to simmer.
Let the drink simmer for half an hour.
Serve the beverage by ladling the hot mixture into mugs.
2. White Hot Chocolate
This is rich, spicy, and chocolaty. You really can't ask for more in a holiday drink. You'll get about four servings out of this recipe.
Ingredients
3 cups light cream, divided
1 cup white chocolate chips
Dash nutmeg
1 teaspoon vanilla extract
¼ teaspoon almond extract
Cinnamon
Whipped cream, optional
Directions
Put half the cream, the chocolate chips, and the nutmeg in a saucepan.
Simmer and stir on low heat until the chips melt.
Add the leftover cream.
Simmer and stir again.
Take the pan off the heat and add in the extracts.
Pour the mixture into mugs, garnishing with cinnamon and whipped cream, if desired.
3. Peppermint Cocoa
It's like a peppermint patty in a cup. Yum! This recipe has about four servings.
Ingredients
½ cup cocoa powder
1 quart milk
3 ounces semisweet chocolate chips
¼ cup crushed mint candy canes plus additional for garnish
Whipped cream for garnish
Directions
Heat cocoa powder and milk in a saucepan on medium heat.
Gradually stir in chocolate chips and mint pieces.
Simmer until peppermint dissolves, stirring occasionally, for approximately 10 minutes.
Increase heat to a boil for 30 seconds.
Remove from heat and serve in mugs.
Garnish with whipped cream and additional crushed candy canes.
4. S'mores Hot Chocolate
Turn a summer camping favorite into your newest non-alcoholic hot Christmas drink obsession. This makes one serving.
Ingredients
2 tablespoons chocolate syrup
1 graham cracker, crushed into crumbs
8 ounces hot chocolate
2 tablespoons miniature marshmallows
1 tablespoon chocolate chips.
Instructions
Place the chocolate syrup and graham cracker crumbs on two separate saucers in a thin layer.
Dip the rim of an oven-proof coffee mug in the chocolate syrup and then into the graham crackers.
Carefully pour the hot chocolate into the prepared mug.
Mix the marshmallow with the leftover graham cracker crumbs and the chocolate chips.
Sprinkle on top of the hot chocolate. Brown marshmallows under a broiler or with a kitchen torch.
5. Cranberry Spice Tea
This is a simple yet Christmassy drink you're sure to love. It makes one drink.
Ingredients
Instructions
In a small saucepan, combine the cranberry juice, water, and orange peel. Bring to a simmer over medium heat.
Remove the orange peel and pour into a mug. Steep the tea bag for two minutes.
Remove the tea bag. Serve garnished with the cinnamon stick and an orange wedge.
Tasty Hot Christmas Cocktails
While these warm drinks are perfect for the holiday season, no holiday party is complete without quintessential Christmas drinks like beer, wine, and eggnog. With an array of warm alcoholic and non-alcoholic holiday cocktails along with some other Christmas essentials, you'll be warm and cozy all holiday season.