You can make many cocktails with Grand Marnier. It is a French orange liqueur made from a Cognac base with bitter oranges and sugar. First produced in the late 1880s, today Grand Marnier is commonly used in modern and classic mixed drinks in place of triple sec or orange curaçao.
1. Grand Marnier Smash
Smashes are one of the earliest types of cocktail, and this version is perfect for spring or summer sipping, or anytime you're in the mood for something lighter. You'll get one drink from this recipe.
Ingredients
8 to 10 mint leaves
4 lemon wedges (about half a lemon), plus 1 lemon wheel
1½ ounces Grand Marnier
Ice
Instructions
Muddle the mint leaves and lemon together in a cocktail shaker.
Add the Grand Marnier and ice to the shaker. Shake well.
Strain the drink over ice in a rocks glass and garnish with mint and a lemon wheel.
2. D'Artagnan
Named for the hero of Alexandre Dumas' well-loved novel The Three Musketeers, this cocktail is the Mimosa all grown up. The D'Artagnan uses Armagnac, which like the cocktail's namesake, originates from Gascony. This recipe makes one cocktail.
Instructions
In a cocktail shaker, combine the Armagnac, Grand Marnier, orange juice, and simple syrup. Add ice to the shaker and shake.
Stran into a Champagne flute. Add the sparkling wine. Stir gently.
Garnish with a lemon peel and serve.
3. Classic Red Lion Cocktail
This classic cocktail was created in the 1930s, the winner of a London cocktail competition. It's a full-bodied cocktail, but the bright acidity from the lemon and orange juices help to make it a refreshing one as well. This recipe yields one drink.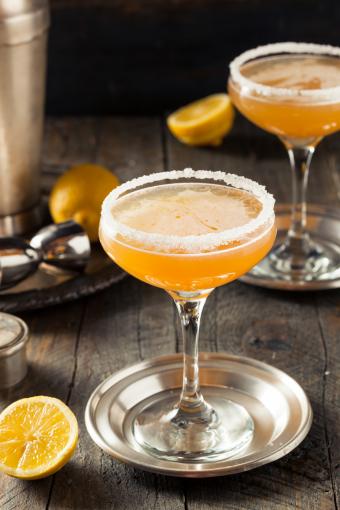 Ingredients
Lemon wedge
1/4 cup caster sugar
1 ounce London dry gin
1 ounce Grand Marnier
½ ounce orange juice
½ ounce lemon juice
Ice
Instructions
Rub the outer rim of a chilled cocktail glass with a lemon wedge. Roll it in the sugar to rim the glass.
In a cocktail shaker, add the gin, Grand Mariner, orange juice, lemon juice, and ice. Shake.
Strain into the cocktail glass.
4. Beautiful
Like its name suggests, this cocktail is a stunner and is beautiful in its simplicity. This recipe makes one drink.
Ingredients
1 ounce Hennessey Cognac
1 ounce Grand Marnier
Instructions
Pour ingredients into a brandy snifter, swirl, and serve.
5. Satan's Whiskers
This is a spin on the Bronx cocktail, which itself is a take on the perfect martini. It's also must-try for gin aficionados, but don't have too many; it'll bring out the devil in you. This recipe serves one.
Ingredients
Instructions
Chill a cocktail glass.
In a cocktail shaker, combine the gin, Grand Marnier, sweet and dry vermouth, orange juice, and bitters. Add ice and shake.
Strain into the chilled cocktail glass.
Garnish with an orange slice.
6. Between the Sheets
If you're in the mood for something more provocative, this take on a Sidecar makes for a memorable drink. Makes one drink.
Ingredients
1 ounce white rum
1 ounce Grand Marnier
½ ounce lemon juice
1 ounce Cognac
Ice
Lemon twist
Instructions
Chill a cocktail glass.
In a cocktail shaker, combine the rum, Grand Marnier, lemon juice, and Cognac. Add ice and shake.
Strain into the chilled cocktail glass.
Garnish with a twist of lemon.
5 Classic Cocktails Where You Can Substitute Grand Mariner
Practically any cocktail that calls for triple sec, orange liqueur, or curaçao can substitute Grand Mariner in a 1:1 substitution.
1. Margarita
The classic margarita calls for simple ingredients including fresh lime juice, triple sec (or agave nectar), and blanco tequila.
2. Brandy and Orange Liqueur Cocktails
There are a number of brandy and orange liqueur cocktails where Grand Marnier is a great type of orange liqueur to use. These include the sidecar, embassy, and Deauville among others.
3. Kamikaze
The kamikaze is a classic sour, which is a traditional style of drink that mixes equal parts sweet and sour with two parts of strong (booze). While many sours use simple syrup as their sweet ingredient, you can also substitute a liqueur like Grand Marnier. The traditional Kamikaze recipe is basically a vodka version of the margarita, only it uses vodka in place of tequila. Grand Marnier can be used in the recipe as the triple sec or orange liqueur it calls for.
4. Cosmopolitan
Of course, the classic cosmopolitan cocktail is another great use of Grand Marnier. It's one of the most popular cocktails of the modern era, thanks in part to its very visible presence on the series and movie, Sex in the City, where it gained widespread appeal as a girls' night out cocktail. Use Grand Mariner as your orange liqueur.
5. Viper
The viper, which is a variation of the classic snakebite cocktail, is another example of where you can use Grand Marnier as the orange liqueur called out in the recipe.
Mixers for Grand Mariner
If you've looking for simple mixers for Grand Marnier so you can make quick cocktails, there are several you can try.
Make Grand Marnier Your Secret Cocktail Ingredient
Grand Marnier is wonderful in a variety of drinks. You can use it in everything from sidecars, to cosmos and margaritas, and even to add a little je ne sais quoi to your sangrias. It is also delicious enjoyed neat or over ice as a digestif.