Find the best meal delivery service for families to feed your children fresh food on the run. Explore some of the best meal kits on the market for families. See why these meal deliveries are considered the best for a large or small family.
Best Meal Delivery Service for Families
If you are a busy mom or dad, you don't always have time to prepare meals. This is especially true for a busy family with a lot of extracurricular activities. Take the work out of making dinner by trying out some of the best meal delivery services for family options. These prepared meals come in easy to cook kits, with cheap prices, or just taste great. They are also designed for anyone in your family to prepare.
Blue Apron
If you have a family with children, then you might want to give Blue Apron a try. Blue Apron plans start at $7 per serving, and the meals are effortless for children to prepare and enjoy. The recipes include step-by-step instructions and perfect portions, along with foods that your family will enjoy. Just a few of the meals on the menu include creamy pesto shrimp & pasta, white cheddar burgers, and enchiladas. There are several plans a family can choose from, and the ingredients are of good quality.
Gobble
Families on the go, go, go can appreciate Gobble's 15-minute meals. Gobble meals run you $12 a meal. The recipes included fresh ingredients and simple recipes that are easy to create in a rush. Each meal kit comes prepped and ready to cook. While not specifically for kids, a few fun dinner ideas include Greek pita wrap and veggie or cheddar pierogies. The site makes meal planning easy by offering easy to follow labels like "kid-friendly."
Dinnerly
Fast is great, but meals on a budget are even better. With meals starting under $5 a serving, Dinnerly can easily fit into a family budget. To keep things simple and cost-effective, Dinnerly uses digital recipe cards and fewer ingredients. While menus change, a few kid-friendly meals to try include BBQ chicken and broccoli, grilled burgers, and chicken enchiladas. In addition to kid-friendly options, you'll also find gluten-free and vegetarian options.
Home Chef
For only $7 a meal, Home Chef has you picking and delivering meals ready to cook to your home. Made with fresh ingredients, Home Chef meals come with an instructions card. However, you have to remember to double cards by two if you make a meal for a family of four. Home Chef offers lots of different options like carb and calorie-conscious, along with vegetarian. There are a few gluten-free family options, but this meal plan is pretty meat-heavy. While the menu changes weekly, Home Chef does offer quick labels, like vegetarian, for choosing your meal kits. Add ons like smoothies were also available.
Purple Carrot
Families looking for a vegetarian fare can try Purple Carrot. Meals at Purple Carrot start at $10 a serving and come in either 2 or 4 servings. Parents can choose from dinners, breakfasts, lunches, and snacks. All the meals are plant-based, and the service is dedicated to clean eating. The ingredients are fresh, but the meals do take time to prepare. Therefore, this service isn't designed for the beginner cook or for families looking for simple meals.
Martha and Marley Spoon
Marth Stewart has you set when it comes to the best meal delivery services for families. Meals start as low as $8 for a family of four for three meals a week. These meals can be prepared in less than 30 minutes and six or fewer steps. A wide variety of meals are available for special diets and children. The ingredients for meals like chicken enchiladas and brown butter, and sage gnocchi were fresh.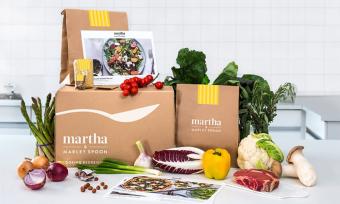 Hello Fresh
Hello Fresh boasts easy to cook, tasty, and nutritious meals to satisfy all your family members' palate. The box is packed with all the ingredients you need from local suppliers in a recyclable box. Meals start at $8 a person for a family of four, and there are 23 recipes to choose from. Hello Fresh allows you to personalize your family's meals by choose calorie smart, quick and easy, or family-friendly, to name a few. For those meat lovers out there, they can just have meat and veggies. You can also use promo codes to save your family a bit of money.
Sun Basket
Starting at $9 a serving, Sun Basket offers meal plans for families using USDA organic ingredients. The company boasts that they are a certified organic handler. Meal kits are designed to let you choose the amount of time you want to spend with 15-40 minute meal kits available. The company also helps you expand your meal creation skills. Paleo, gluten-free, and diabetes-friendly meal plans are available.
One Potato
One Potato offers organic ingredients and pricing for child meals for about $9 for a family of four. In addition to recipes designed for families with children, One Potato offers gluten-free and vegetarian options to fill all your family's dietary needs. Meals rotate by the week, but a few favorites that you might see on the menu include herb-roasted chicken, quiche, and pierogies. In addition to dinner ideas, you can try the smoothie packs for a perfect breakfast. Boxes also include a free roll of cookie dough.
Green Chef
Green Chef is a certified organic company that prides itself on creating easy-to-cook and plant-powered meals. It has specialized meal plans for keto, paleo, and vegetarian customers, along with hungry families. Prices start at about $12 a serving; however, promotional pricing is available for customers. Additionally, meals are designed to be quickly prepared in about 30 minutes. The company offers meal plans for families of 2-6 family members.
Best Meal Kits for Families
Meal kits for families take the prep work out of cooking. These kits come with all the ingredients to create a fresh and perfectly proportioned meal for everyone in your family. Try one of these meal delivery services for your family.