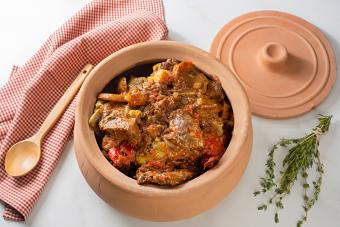 Pot roast is a classic and comforting family meal that usually stretches well beyond one dinner. Make your pot roast leftovers more exciting with a recipe that brings the dish back to life in a new way. Once you know what to do with leftover pot roast, you might find your family asking for the hearty dish more often.
Serve Rich Beef Enchiladas
Enchiladas come together easily and require very little prep, especially when you already have leftover meat you can use. Add a few additional spices to your left over pot roast like cumin and chili powder. Fill soft corn tortillas with the seasoned meat, top with cheese, and place in an oven safe dish with plenty of canned enchilada sauce. Bake in a 350°F oven until your cheese is melted, and the sauce is bubbling - about 30 minutes. Serve with your favorite enchilada toppings.
Make Beef Stroganoff Easy
Beef stroganoff is an easy weeknight dinner when you have meat prepared ahead of time. Serve your leftover pot roast in your best beef stroganoff recipe for a dinner everyone will love and an easy evening in the kitchen for you.
Use Pot Roast for Mouth Watering Sliders
Using leftover pot roast is as simple as building the perfect dinner sliders. Slider brioche buns stacked high with warm beef, caramelized onions, and a slice of provolone cheese pairs perfectly with a side salad or seasonal vegetables.
Make Mile-High Beef Nachos
Nachos are hearty and filling when covered by a mountain of leftover pot roast. Top a platter of your family's favorite tortilla chips with your shredded beef, onions, plenty of cheese, jalapenos, sour cream, and grilled corn for a meal that is full of protein and fun for the whole family. You can bake them in a 425°F oven for about 8 minutes to melt the cheese and warm everything up.
Skip the Takeout With Homemade Beef & Broccoli
Preparing your own version of a Chinese-inspired dish is even easier when you can skip the meat preparation. Steaming some rice and cooking your broccoli is the most you will have to do for this homemade beef and broccoli recipe.
Stay Warm With Beef & Wild Rice Soup
Serve your family a comforting meal on a chilly evening by using leftover pot roast as the base for a soup. Save time while serving a meal your family will love with a beef and wild rice soup.
Use Leftover Pot Roast for Taco Tuesday
Your Tuesday night meal prep just got easier. Serve your leftover pot roast with your family's favorite taco fixings. Toppings that will complement the flavors in your beef are lime juice, cilantro, sour cream, fresh tomatoes, and queso fresco.
Make Easy Philly Cheesesteak Sandwiches
Leftover pot roast takes recipes that are already easy to make and turns them into the quickest weeknight dinners for your family. Use your leftover beef to whip up a few Philly cheesesteak sandwiches. Toast a hoagie roll on your griddle or frying pan with a little butter. Sautee peppers and onions in the pan and then add your leftover meat until it's just warmed through. Top with provolone cheese and add to your roll.
Serve Hearty Beef Pot Pie
Update your family's favorite comfort meal with a beef roast pot pie. Use all your go-to ingredients, but level up the hearty in this dish with leftover pot roast. You can even add the carrots, onions, or potatoes you cooked with your roast. A beef pot pie will stretch your leftovers and give your family a filling meal.
Add Leftover Pot Roast to Stuffed Shells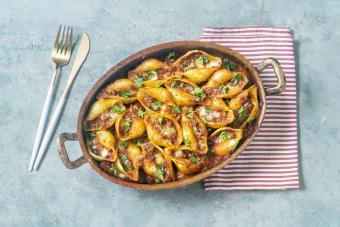 Add a little protein to your favorite pasta dish. Upgrade a traditional stuffed shells recipe by finely shredding your leftover roast and adding it to your cheese mixture. If stuffing the shells with meat feels like too much, you can use the beef in your meat sauce recipe in place of ground beef to serve over cheese-stuffed shells.
Serve Simple Fajitas
Using leftovers in a crowd favorite recipe makes everything easier on you. Warm your leftover pot roast in a skillet with a little oil, cumin, chili powder, onion powder, and garlic powder. Sautee your fajita veggies and top your meat with a little lime juice and cilantro. Serve alongside warm tortillas for an easy fajita dinner.
Prepare a Warm & Nutritious Salad
For a filling dinner option that still hits all the nutrition and plant points, serve a warm salad with beef. A spring mix of greens or a bowl of arugula is a great base for this dinner-sized salad. Top with cooked quinoa, warmed pot roast, roasted sweet potatoes, red onion, walnuts, and feta cheese. Serve with a creamy dressing.
Use Leftover Pot Roast in a Shepard's Pie
Shepard's pie is one of the ultimate comfort foods and adding leftover pot roast to the mix will only elevate the dish. Using pot roast in place of ground beef or lamb will add interesting texture and a heartier feel to this go-to dinner recipe.
Try a Beef Burrito Bowl
Your leftover pot roast will pair perfectly with a few burrito bowl ingredients. Serve your shredded beef over warm rice of your choice and top with all of your favorite burrito fixings like black beans, corn, cheese, salsa, sour cream, and cilantro.
Make a Meat Lover's Pasta
Have all the fun of a meat lover's pizza with the ease and elegance of pasta. Top your favorite noodles and pasta sauce with a mixture of leftover pot roast, bacon, and Italian sausage.
Add Leftover Pot Roast to a Breakfast Bake
Give your breakfast a makeover by adding hearty pot roast leftovers to a classic egg bake. Beat 6 eggs in a large bowl and combine with your favorite cheese and salt and pepper to taste. Pour into a prepared baking dish with sauteed onions, cooked potatoes, and your leftover pot roast. Bake at 350°F for about 50 minutes, until eggs are set, and a golden crust forms on the top.
Make Sweet Rolls Savory
Whether it's a breakfast treat or a fun way to serve dinner, add leftover pot roast to a savory breakfast roll recipe for a fun twist on a classic. Caramelized onions make this recipe extra special, and a side of eggs makes this dish perfect for a family breakfast.
Make Your Family Excited for Pot Roast Again
Your family will cheer each time they see you prepping a pot roast when they know the next night's dinner will be full of delicious leftover surprises. Stretch your dinners further and show your family the endless possibilities a great pot roast can offer.